Daniel Suarez Upset After Watching Teammate Ross Chastain Bring Home First Win in Trackhouse History, According to Justin Marks: 'He Is Gutted'
Daniel Suarez watched Ross Chastain win the first Cup Series race in Trackhouse Racing history and was not happy about it.
Most NASCAR Cup Series fans could see this coming. After three top-3 finishes in as many races, it was only a matter of time before Ross Chastain broke through and made his way to Victory Lane. On Sunday, he did it.
After the race, the jubilant driver and team co-owner Justin Marks joyfully talked with the media about the first-ever win in Trackhouse Racing history. And that's when the latter made a somewhat surprising admission about the team's other driver, Daniel Suarez, being upset by what had just transpired. 
Daniel Suarez wins first stage; Ross Chastain wins race
Daniel Suarez started on the front row of the second Cup Series race at Circuit of the Americas. Less than a lap around the 3.41-mile track and the No. 99 car took the lead over pole-sitter Ryan Blaney and never looked back. He convincingly won the opening stage.
Because of a different pit stop strategy, Suarez started deep in the field on the restart, got spun in the treacherous Turn 1, which required another stop to get new tires and effectively changed the trajectory of his day. 
Conversely, Ross Chastain, who finished 13th in that first stage, moved up to eighth by the end of Stage 2 and then dominated in the final stage, leading a race-high 31 laps. In a spectacular final lap, Chastain held the lead, lost it, battled with Alex Bowman and AJ Allmendinger to regain it and did on Turn 19, made one final turn and drove into Trackhouse Racing history with the first-ever victory for the team.   
Justin Marks candidly admits Suarez 'gutted' by Chastain's victory
Almost an hour after taking the checkered flag, Chastain joined his team owner in the media center to talk about his first-ever Cup Series win. The 29-year-old talked about his watermelon-farming family, including his dad's absence from the race because he was back home tending to the farm and those anxious moments last year when he learned that Trackhouse Racing had bought Chip Ganassi Racing and he wasn't sure about his future. 
Marks said he always planned on bringing Chastain on board to join his other driver Daniel Suarez. The former driver also made a surprising admission about the pilot of the No. 99 car, who finished the day 24th. 
"I think he is gutted today, especially after leading every lap in the first stage and winning it," Marks said of Suarez. "He was so early in the process of building Trackhouse that I think in his mind he was always going to be the guy that was going to deliver our first win. I think that's hard on him. But in a way, I always try to take the long view on this stuff. These are our guys. These are our drivers. We're building a team around both these guys, and that's what I'll tell him this week is you have an awesome opportunity to win Richmond in five days from now, and that's what we're going to focus on.
"These guys are all so competitive. We've done a good job at Trackhouse building two teams that really, really help each other. But when you distill that all the way down to the glory of winning a race and your first career race and sticking a Chevy in the playoffs, it's hard. It's hard to navigate that teamwork, that selflessness and all that.
"He is gutted. He came over and gave Ross a hug. He understands the mission here, and he is probably already thinking about Richmond. And I'm excited to see what he is going to do the next couple of weeks. It's human nature."
Destined for Victory Lane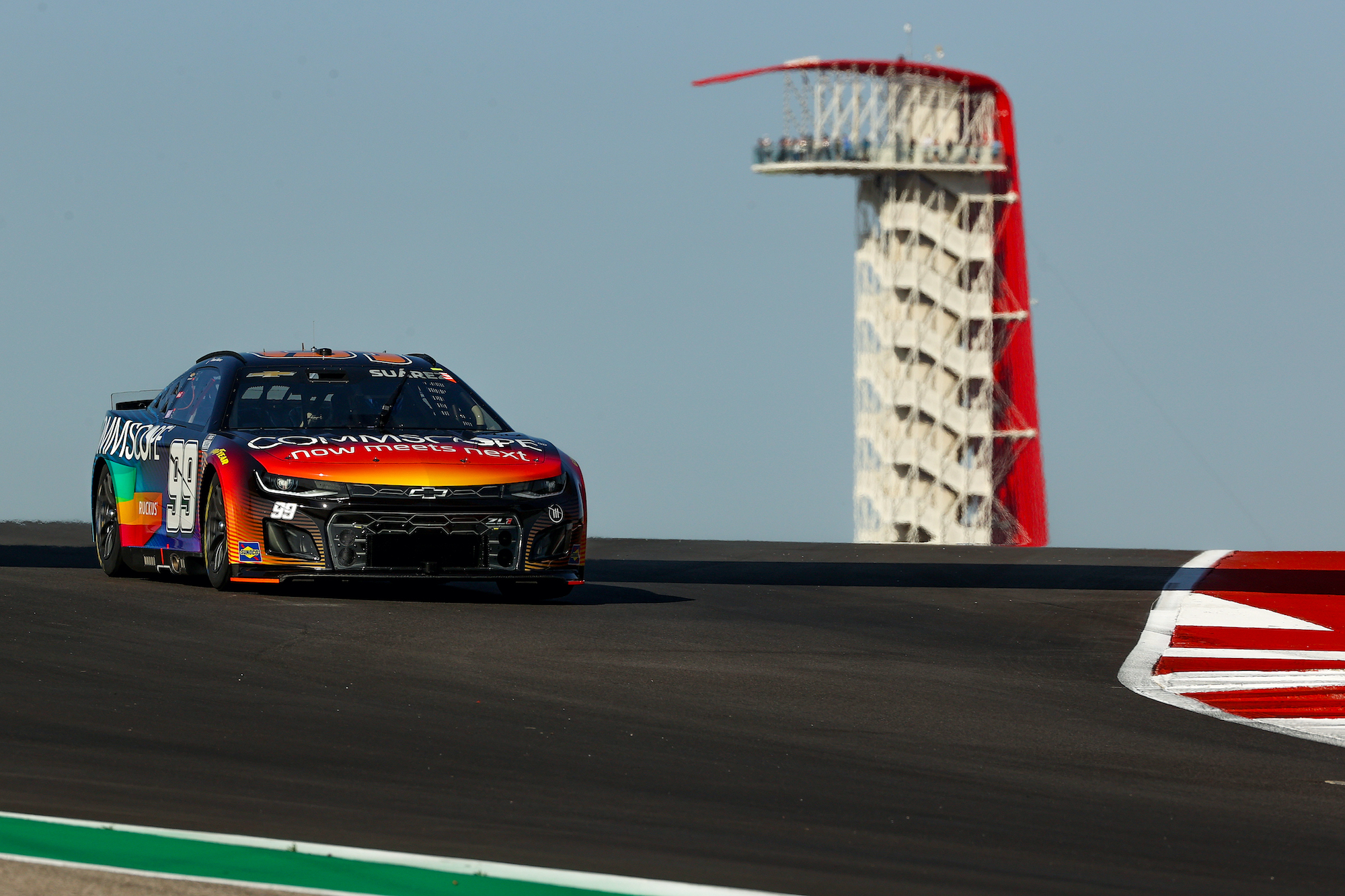 While Daniel Suarez was understandably disappointed after performing so well early, falling back, and watching his teammate claim that prestigious first trophy for the company, most experts think his time is coming.
Through six races, the 30-year-old Mexican has three top-10 finishes. He had four all of last year. 
With that combination of a car showing plenty of speed and a teammate who has now taken that speed to Victory Lane, the affable Suarez has both the tools and extra motivation to earn his first Cup victory.
Like Chastain before yesterday, now it seems it's just a matter of time before it happens.
Like Sportscasting on Facebook. Follow us on Twitter @sportscasting19.