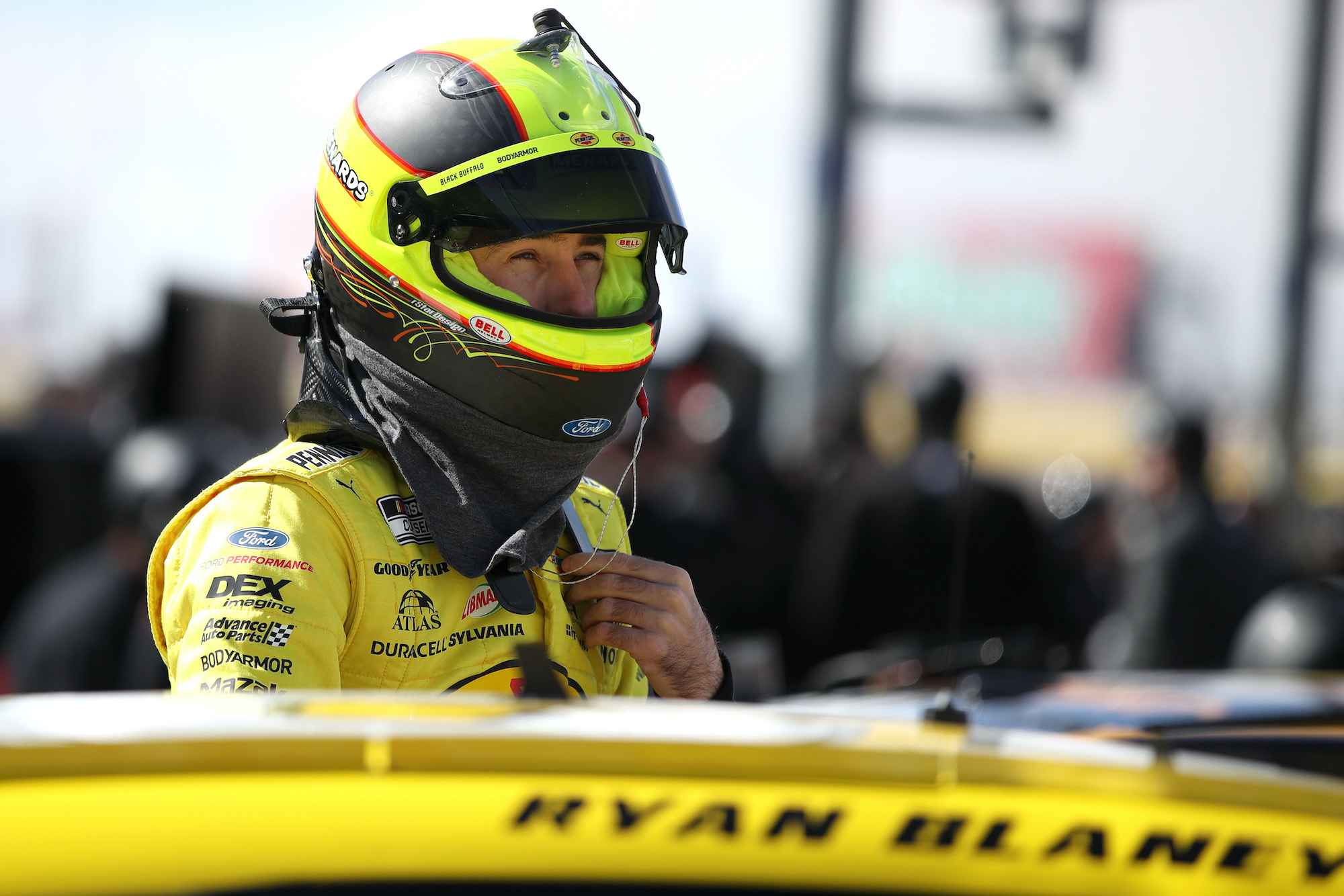 Ryan Blaney to Test Driving Skills Against His Father in Another Racing Series This Summer
Ryan Blaney announced this week he's adding one race to his 2022 schedule so he can compete against his father.
Ryan Blaney had a breakout year in 2021, securing the first multi-win season of his career with three victories at Atlanta, Michigan, and the summer race at Daytona. He started the 2022 NASCAR Cup Series season off on a promising note on that same Florida track, only to come up just short in the end and watch his teammate Austin Cindric race to the prestigious victory. 
This week the Team Penske driver announced that he is adding another race to his schedule in 2022. He will be racing in a one-off event with the SRX Series. And what will make it even more special is he'll be racing against his father. 
Ryan Blaney racing against father in SRX
Ryan Blaney has more than enough on his plate in 2022. That's the life of a NASCAR Cup Series driver traveling the country and competing in a 36-race schedule.  
But that packed calendar wasn't going to get in the way of him participating in a once-in-a-lifetime opportunity — racing against his father Dave, a former NASCAR Cup Series driver himself. 
"Very excited to be racing with my father @BuckeyeBullet10 in the @SRXracing finale at @SharonSpdwy, a place that has meant so much to my family," Blaney tweeted this week. 
Dave Blaney had a successful racing career, including a win in 2021
Dave Blaney raced in 17 NASCAR Cup Series seasons. He never won a single time. Ryan has already won seven times in six full-time seasons. 
But don't mistake Dave's lack of Cup wins as someone who wasn't a successful driver. He was. Before his first full-time Cup season in 2000, Blaney found success in multiple other series, including USAC, where he won the Silver Crown Series in 1984. 
In those early days, he also won the Chili Bowl Nationals, Knoxville Nationals, and the World of Outlaws championship. Last year, the 58-year-old surprised the racing world when he won the World Of Outlaws sprint car feature race at his home track of Sharon Speedway, which set a record for the longest gap between victories (previously won in 1997) and oldest driver to win in the series.
He returns to that same track to compete against his son and the rest of the SRX competitors on July 23. 
Following in friend Chase Elliott's footsteps
When Ryan Blaney rolls off this summer and races against his father, it will be a replay of the SRX finale in 2021 when Chase Elliott competed against his father Bill at Nashville Fairgrounds Speedway. 
The Elliotts battled hard against each other for much of the 77-lap race, but youth prevailed over experience in the end and Chase won the race. Tony Stewart finished second, with the elder Elliott rounding off the podium. 
If the Blaneys race anywhere near as close as the Elliotts, the fans will undoubtedly be in for a treat. And based on the success of both Blaneys in the last year, it's a good bet that it's going to be a fight to the finish.  
Like Sportscasting on Facebook. Follow us on Twitter @sportscasting19.