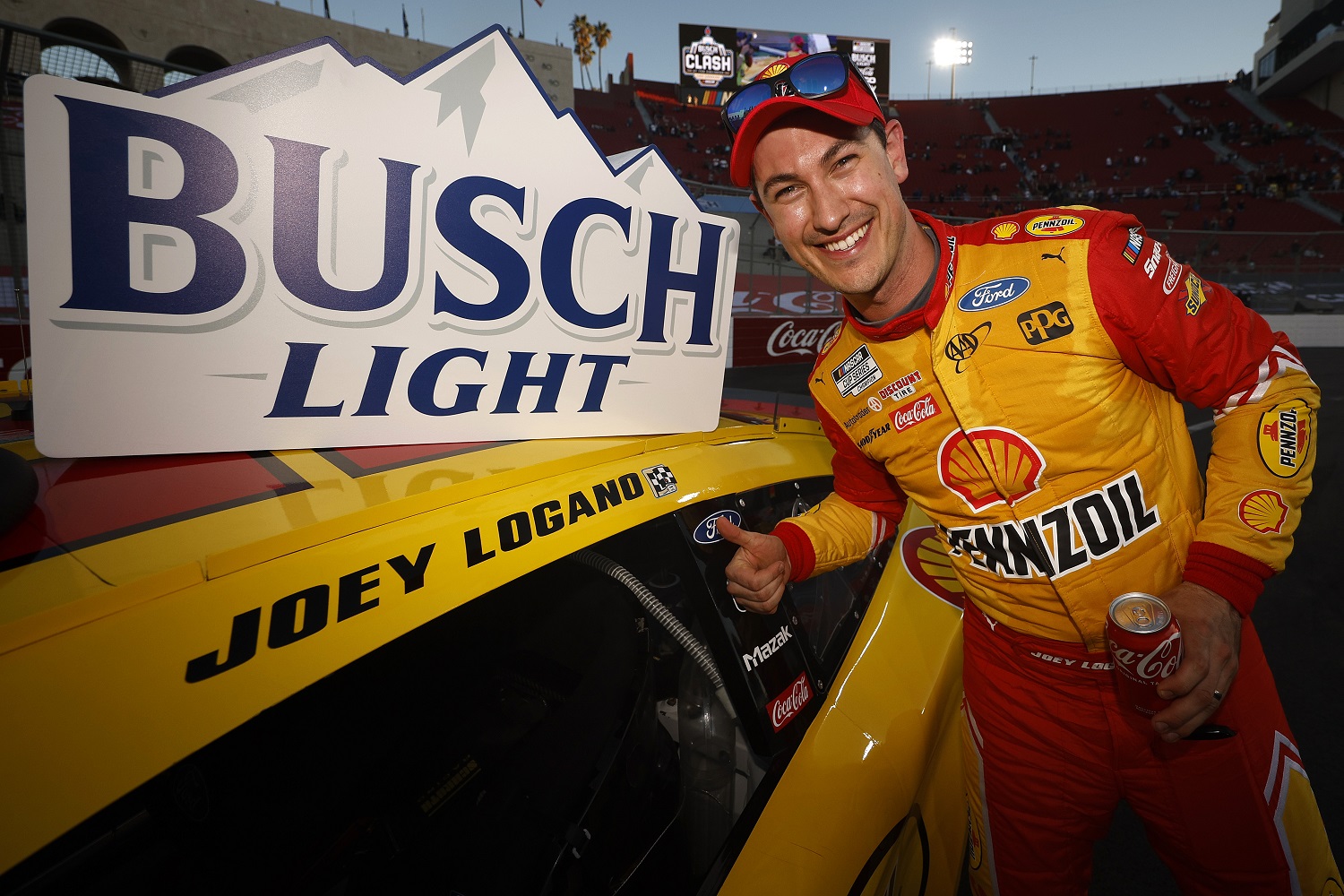 Joey Logano Has Embraced His New Role at Team Penske
With Brad Keselowski having left, Busch Light Clash winner Joey Logano is embracing his greater leadership role at Team Penske in the NASCAR Cup Series.
Brad Keselowski's departure to rebuild a struggling NASCAR team potentially created a leadership void at Team Penske. It took Joey Logano one weekend to put an end to any such concerns.
Logano did more than just win the Busch Light Clash at the Los Angeles Coliseum. He showed Ryan Blaney and Austin Cindric the way to the future with one of the Cup Series' most reliable organizations.
Joey Logano continues to pad his NASCAR HOF credentials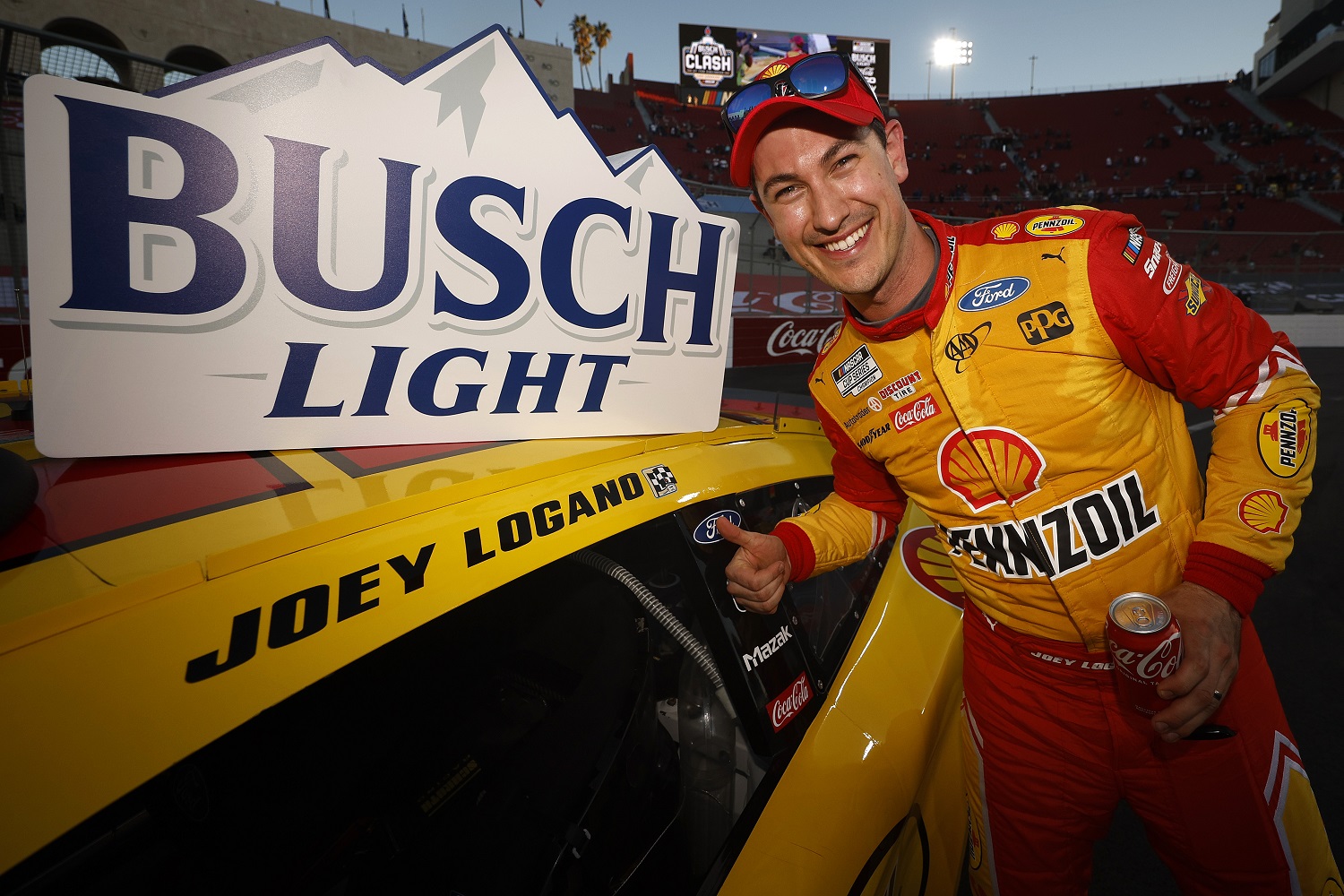 Winning exhibition races isn't a ticket to the NASCAR Hall of Fame even if Joey Logano is now a two-time Busch Light Clash champion. However, Sunday's victory in the reimagined version of the event at the Los Angeles Coliseum was a reminder that Logano is a winner.
The 31-year-old Connecticut native began driving in the Cup and Xfinity series concurrently in 2008 (he gave up the part-time Xfinity gig in 2019) and has piled up a combined 57 victories. His 27 triumphs on the big circuit have come at tracks ranging from Martinsville to Talladega, with the Bristol dirt track and Watkins Glen road course thrown in for good measure.
He also took the checkered flag in a Daytona 500 and won the 2018 season championship. So, yeah, he's building a nice resume that will qualify him as HOF material when the time comes.
And, now, he's filling Keselowski's role as Team Penske's lead driver.
Ryan Blaney and Austin Cindric can look to emulate Joey Logano
Brad Keselowski showed up at Team Penske at the end of the 2009 season and scored 34 victories before leaving after last season to become a driver and co-owner at Roush Fenway Racing. His teammates along the way included Kurt Busch, but driver lineups mostly remained stable, and Keselowski emerged as the guy that others looked toward for leadership. Logano also took on some of those responsibilities mentoring Ryan Blaney when he came over from Wood Brothers in 2018.
When Keselowski left, Team Penske added Austin Cindric, fresh off first- and second-place finishes in the Xfinity Series. Logano is happy to take on the role of helping Cindric and Harrison Burton, new to the Wood Brothers outfit that maintains an affiliation with Penske.
"Brad and I really shared that responsibility together over the years. Now, I'm really looking toward Ryan Blaney to do this together," Logano told The News Herald in Morganton, North Carolina. "I don't think there should be any A, B, or C driver. We need to try to do it together as a group.
"Now, granted, I may have the most experience, but Blaney's got enough experience to help along now, too. Together, we can lead two other rookies with us."
Team Penske is off to a solid start
Though it was only an exhibition race, winning the Busch Light Clash on the super-short Los Angeles Coliseum oval was a nice start to the NASCAR Cup Series for Joey Logano and Team Penske.
Logano overcame speed concerns in practice to sail through qualifying. He then won his heat and went on the victory in the main. Ryan Blaney squeaked through the heats and was on his way to a good run to cap his weekend before Erik Jones clipped him. Austin Cindric had a hard-luck Sunday, missing automatic qualification for the main by one spot in the heats and then having the misfortune of driving in an incident-filled last-chance qualifier.
All in all, Team Penske heads to Daytona first out of the gate and in a positive frame of mind.
"We take a lot of pride in trying to be the team to figure it out first, all the opportunity that's out there this year," Logano crew chief Paul Wolfe said in the postrace news conference. "I definitely felt it in the way our practice went (Saturday). When you're off, getting going, you feel the pressure more in trying to figure it out and trying to get where you need to be.
"Gives us a lot of confidence moving forward, though, that we have a strong team that was able to do that and put a car on the racetrack today that obviously was very fast and capable of winning."
All stats courtesy of Racing Reference.