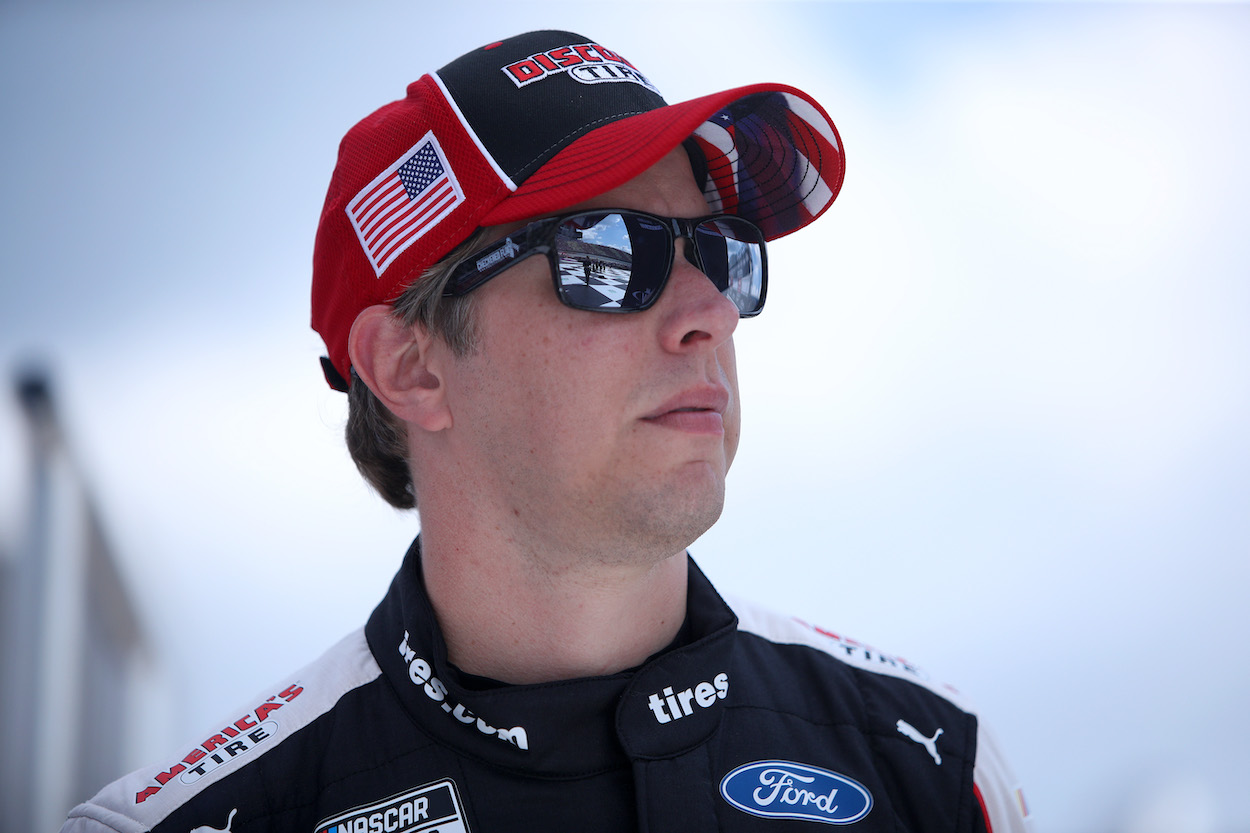 Brad Keselowski Doesn't Hide From Truth and Concedes Roush Fenway Move Has Been 'Big Elephant in Room' at Penske and a Distraction for No. 2 Team
Brad Keselowski doesn't hide from the truth and admits that the move to Roush Fenway in 2022 has been a distraction for the No. 2 team.
Brad Keselowski officially announced on July 20 that he would become part-owner of Roush Fenway Racing and drive for the team in 2022. Since that announcement, the 2012 Cup Series champion has struggled with his worst stretch of the season, finishing 24th or worse in three out of the last four races. This week during media day promoting the 2021 Cup Series playoffs, the Team Penske driver bluntly admitted that the move has undeniably been a "distraction" and not had a positive effect on the team.  
Brad Keselowski moving to Roush Fenway Racing in 2022
Brad Keselowski has been synonymous with Team Penske for more than a decade, and he made a huge impression from the start. In his first full-time season with the team in 2010, he won the Xfinity Series championship. But that was just the warmup. Two years later, he drove the No. 2 car into the history books and won the organization its first NASCAR Cup Series title. 
With such a sustained level of success with the organization, including 34 of his 35 Cup Series wins, Keselowski understandably had mixed emotions when making the announcement.
"It's been a heck of a journey with Roger Penske and the whole team," Keselowski said. "I'm really proud of it. I'd be remiss to say I'm a little bit sad to leave some great people, some great friendships. But I'm excited with this opportunity in front of me. It's an incredible opportunity."
Keselowski will drive the No. 6 for Roush in 2022. Also part of the deal, he will have a minority stake ownership in the company and play a large role in the organization's competition committee. 
Brad Keselowski admits move is 'elephant in the room' and been a distraction for team
While Brad Keselowski has struggled as of late, his win earlier this season at Talladega landed him a spot in the 2021 Cup Series playoffs. This week while meeting with reporters and talking about the postseason, Fox's Bob Pockrass asked the 37-year-old driver if he noticed a change in mojo for the team, considering the circumstances of the move to Roush Fenway next season.  
"It's hard to say. It doesn't add anything positive for you, that's for sure," Keselowski openly admitted.
Pockrass then asked if he had any talks with team members about the pending move and how it has affected the team.  
"Clearly it's a big elephant in any room we're in. Yeah, there's no doubt about that," he said. "But you try not to stare at the elephant I guess and try to focus on the opportunity in front of us with the next 10 weeks. I'd like to say that it is a zero distraction, but that would probably be naive on my part."
Already making moves for his future with Roush Fenway
While Keselowski was honest about the mojo and elephants in the room as it relates to his current team, he's already been proactive in making moves for his future team at Roush Fenway. 
Late last month it was announced that his spotter at the time, Coleman Pressley, would be swapped out for Joey Logano's spotter T.J. Majors. When the news broke, Keselowski didn't hide his excitement about what that meant for his future.
"We're just kind of in an interesting situation with the team change and shuffles, and all that is going on and the spotter's contracts were all in different positions and trying to get alignment on it," he said. "It ended up working out in a really good way for all parties. I've had a lot of success with Coleman Pressley, and proud of that history that we had. I look forward to doing the same with T.J. I feel like I'm looking at having the No. 1 spotter in the sport. That's a big kind of get for me, not just now, but for years to come. I'm pretty happy." 
Based on Keselowski's own words, his fans might temper any expectations of potentially earning a second Cup title this season. However, next season with the Next Gen car and all teams on a more level playing field is an altogether different story. 
Like Sportscasting on Facebook. Follow us on Twitter @sportscasting19.