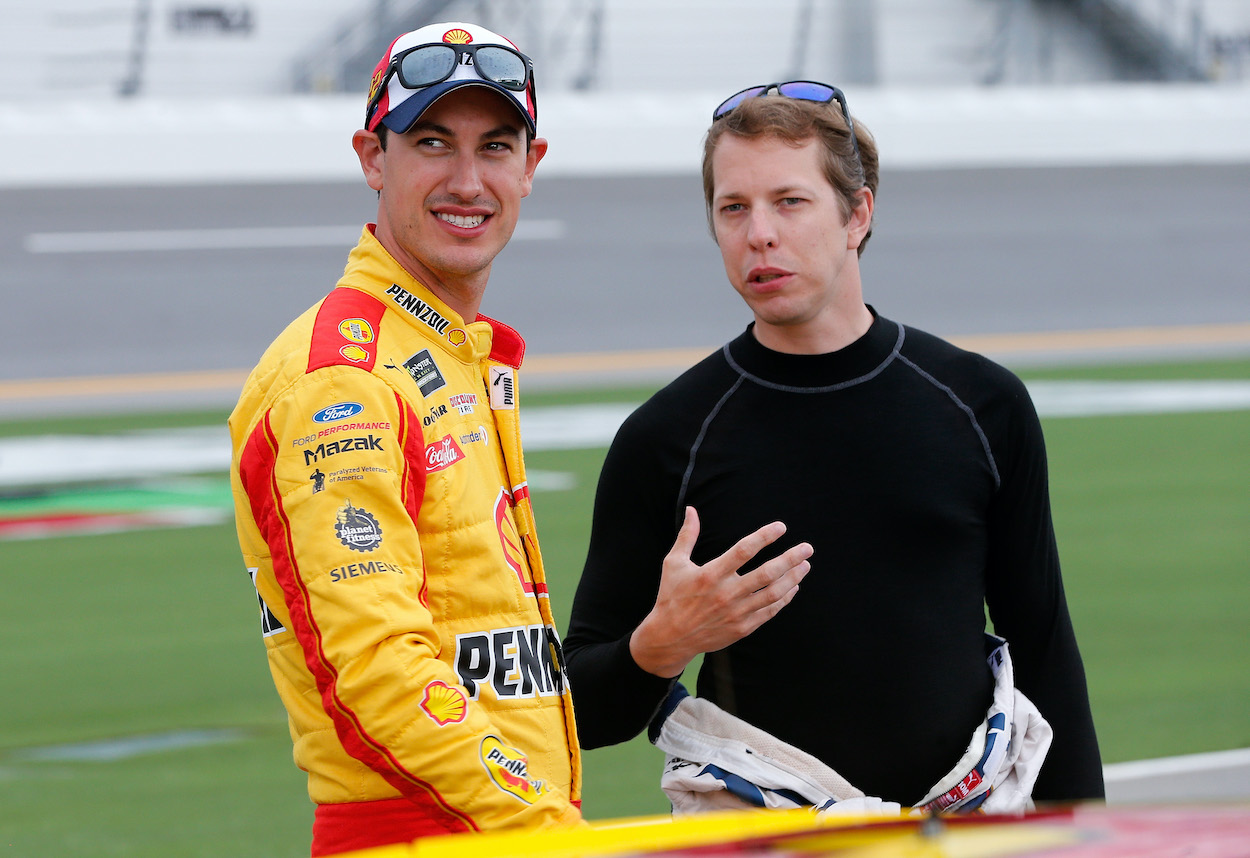 Joey Logano Candidly Opens Up About Close Personal Relationship With Brad Keselowski and What He Will Miss About His Penske Teammate Next Season
Joey Logano candidly describes his personal relationship with Brad Keselowski and how he thinks the move to Roush Fenway will affect Team Penske.
Joey Logano and Brad Keselowski have worked together as teammates at Penske Racing since 2013. The two drivers have amassed an impressive 59 NASCAR Cup Series wins with the iconic race team.
Last month Keselowski announced he was bolting for Roush Fenway and, as a result, their fruitful run together would come to an end after the 2021 season. During an interview on SiriusXM this week, Logano was surprisingly candid about their personal relationship and shared what he will miss about his teammate in the future.    
Joey Logano and Brad Keselowski successful at Penske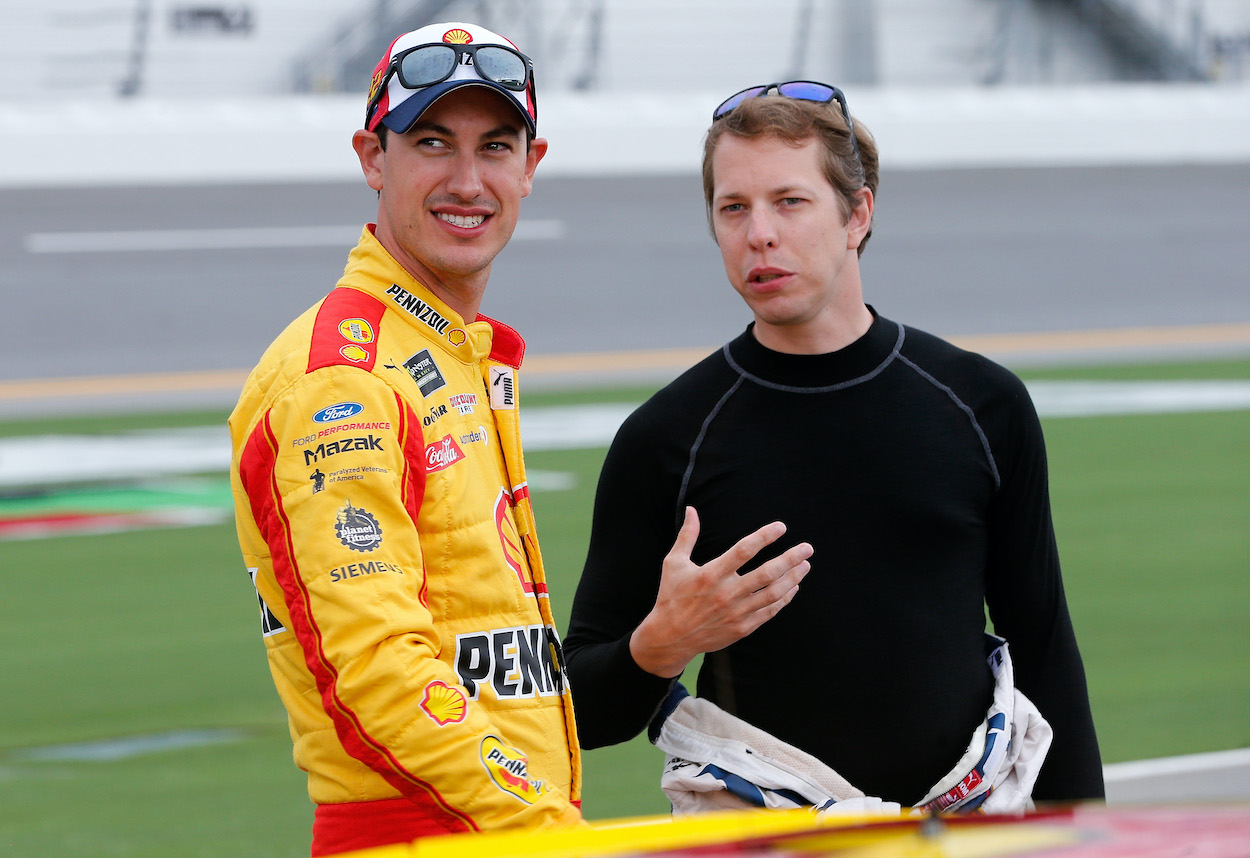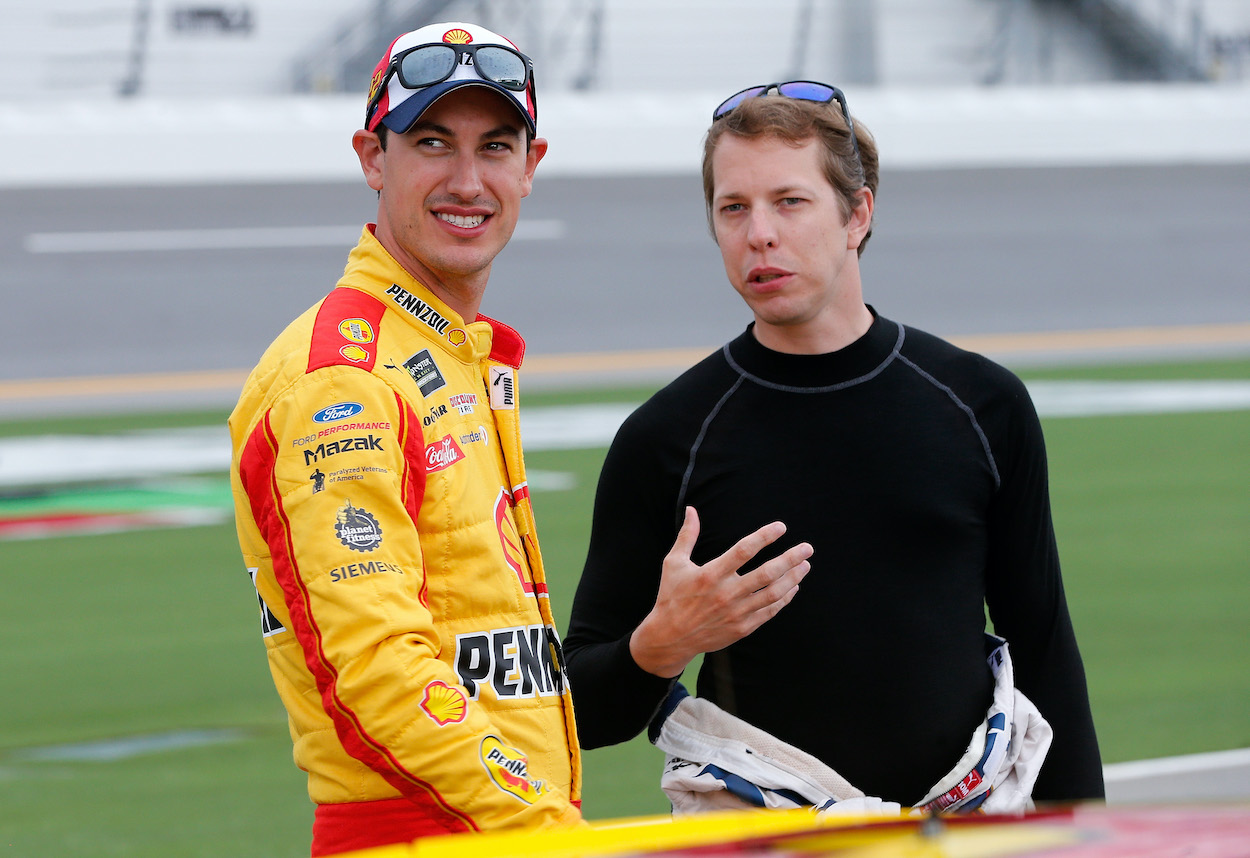 Joey Logano joined the Penske organization in 2013. A year prior, Brad Keselowski etched his name in the team and NASCAR history books when he won five times and captured the 2012 Cup Series title.
Incredibly, since Logano's arrival, the two drivers have almost matched win-for-win at Penske. Logano has won 25 times. Keselowski has 26 victories to his credit. This season, both drivers have one win apiece. 
While Logano is a single Penske win behind Keselowski, he matched his teammate's number of Cup Series championships by winning the title in 2018. Logano does have the edge in one important area — Daytona 500 wins. He won the sport's biggest race in 2015 while that trophy has remained elusive for Keselowski.  
Joey Logano opens up about close personal relationship with Keselowski
Since Keselowski went public with his new deal to join Roush Fenway, Logano has remained quiet about the move, due in large part to NASCAR taking a two-week break for the Olympics. This week, with racing action resuming at Watkins Glen, Logano appeared on Behind the Wheel on SiriusXM NASCAR Radio and candidly talked about the move and his close personal relationship with Keselowski.
"Brad and I, I feel like are very close teammates," Logano said. "Obviously, we race each other hard. We have in the past. But we have a relationship off the race track that I think we actually really care for each other as a person. Talking to him about this and understanding his decisions and what's coming his way, I'm excited for him. I think it's a great opportunity for him.
"Selfishly, I enjoyed having Brad as a teammate. I felt like he really pushed me along in different ways, and we complemented each other because, in ways, we're similar, but, in ways, we couldn't be more different than each other and I think that was kind of a healthy thing."    
Discusses future with Ryan Blaney and Austin Cindric
Logano said he would undoubtedly miss working with Keselowski and getting better because of him, but he knows that his current Penske teammate Ryan Blaney and new teammate Austin Cindric bring their own set of strengths to the table. 
"With Ryan Blaney and Austin Cindric, they have their own ways to push you along, too, in that we can all complement each other and make each other better," Logano said. "That's what you want in a teammate. I don't want to be the guy that is light years ahead of my teammates because who's pushing you? You want teammates that can push you along and make you a better race-car driver. And that's ultimately going to make the company better."
Logano said Blaney has proven in recent years that he is the best Penske driver on the 550 package tracks and pushes his teammates in those races. He expects the same from Cindric, who has shown a penchant for excelling on road courses. 
It will be interesting to see what happens with the stable of Penske drivers in the coming years, especially for Logano, to see if there's any noticeable drop-off in his performance with Keselowski no longer there to push him each and every weekend. 
Like Sportscasting on Facebook. Follow us on Twitter @sportscasting19.