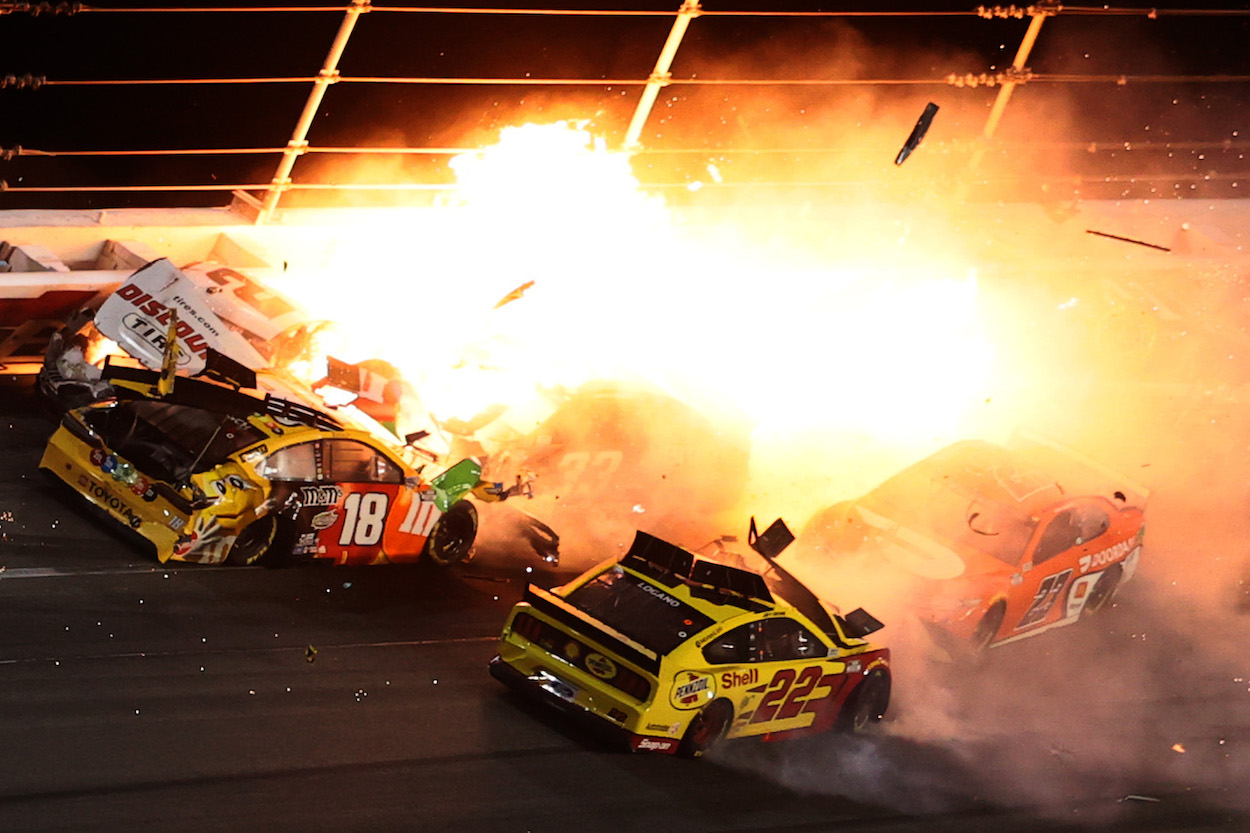 Joey Logano Confesses He and Teammate Brad Keselowski Aren't on Speaking Terms After Daytona 500 Last Lap Crash
Penske teammates Joey Logano and Brad Keselowski started the 2021 NASCAR season on a bad note with a last lap crash at the Daytona 500 and now the drivers aren't talking to each other.
Joey Logano crossed the start-finish line first in the No. 22 Ford and zipped past the white flag, heading into the final lap of the 2021 Daytona 500. What happened in the next 2.5 miles is what you'd expect in the sport's biggest race, as multiple drivers made their moves to win The Great American Race.
All that jockeying for final position at 190 miles an hour resulted in a massive crash in the final stretch, which took out the race leaders and allowed Michael McDowell to win not only his first-ever Daytona 500 but his first-ever Cup Series race. Penske teammates Logano and Brad Keselowski were the first two cars involved and set off a chain reaction. According to Logano, the two aren't on speaking terms after their latest incident. 
Joey Logano and Brad Keselowski crash on last lap of Daytona 500
The Daytona 500 is the biggest stage for NASCAR racing. And many times, the winning driver who stands atop that stage in victory lane does so as a result of a lot of skill and a hefty helping of luck. The latter typically comes into play on the race's final lap when drivers are doing whatever they can to win the sport's most prestigious crown. 
On Sunday, Joey Logano was the race leader on the final lap, with Penske teammate Brad Keselowski on his rear bumper. As the cars made the final turn on the back stretch, a line of cars stacked up behind Logano and Keselowski, plotting their move to pass. 
However, Keselowski made the first move and dropped down toward the inside underneath Logano. Responding to the move, Logano attempted to block his teammate, and that's when all hell broke loose.
Logano's car peeled off to the left toward the infield, while Keselowski veered right up into the outside wall, collecting multiple cars in the process. Michael McDowell, who was sitting in third, split the middle and was in front when caution came out.
Teammates had incident in 2020 at Daytona
While Joey Logano and Brad Keselowski have been teammates with Penske Racing for nine seasons, they've had run-ins as recently as a year ago in Daytona at the 2020 Busch Clash. 
In that race, Logano led with nine laps to go when Kyle Busch dropped down to the inside in a move very similar to Keselowski in the 2021 Daytona 500. Logano tried to block Busch, but got turned sideways with the two cars sliding into the outside wall, collecting Keselowski who was trailing behind.
Following that race, Keselowski called Logano's move "dumb dumb racing." Logano addressed the situation at last year's Daytona 500 media day when asked if he and his teammate had talked.
"We've talked and I think so. We'll see. We're gonna have different opinions on a lot of things all the time. That's part of racing and things like that, but I think we'll be fine."  
Joey Logano and Brad Keselowski not talking after 2021 Daytona 500
Following the 2021 Daytona 500, Brad Keselowski visited with Fox in a post-race interview and made it clear he didn't think he was at fault.
"Had a big run down the backstretch. Wanted to make the pass to win the Daytona 500," he said. "It ended up really bad. I don't feel like I made a mistake, but [I] can't drive everyone else's car."
During an episode of NASCAR Race Hub on Fox this week, Joey Logano was the featured guest and talked about that last lap incident. Not surprisingly, he didn't see it the same way his teammate did. The 2015 Daytona 500 winner said it was just a part of racing. When Jeff Gordon asked if he would have done anything differently, like maybe not block Keselowski, Logano was undecided.
"In the moment, you react. If you prepare beforehand, then you react in the moment. And at that moment, I felt like it was a blockable move," Logano acknowledged. "I look at it now, seeing that Brad was going to get turned anyway; I feel like I wish I went to the right. Who would have known?"
"Talked to Brad about this at all?" host Adam Alexander asked.
"I'm sure we will," Logano replied. Jeff Gordon jumped right on his non-answer. "That's a no. That's a no," Gordon repeated. 
"I think we've got to cool off," Logano admitted. "We've got the cool-down machine plugged in right now."
The cool-down machine might need to work some overtime after this latest incident.  
Like Sportscasting on Facebook. Follow us on Twitter @sportscasting19.