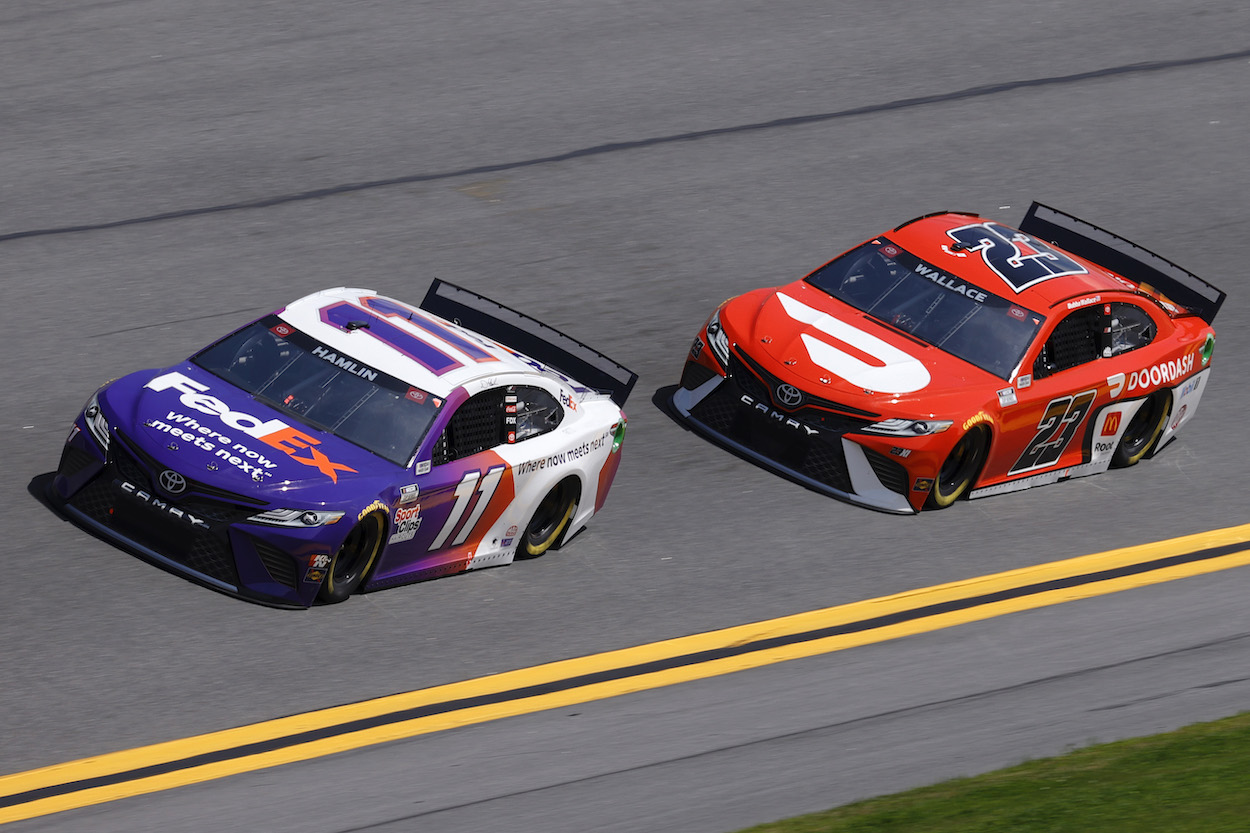 Denny Hamlin Shows No Mercy to Bubba Wallace in Ruthless Remark Just Before Start of Daytona 500
When Denny Hamlin learned the No. 23 car he co-owns with Michael Jordan was being sent to the back of the field to start the Daytona 500, his ruthless response sent a message to Bubba Wallace about his priorities on race day.
Denny Hamlin has been a successful NASCAR driver for 16 years with 44 Cup Series wins to his credit, including three at the Daytona 500. This past offseason, Hamlin teamed up with his friend and NBA Hall of Famer Michael Jordan to form the 23XI Racing Team. 
Today, Bubba Wallace makes the team's debut in the No. 23 car on NASCAR's biggest stage at the Daytona 500, where Hamlin has won the last two years. Unfortunately, due to a pair of failed pre-race inspections, Wallace's car will start from the back of the field. When Hamlin learned of this news just moments before the race, he had a ruthless response for Wallace and his misfortune.
Denny Hamlin's NASCAR career includes 3 Daytona wins
Denny Hamlin started racing go-karts at age 7. Almost a decade later, Hamlin was racing mini stocks. He made his NASCAR debut in 2004 at age 24 on the Truck Series, where he raced a limited schedule.
After a season on the Xfinity Series, Hamlin joined the Cup Series full-time in 2006 and made a good first impression. He won twice at Pocono, had 20 top-10 finishes, and most impressively, finished the season in third place. He won Rookie of the Year honors. 
Denny Hamlin has now raced over 500 times in the Cup Series for his career, totaling 280 top-10s and 44 wins, including three Daytona 500 victories in 2016, 2019, and 2020. Although the veteran driver has been very successful by all standards, a Cup Series championship has eluded him.
Denny Hamlin joins Michael Jordan to form team
Denny Hamlin has been associated with Michael Jordan for a decade, when Hamlin partnered with Nike's Michael Jordan brand. Since that time, Hamlin's firesuit, gloves, and shoes have all featured the famous "Jumpman" logo.
With that long-term relationship established, the two athletes took their business relationship to another level in 2020 when they joined together to form 23XI Racing Team, which would feature driver Bubba Wallace. 
"Bubba has shown tremendous improvement since joining the Cup Series, and we believe he's ready to take his career to a higher level," Hamlin said in a statement at the time of the announcement. 
Just before the start of the Daytona 500, the first race of the 2021 NASCAR season, Jordan put it more bluntly. "We would not have invested in him and picked him, if he did not have the talent to win." 
Makes ruthless remark about Wallace just before Daytona 500
Before the start of the Daytona 500 during the pre-race show, Fox's Chris Myers interviewed Denny Hamlin just moments after news broke that Bubba Wallace's No. 23 car would be sent to the back of the field to start the race after failing two pre-race inspections. 
When Myers asked Hamlin for his reaction to the news, the 40-year-old driver, who is trying to become the first three-peat winner of the Daytona 500, offered a surprising and ruthless answer.
"It's one less car I got to pass," he said, with Clint Bowyer and Jeff Gordon both laughing off camera.
"No. It happens in our sport all the time. You see multiple failures," Hamlin said in a serious tone. "They're trying to get everything they can get and that car's been really fast all week. Really excited today for our whole FedEx family team. Very optimistic that we got a car that can go out there and win."
Denny Hamlin has been successful in NASCAR for years for a reason. And it's not because he was worried about what other teams were doing on race day. He can worry about the No. 23 car six other days of the week.
Like Sportscasting on Facebook. Follow us on Twitter @sportscasting19.