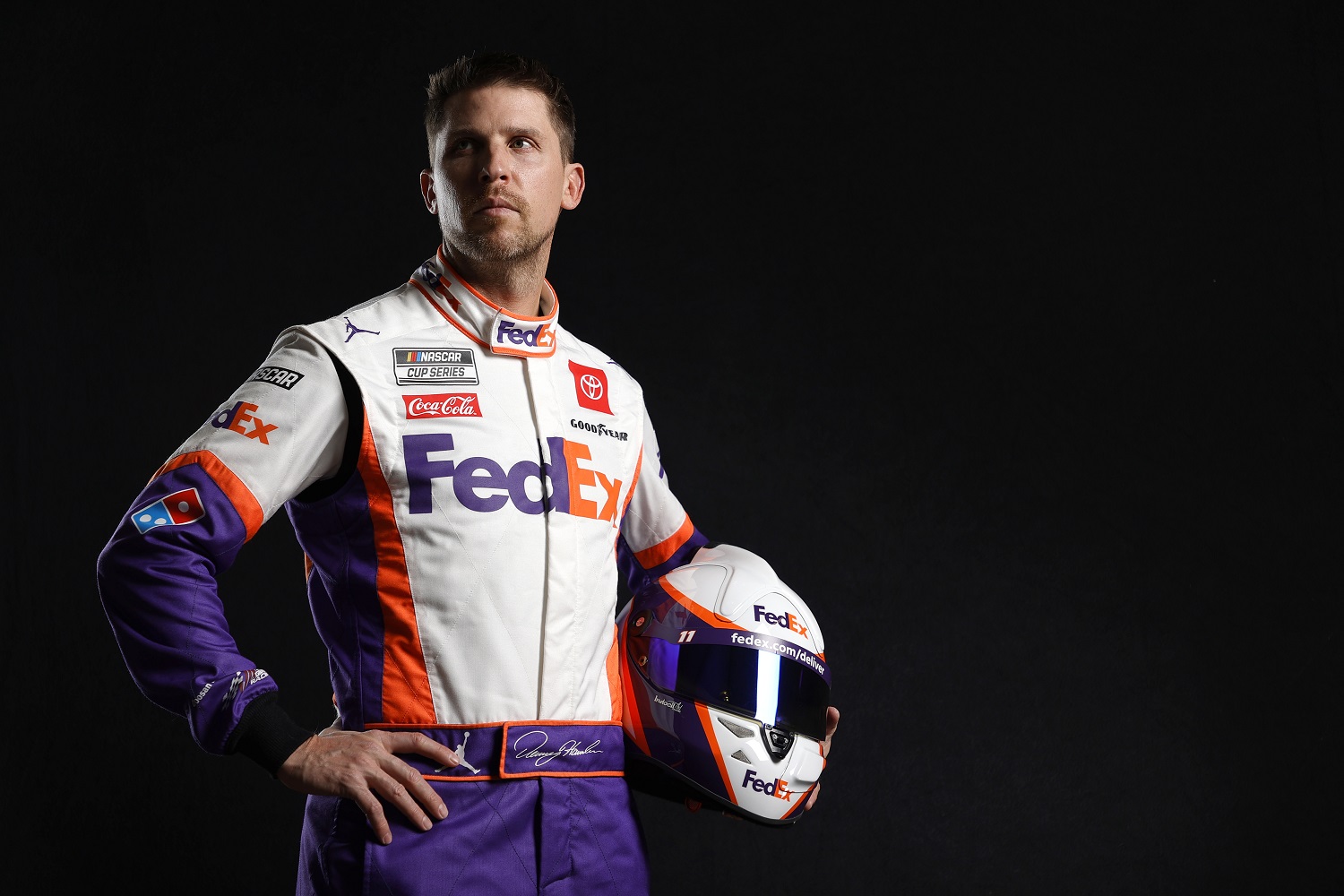 Denny Hamlin Is Walking a Dangerous Tightrope in the NASCAR Cup Series
Denny Hamlin is a partner with basketball great Michael Jordan in the 23XI Racing team, which is fielding Bubba Wallace's car in the NASCAR Cup Series.
Being the two-time defending Daytona 500 champion makes life hectic enough leading up to race day. But Denny Hamlin also goes into his sport's biggest event shouldering a new set of responsibilities as a partner in a rookie ownership team led by Michael Jordan and featuring Bubba Wallace, suddenly one of the most prominent names in motorsports.
All eyes are on Denny Hamlin at NASCAR's Daytona 500
The biggest Denny Hamlin Daytona 500 question of the week is whether he can pull off this third consecutive victory in the event and his fourth in six years. Richard Petty came closest to defending in consecutive years with three of his four Daytona triumphs coming in a four-year span beginning in 1971.
The implications of a three-peat are huge. Although it is the first race on the NASCAR Cup Series calendar, it is also the sport's biggest event of the year. Winning means an immediate head start in the standings. It would also give Hamlin and Joe Gibbs Racing that much more leverage when it comes to cramming more sponsorship money into the team.
Winning at the age of 40 would be a nice accomplishment for Hamlin, but it's doubtful that it would launch him into a spontaneous farewell tour. Hamlin won six races in 2019 and seven last season to raise his career total to 44. He has still never won the season points title, but he would be a sentimental pick within the sport to do so in 2021. So, winning at Daytona would be a nice start toward the goal.
Denny Hamlin has gone into business with Michael Jordan
Retired basketball great Michael Jordan has gone into the racing business with the launch of 23XI Racing, a new NASCAR Cup Series team fielding one car in 2021. While Jordan is the majority owner, veteran driver Denny Hamlin is also an investor in 23XI. The name combines Jordan's trademark uniform number from his NBA days and Hamlin's car number on his Joe Gibbs Racing Toyota.
The driver in 23XI's debut season is Bubba Wallace, who is winless in 112 starts at the top level but came into prominence in 2020 at the peak of the national conversations on racism and social injustice.
The confluence of perhaps the greatest basketball player ever, one of the most successful active drivers, and a competitor who was in the news for weeks at a time since late last spring means 23XI will attract a level of attention unprecedented for a first-year team. Should Wallace win a race or two, the spotlight will be ever brighter.
NASCAR could have to answer uncomfortable questions
There is ample precedent for drivers to have an ownership stake in teams, with Tony Stewart being a recent example. Stewart was a highly visible driver for Stewart-Haas Racing at a time when the organization was also fielding cars driven by the likes of Kevin Harvick, Danica Patrick, and Kurt Busch.
If Stewart had to squeeze Harvick into the wall at Bristol to complete a pass or give up the inside line so Harvick could make a move, it was generally understood that it was a matter for the team to sort out rather than get NASCAR involved.
But what happens if Denny Hamlin, who drives for Joe Gibbs Racing but owns a piece of 23XI, finds himself racing to the line with Bubba Wallace to win a segment of perhaps even the race? If Hamlin wins, he potentially costs himself and Michael Jordan literal money and figurative currency with business partners. If Hamlin loses, he faces questions about whether he lifted off the pedal just enough to make a difference.
It's unfair to all involved, including Hamlin.  But NASCAR had better be prepared to handle the questions, especially in an era of legalized sports gambling that allows the public to bet on outcomes.
For his part, Hamlin gave a solid answer — even if it didn't completely put the issue to rest.
"From my standpoint, I am really looking forward to going to the track, and concentrating on one thing, and that is being a race car driver and getting the most out of it," Hamlin said, according to AutoSport.com.
"For myself, I've felt like February 1 was the date where I was kind of done with the day-to-day for 23XI and I just think my focus is now on the No. 11 team and how we can win a lot of races and win a championship."
Like Sportscasting on Facebook. Follow us on Twitter @sportscasting19.