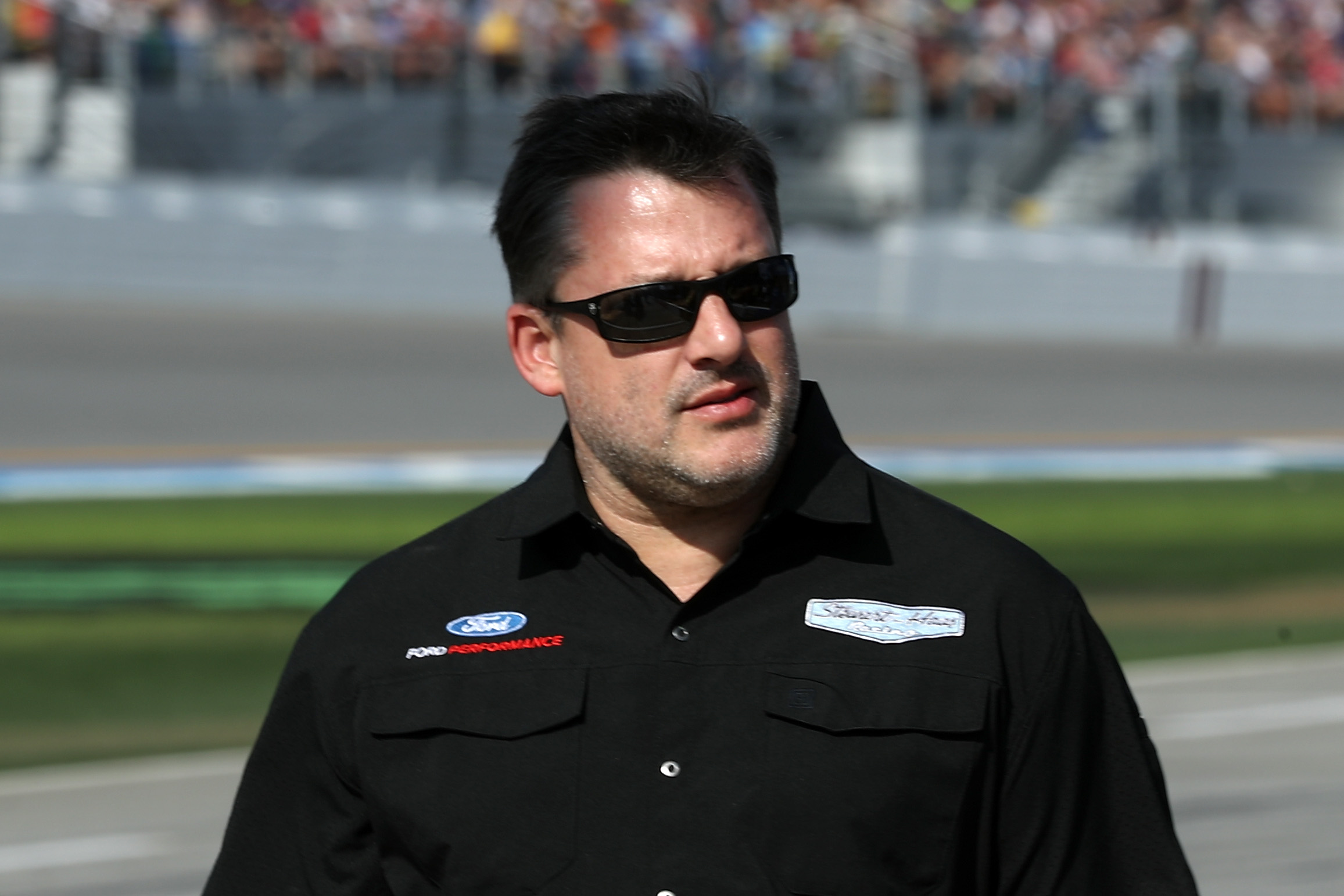 Tony Stewart Won a Race and Celebrated by Posing on a Bull
Tony Stewart hasn't driven in the NASCAR Cup Series since 2016, but he still enjoys racing sprint cars. His first victory in 2021 came with an unusual photo opportunity.
Tony Stewart is known best for his NASCAR Cup Series success, but there is hardly a circuit that he hasn't tried – and succeeded in — as a driver. The 49-year-old Indiana native hasn't driven in any of the country's major motorsports circuits since 2016, but that gives him time to do two other things he loves: running his racing team and going back to his racing roots.
Tony Stewart was a NASCAR Cup Series champion
Tony Stewart chalked up numerous victories against auto racing's best competition, and one of his most impressive accomplishments was becoming the only driver to win season titles in IndyCar and NASCAR, where he walked away with top honors three times.
Stewart was only 20 years old in 1991 when he earned USAC Rookie of the Year honors, and he won three USAC series championships in the next four years. He moved into the big time to race the IndyCar Series full-time for the first time in 1997 and won the points championship.
Two years later, Stewart joined NASCAR as part of Joe Gibbs Racing. He made an impressive debut with a fourth-place finish in the standings with the help of wins at Richmond, Phoenix, and Homestead in the final 10 races of the year. He also tried the demanding Memorial Day weekend double, placing ninth in the Indianapolis 500 and fourth in the Coca-Cola 600.
Stewart captured his first NASCAR Cup Series championship in 2002 and two more in 2005 and 2011 to bookend the five straight crowns captured by Jimmie Johnson. By the time he retired in 2016, Stewart had won 49 times in the big series and 11 times in the Xfinity Series.
Tony Stewart loves going back to his roots
Eight-year-old Tony Stewart began racing go karts in Westport, Indiana, in 1979. Eight years later, he was the World Karting Association champion and ready to move to the United Midget Racing Association, which was his springboard into USAC racing and then top-tier racing.
Through it all, the NASCAR Hall of Fame inductee has never forgotten his roots. Even while an active NASCAR Cup Series driver, Stewart was always on the lookout for a nearby dirt track where he could race his sprint car. Those were the circumstances on Aug. 9, 2014, when Stewart was involved in the incident that killed local driver Kevin Ward Jr. at Canandaigua Motorsports Park in upstate New York.
The incident happened the night before Stewart was to race in the NASCAR Cup Series event on the nearby Watkins Glen road course.
Tony Stewart won a race and posed on a bull afterward
NASCAR Hall of Fame driver Tony Stewart captured his first 410 sprint car victory of the season on Jan. 24, 2021, by winning the feature of a 22-driver field in the Wild Wing Shootout at Arizona Speedway in San Tan Valley, Arizona. It capped three days of racing that saw Stewart finish seventh and 13th in the previous races.
Stewart signaled something big might be in store by setting the one-third-mile track's record with a qualifying lap of 12.395 seconds on the banked dirt.
The victory earned Stewart $10,000 and a photo opportunity seated atop a live bull.
Like Sportscasting on Facebook. Follow us on Twitter @sportscasting19.