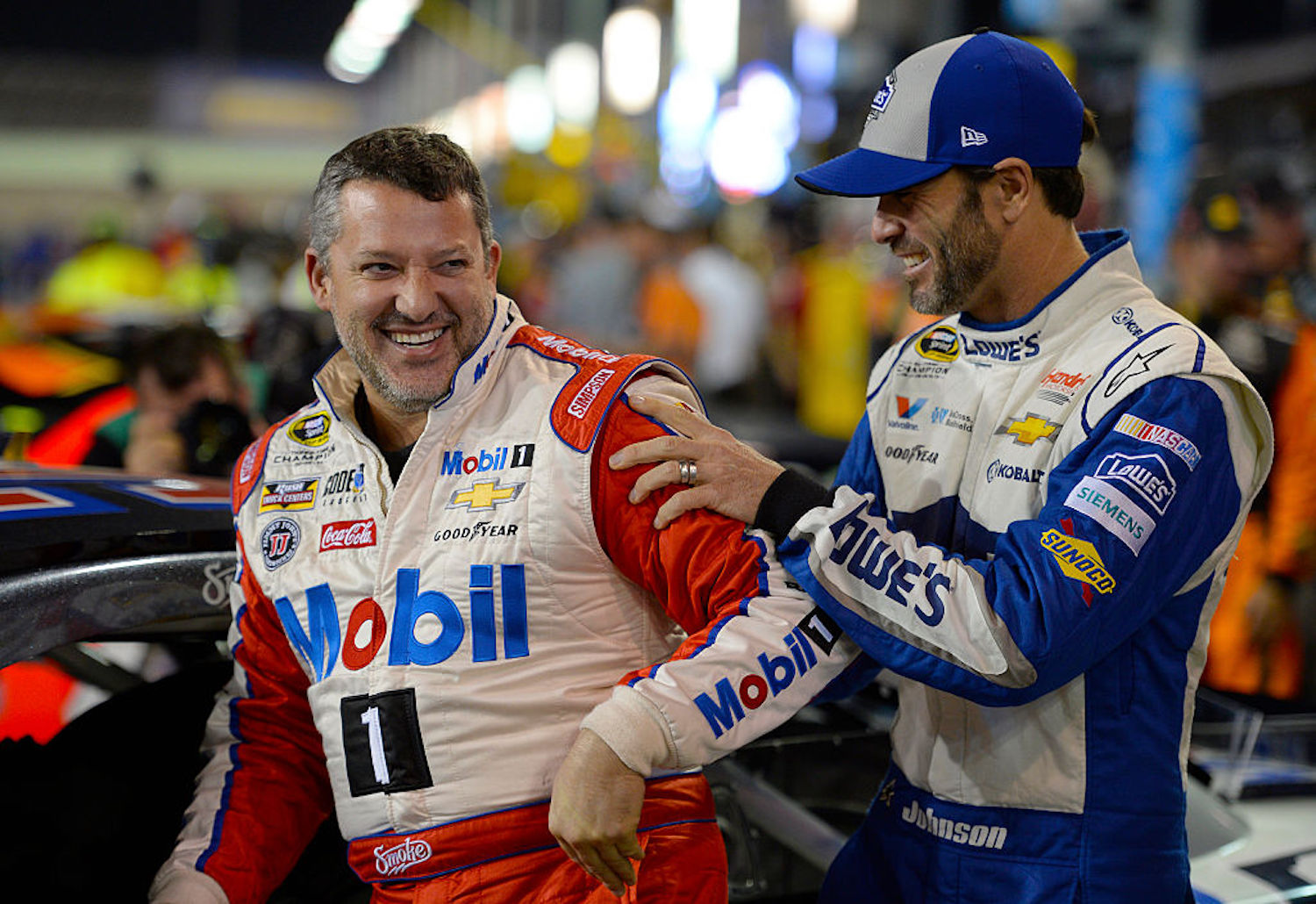 Tony Stewart Saved Jimmie Johnson After the NASCAR Legend Embarrassingly Got Stuck in an Elevator
Tony Stewart recently told a hilarious story about how he had to save Jimmie Johnson after the NASCAR legend got stuck in an elevator.
After Jimmie Johnson called it quits on his legendary racing career last fall, NASCAR drivers young and old shared their favorite stories about the future Hall of Famer. Some referenced a piece of advice Johnson gave them at some point during their life. Others shared their favorite memory from his historic career on the track.
But Tony Stewart went a different route by telling an embarrassing story about having to save Johnson after he got stuck in an elevator.
Tony Stewart and Jimmie Johnson had a friendly NASCAR rivalry
Throughout their entire careers, Tony Stewart and Jimmie Johnson were considered two of the most dominant drivers in the NASCAR Cup Series. Stewart reached the Cup Series in 1999, and Johnson joined him two years later. The two battled to the checkered flag time countless times over the last two decades, but at the end of the day, it was all about friendship and respect between the two competitors.
When asked on the Rich Eisen Show in 2020 about where Johnson ranks in his list of toughest drivers to beat, Stewart spoke highly of his good pal.
"He's in the top five for sure," Stewart said. "And it's not always just about what he does on the race track. It's all the stuff he does off the race track and the kind of person he is off the race track. I consider him a great friend and somebody that I admire."
The two NASCAR legends are so close that Johnson inducted Stewart into the Hall of Fame at his induction ceremony last year.
Jimmie Johnson retired from NASCAR in 2020
After a historic career that saw 83 Cup Series wins and seven championships, Jimmie Johnson retired from the NASCAR circuit following the 2020 season. He left the sport as arguably the greatest NASCAR driver of the 21st century.
At the time of his retirement, competitors and friends alike offered their favorite stories and memories of the future Hall of Famer's career.
Tony Stewart saved Jimmie Johnson from a broken elevator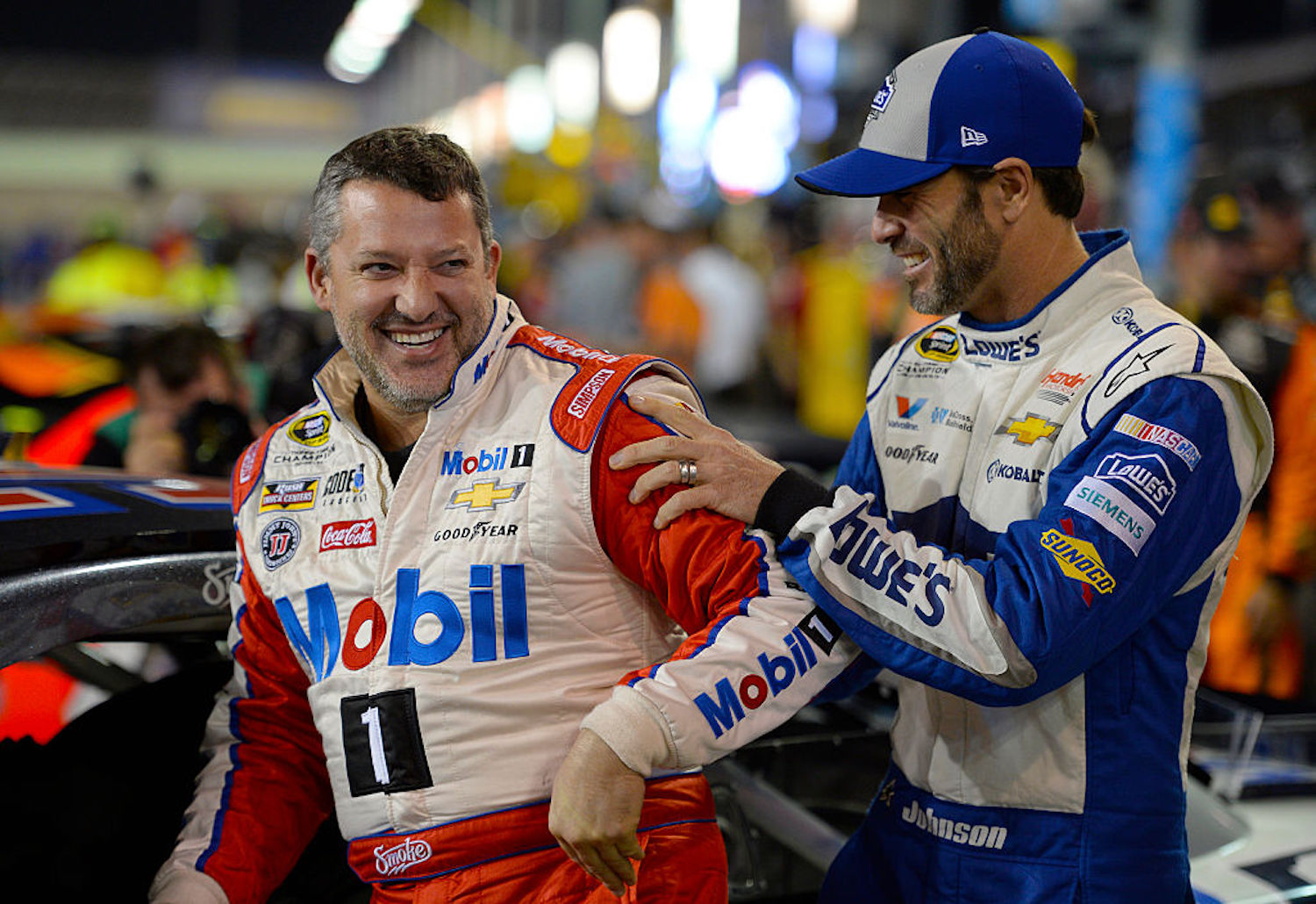 Last fall, Tony Stewart spoke to USA Today Sports about his good friend's impending retirement. He decided to share an embarrassing story from their past in which Jimmie Johnson got stuck in a broken elevator.
So I'm literally on stage talking to the fan club president in front of everybody, and my phone rings. So I grab it to turn the ringer off, and I see it's Jimmie Johnson. And I said, 'Hey, this is Jimmie Johnson. Let me grab this real quick.' So I answered the phone. The guy still has a microphone to me, and I'm like, 'Hey, what's going on?' Jimmie goes, 'I'm stuck in your elevator and don't know how to get out.' I said, 'Make sure the door's closed.' He goes, 'If I have to break this door down to get out, I'll do it.' He goes, 'But Lowe's will pay to fix it.' I'm like, 'You don't have to break the door down. Just make sure that the inside door is shut all the way or else it will not move and will not let it get to the floor.' He gets it all shut up and figures out that's exactly what it was, and he got out of the elevator. And the whole fan club picnic was dying laughing in the background listen to this conversation.

Tony Stewart
Johnson was as smooth as they come on the race track, but this must've been one of his more embarrassing moments.