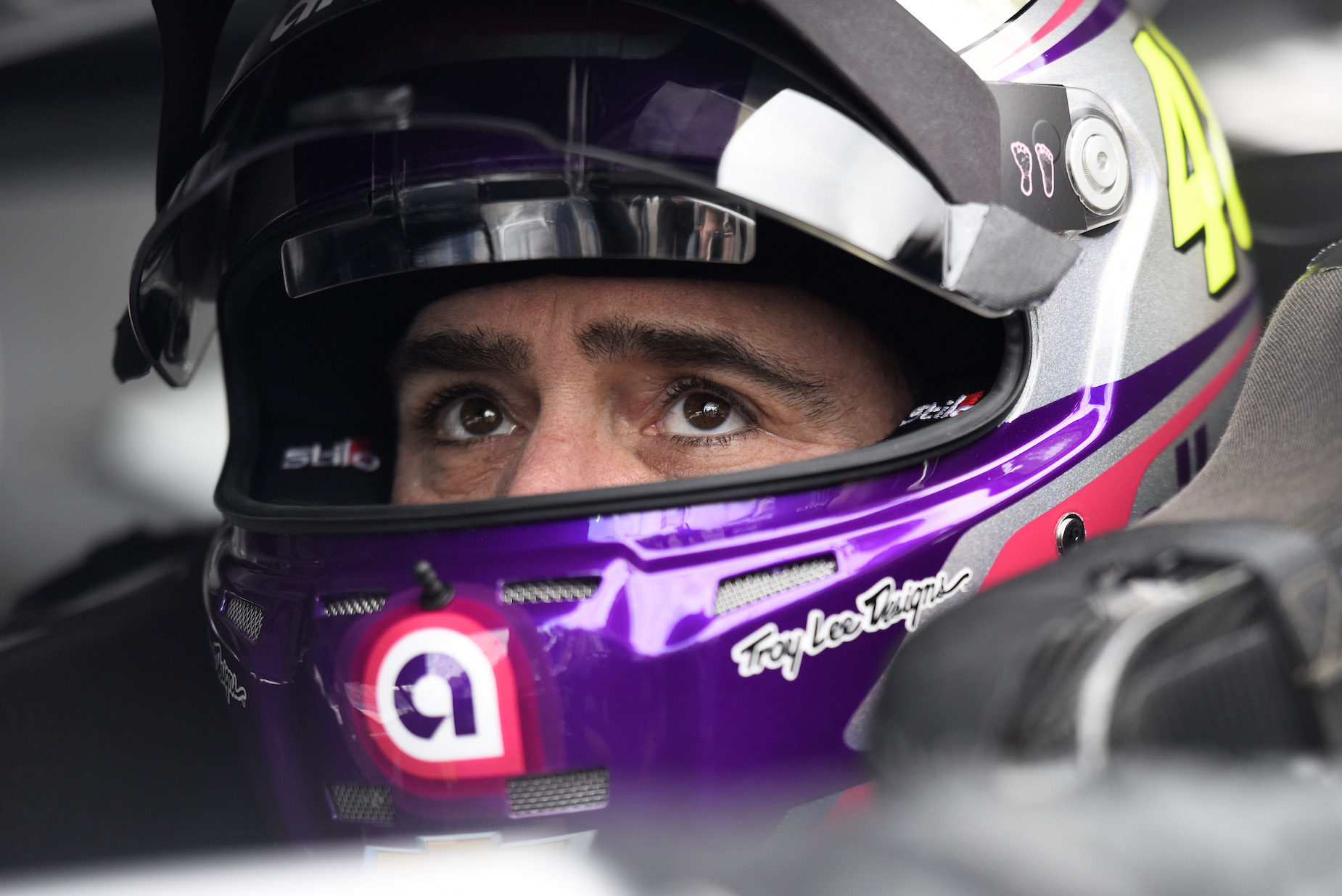 Jimmie Johnson Owes His NASCAR Success to a Potentially-Fatal Crash: 'I Needed That Wake-Up Call'
After surviving a potentially-fatal crash in the Baja 1000, Jimmie Johnson changed the course of his entire racing career.
In the world of NASCAR, few men had more success than Jimmie Johnson. Long before the motorsports legend ever climbed behind the wheel of a stock car, however, he could have met his tragic end in the mountains of Mexico.
During the 1995 Baja 1000, Jimmie Johnson actually dozed off and hurtled off the road. While the crash could have ended in tragedy, the driver survived; he also walked away from the wreck with a lesson that would shape his NASCAR career.
Jimmie Johnson was one of NASCAR's most successful drivers
When you think of NASCAR legends, names like Earnhardt and Petty probably spring to mind. Jimmie Johnson, however, has also had a pretty incredible career behind the wheel.
As we'll discuss later in the context of a crash, Johnson started out as an off-road racer. He eventually made the transition to stock cars, however, cutting his teeth in the American Speed Association and the Busch Series. In 2002, Johnson was ready to make his Cup Series debut.
While his results tailed off in recent years, Jimmie Johnson did incredibly well during his time on the NASCAR circuit. He claimed the checkered flag in 83 Cup Series races and earned 374 top-ten finishes; he's also tied for the all-time record with seven Cup Series championships and was a five-time driver of the year. Johnson also has an estimated $160 million net worth, which isn't too shabby, either.
A potentially-deadly crash in the Baja 1000
As mentioned above, Jimmie Johnson made a name for himself on the off-road racing scene before he ever took part in a NASCAR race. If things had gone differently in 1995, however, he might not have ever made the transition to stock-car racing.
"In 1995, I was racing in the Baja 1000 in Mexico and, of all things, I kind of dozed off [during] early morning hours," Johnson once told Larry King. "[I] woke up and realized I was going way too fast, and there was a sharp right-hand turn in front of me. And I went off the road, I was up in the mountains along the coast, almost to La Paz, and went flying off in the darkness. Had no clue how far I was going to fall."
Unsurprisingly, Jimmie Johnson said that was one of his top-two scariest experiences behind the wheel. "The moments before I hit the ground there, those were pretty frightening," he concluded.
That crash changed the course of Jimmie Johnson's NASCAR career
Despite tumbling into a ravine and wrecking his truck, Jimmie Johnson survived the crash with only some bumps and bruises. The crash, however, made quite an impact on him; in fact, it helped set the stage for his stock car success.
In the 12 hours it took for help to arrive, Johnson took stock of his career and realized that he needed to make a change.
"It was in this time Jimmie says he re-evaluated his life and completely altered his approach to racing," jimmiejohnson.com explains. "I made a series of mistakes leading up to that point. I was too aggressive, not finishing races. I needed that wake-up call. It changed me from being the young and dumb hot shoe to a thinking man's racer. I was the hare; now I'm the tortoise."
Had things gone differently that day, Jimmie Johnson could have died tragically in the mountains of Mexico. Instead, he walked away with a new perspective on racing and turned into an incredibly successful NASCAR star.