Danica Patrick Will Never Forget Jimmie Johnson's Perfect Advice After His Daytona Win
Jimmie Johnson meant a lot to NASCAR fans across the world throughout his 20-year racing career, but his legacy extended further beyond just the fans.
Danica Patrick, who competed against Johnson for seven years, was sad to see him retire from the NASCAR circuit last weekend. As she reflected on the racing legend's career, Patrick looked back on the perfect advice Johnson gave her after the 2013 Daytona 500.
Jimmie Johnson has retired from NASCAR
After 20 years on the NASCAR circuit, Jimmie Johnson competed in his final race last Sunday at Phoenix Raceway. Johnson will move on to race in IndyCar Series for Chip Ganassi Racing going forward.
Over his illustrious NASCAR career, Johnson won 83 races and earned over $150 million in race winnings. He also won seven Cup Series titles, which is tied with Richard Petty and Dale Earnhardt for the most in NASCAR history. Johnson won five titles in a row from 2006-2010 in what was the most dominant stretch in the history of the sport.
Ahead of his retirement from NASCAR, Johnson's competitors reminisced about their fondest memories with the future Hall of Famer, and Danica Patrick referenced a race in which she lost.
Johnson edged out Danica Patrick at the 2013 Daytona 500
In 2013, Danica Patrick won the pole for her first-ever appearance in the Daytona 500 as a full-time Cup Series driver. She found herself in a position to win the race going into the final lap, but Jimmie Johnson edged her out to win as she fell back to eighth place.
Patrick was frustrated after the race for not finishing the way she wanted, but Johnson took the time to offer some helpful advice after his Daytona 500 win.
Danica Patrick will never forget Jimmie Johnson's post-race advice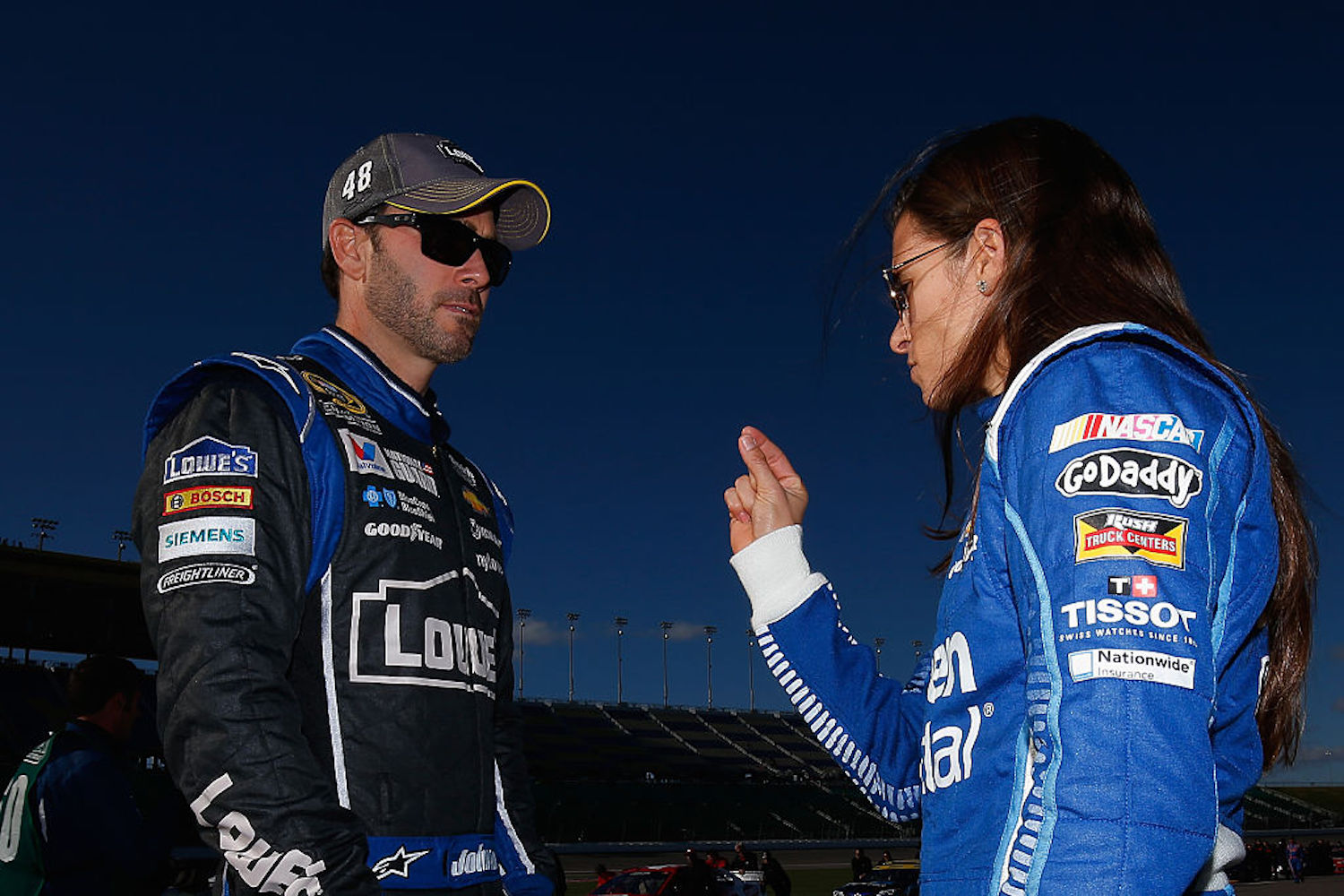 After the race, Patrick was kicking herself for not being prepared enough with a plan of attack for the final lap. But Johnson offered her some encouraging words that she'll remember forever.
Patrick told USA Today about that conversation with Johnson.
My first Daytona 500 as a full-time cup driver, I was running third coming into the last lap, and Jimmie ended up winning the race. I was beating myself up a little bit for not having a plan. I was like, 'Man, how did I not see that coming? Dale Jr. dropped back, and then he got a run. Man, I should have done something different.' And I remember [Johnson] telling me he didn't have any plan. There's no plan going into those last laps at either of the [Daytona 500s] he won. And he said, 'I didn't plan for that one, and I didn't plan for this one. And don't beat yourself up that you should have had a plan because you can't. It just happens.' I remember thinking: Thanks, Jimmie. Thanks for making me feel better about myself as a driver when I was beating myself up that I coulda shoulda woulda done something different. … And that was some nice, sage perspective from a guy like Jimmie.

Danica Patrick
Johnson is more than just a NASCAR legend on the racetrack. He was always there for his fellow competitors to lend a helping hand or offer his advice, and Patrick is only one of the many he helped along the way.