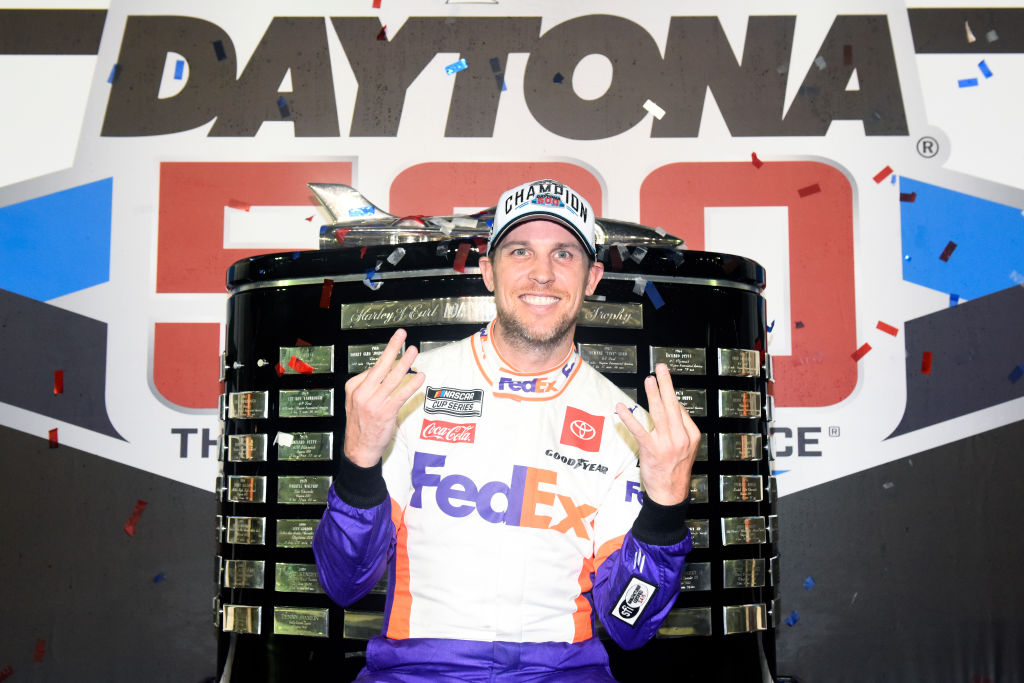 What Is Denny Hamlin's Net Worth?
Denny Hamlin has been one of the best NASCAR drivers of the past few years, and he's been paid handsomely due to his success.
Denny Hamlin has been one of the most dominant NASCAR drivers on the circuit for a few years. He's won the Daytona 500 in two straight years, and he's been a top-10 machine for the entirety of his career. After 39 NASCAR Cup Series wins and tens of millions in prize money, Hamlin has racked up a massive net worth from driving a car in a circle.
Denny Hamlin is one of the best drivers in NASCAR
Denny Hamlin was born to race. When he was just seven years old, he started driving go-karts, and it wasn't long before he was racing competitively.
Hamlin turned pro in 2005 when he was just 24 years old. He competed in only seven races in his first year, but he established himself as a superstar in his official rookie season in 2006.
Throughout the year, Hamlin won twice and placed inside the top 10 in 20 of the year's 36 races. He finished the season in third place overall and won the 2006 NASCAR Cup Series Rookie of the Year. Hamlin was the first rookie in NASCAR history to qualify for the Chase for the Cup.
Over the course of his career, Hamlin has won 39 NASCAR Cup Series races. He's become a regular in the winner's circle of the Daytona 500, winning three of the last five. However, Hamlin has never been crowned a champion at the end of a season. He came in second place in 2010 and has five top-5 finishes, but he's still searching for his first NASCAR title.
Denny Hamlin earned $14.2 million in 2019
Hamlin had a wildly successful season in 2019, not just on the track but in his bank account as well. He won six races and placed in the top 10 a career-high 24 times. Hamlin finished fourth in the Chase for the Cup, and it earned him a massive payday.
Over the course of the 2019 season, Hamlin earned $14.2 million, the third-highest of any NASCAR driver last year. He earned $12.7 million in salary and winnings and $1.5 million in endorsements.
Hamlin has earned over $100 million in his career, making him one of the top earners in NASCAR history.
What is Denny Hamlin's net worth?
Hamlin is one of the winningest drivers in the NASCAR Cup Series over the last 15 years. He's won tens of millions of dollars in prize money, and his endorsements with Coca-Cola and Nike's Jordan Brand have just padded his pockets even more.
As of May 2020, Hamlin's net worth stands at a whopping $65 million.
That number will only inflate larger as Hamlin keeps finding the winner's circle. He already has two wins in seven races this season, and he's determined to finally win the coveted NASCAR Cup Series trophy at the end of the year.
All financial stats courtesy of Celebrity Net Worth