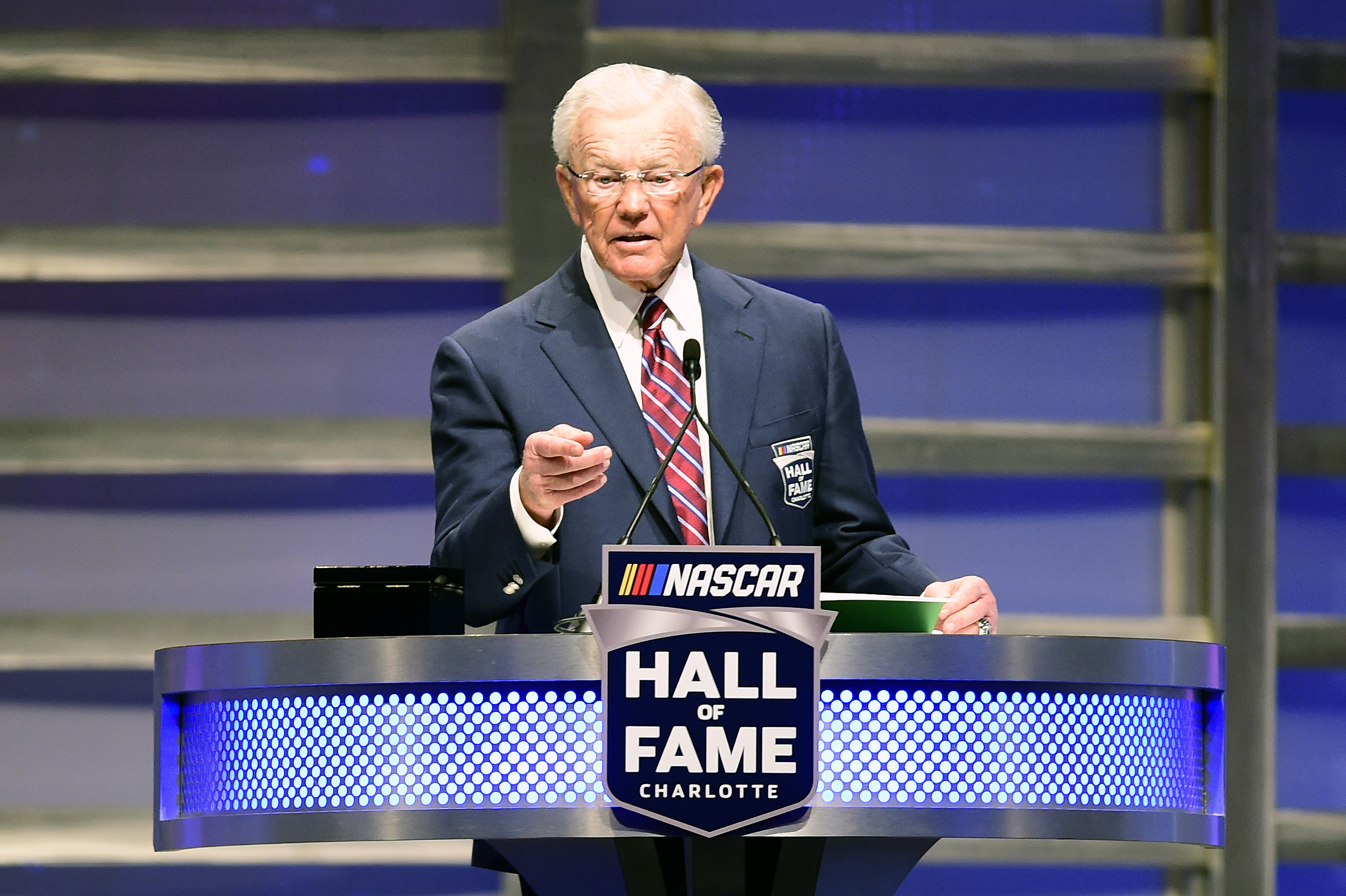 The Joe Gibbs Move from NFL to NASCAR Began as a 'Dream on a Piece of Paper'
Legendary Washington Redskins football coach Joe Gibbs' move from the NFL to NASCAR began as a 'dream on a piece of paper.'
The football resume of Joe Gibbs is well documented. Two two-time head coach of the Washington Redskins is a three-time Super Bowl champion and a member of the Pro Football Hall of Fame. He and his son J.D. also had an itch for motorsports and drew up a plan. The Gibbs' NASCAR dream literally began on a sheet of paper.
Joe Gibbs was a legendary football coach
Joe Gibbs was a football guy. He proved to be one of the NFL's premier head coaches during the 1980s and early 90s. Gibbs has two stints as head coach of the Washington Redskins. He was the team's 20th head coach and the 26th head coach. He compiled a record 0f 171-101 (postseason included) in his career with Washington.
Gibbs won three Super Bowls during his head coaching career. He captured his first one during the strike-shortened season in 1982 when his team went 8-1 in the regular season. That was Gibbs' second year as a head coach in the NFL. He had previously spent time as an offensive coordinator with the Tampa Bay Buccaneers and the San Diego Chargers.
Gibbs also claimed the Super Bowl during the 1987 and 1991 seasons. He is the lone head coach to win three Super Bowls with three different quarterbacks. He retired for the first time after the 1992 season and then returned for his second run as head coach of the Redskins in 2004, coaching through the 2007 season. Gibbs was inducted into the Pro Football Hall of Fame in 1996.
Gibbs makes the bold move to NASCAR
At the tail end of his first go as head coach of the Washington Redskins, Joe Gibbs pondered what he would do after life in the NFL. "When the boys (his sons) came along, both of them, J.D. and Coy, loved everything with a motor on it," Gibbs said last year in an interview with Graham Bensinger. Gibbs said he would always take his sons to racing events while growing up.
"J.D. (who passed away in January of 2019) graduated from school and said, 'Dad, I'd rather do something in racing than I would in football," Gibbs said. "I said, 'Well, what we can do – we don't have anything – but we can put a dream on a piece of paper and see if we can sell it to somebody.' The second phone call I made was to Norm Miller of Interstate Batteries. I kid Norm to this day and I tell him that you're the only guy that had enough guts or was dumb enough to do this."
Gibbs said he showed up at Miller's door. "(Miller) said, 'Now, who's your driver?'" Gibbs recalled. "I said, 'We don't have one.' He said, 'Where's your race shop?' and I said, 'We don't have one.' I said, 'Norm, this is a dream on a sheet of paper.' Can you believe Norm was willing to step out? Two days later, we talked on the phone and he said, 'Let's do this.'"
Gibbs had a bumpy road early on
When Joe Gibbs made the move to NASCAR, people were left wondering what the heck he was doing. "People were like, "You're doing what? That's not a business," Gibbs told Graham Bensinger last year. "About six months into it, I got a phone call from Don Meredith, who was kinda overseeing things from a business standpoint." Meredith said he needed to meet with Gibbs.
Gibbs recalls Meredith telling him some shocking news. "I was about to take a bite of my swordfish and he goes, 'We're $250,000 in the hole,'" Gibbs said. "I had absolute panic. We said we gotta make some changes and we have to make it with this. We can't go further in debt. From that point on, we started working real hard, watched the budget, and started building things slowly."
Things certainly worked out for Gibbs. He's gone on to become a five-time NASCAR Cup Series champ as an owner. He's also a two-time NASCAR Xfinity Series champ. His drivers have won the Daytona 500 four times. Gibbs was inducted into the NASCAR Hall of Fame this year.