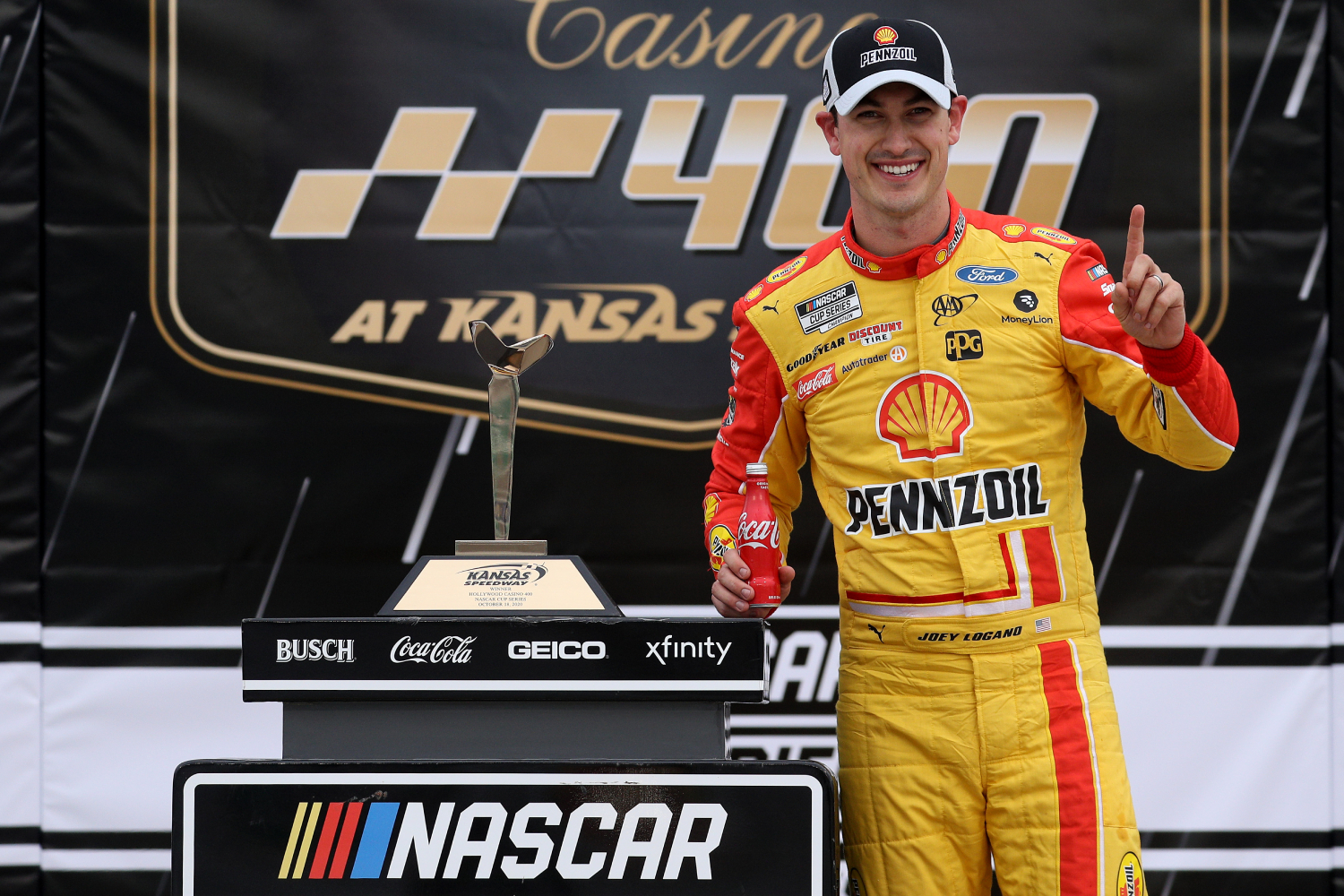 How Did NASCAR's Joey Logano Become a New England Patriots Fan?
How did NASCAR star Joey Logano become a New England Patriots fan? It all began because of a former Washington Redskins coach.
Joey Logano wasn't much of a football fan as a kid. The 30-year-old NASCAR driver was more into ice hockey and motorsports when he was growing up in Middletown, Connecticut. It wasn't until he began racing professionally that football became more prevalent in his life.
Joey Logano gets an early start in the NASCAR world
It didn't take long for Joey Logano to make a name for himself in the world of NASCAR. Logano made his NASCAR debut at the age of 18 and earned his first victory shortly thereafter. Logano collected his first win in the third race of his professional career, claiming the Meijer 300 at Kentucky Speedway in the Nationwide Series.
A year later, Logano became the youngest winner in Cup Series history when he earned a victory at New Hampshire Motor Speedway. At 19, he claimed the 2009 Lenox Industrial Tools 301. In 2015, he became the second-youngest driver to win the Daytona 500.
Logano has 26 Cup Series victories in his career and has finished in the top 10 218 times. Logano is coming off a victory in last weekend's Hollywood Casino 400 in Kansas. He hadn't won a NASCAR Cup race since March 8.
Logano gained his football knowledge from Joe Gibbs
Logano, who drives for Team Penske, previously drove for Joe Gibbs Racing. Gibbs is the former head coach of the Washington Redskins. Gibbs coached 16 years in the NFL, all with the Redskins. He won three Super Bowls and is a two-time AP Coach of the Year.
Logano said he was never a big fan of football. He said he watched it a little bit when he was young, but Gibbs got him more into it. He attended several games with Gibbs in the past.
"I watched football, but I wasn't a huge fan until I signed with Joe Gibbs Racing. I've learned a lot about the sport because he talks a lot about it," Logano said to ESPN back in 2011. "I've become a fan of it, and from being up in the New England area, being in Connecticut, obviously you're a Patriots fan."
Logano even got to kick some field goals with the New England Patriots
When Joey Logano was still racing for Joe Gibbs, he appeared at a New England Patriots practice and was able to get on the field to kick some field goals. Or at least try to kick some field goals with then-kicker Stephen Gostkowski.
"I played hockey growing up. (But) kicking a football, I had no technique," Logano said, according to ESPN. "I'm not very flexible — I can't even touch my toes — so it was definitely interesting. I'm sure I didn't look too coordinated out there."
Logano said he'll pass on kicking footballs and will stick to racing. "I had fun with that," Logano said. "I've never really kicked a football before. I'm not very athletic when it comes to every sport. I've figured out how to drive a race car pretty good."