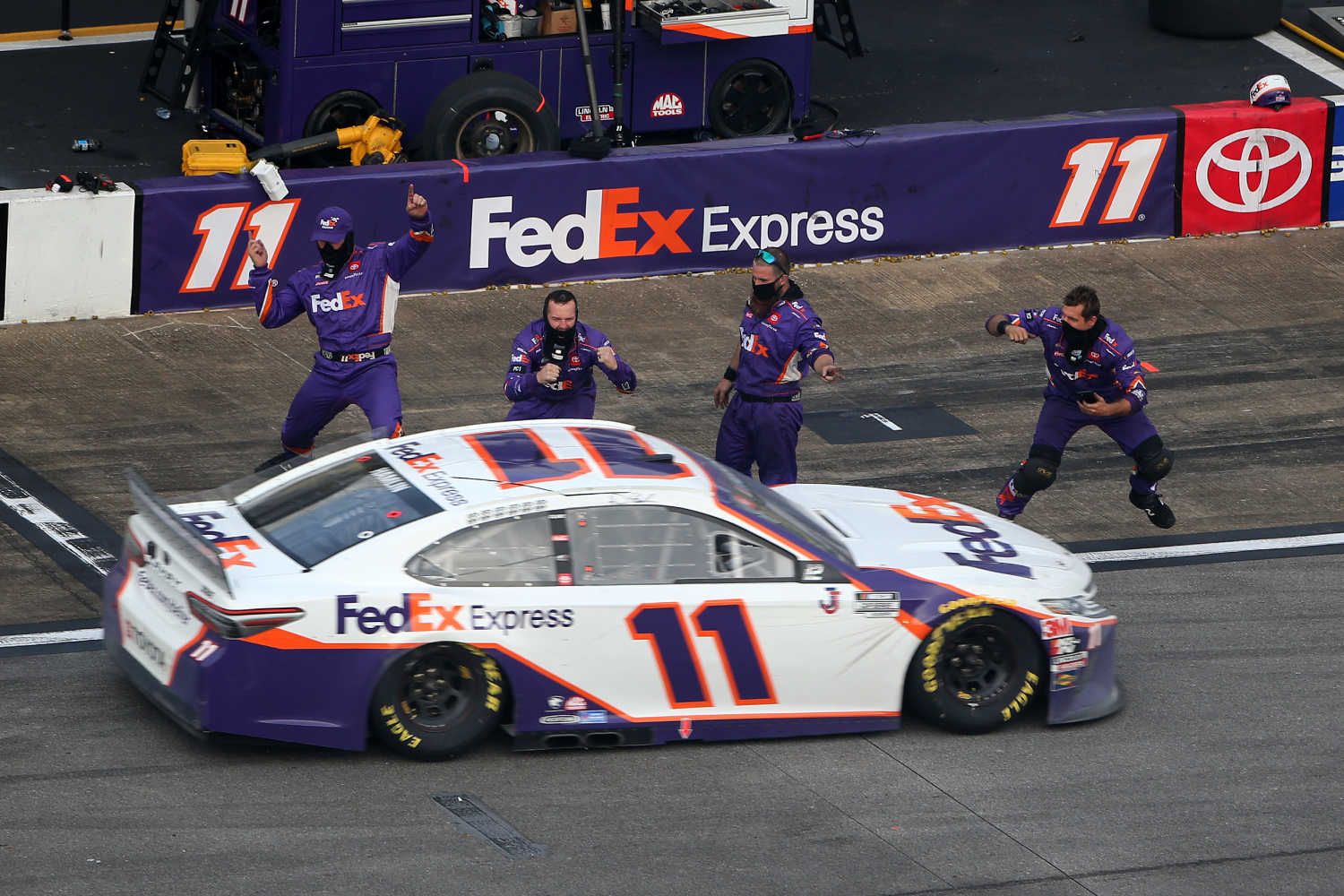 Denny Hamlin Knew He Was Destined for NASCAR Racing at Age 7
Denny Hamlin and his father knew Hamlin was destined to be a NASCAR driver during a go-kart race at age 7.
It didn't take long for Denny Hamlin or his parents to realize what his future held. Go-karting eventually grew to NASCAR and Hamlin succeeded throughout the progression. Hamlin began the journey at age 7 and has gone on to become one of the most dominant figures in motorsports.
Denny Hamlin has owned Daytona
During the course of his career, Denny Hamlin has won 44 NASCAR Cup Series races. Hamlin has 278 top-10 finishes under his belt. He turned pro age the age of 24 in 2005, but only competed in seven races. During his official rookie year in 2006, Hamlin was the 2006 Nextel Cup Series Rookie of the Year after becoming the first rookie to qualify for Chase for the Nextel Cup.
Where Hamlin has shined has been Daytona. He has captured the Daytona 500 three times since 2016. He also won it this year after the race was postponed for only the second time in history. When he won it this year, he became only the fourth driver to claim consecutive Daytona 500 titles.
"I just feel like I'm a student of the game," Hamlin said after this year's race. "I never stop learning and trying to figure out where I need to put myself at the right time. It doesn't always work (but) we've defied the odds here in the Daytona 500. I just trust my instincts and so far they've been good for me. I can't do it without the car. That's (enabling me) to make those race-winning moves."
Hamlin's younger days
Denny Hamlin was born in Tampa, Florida, but moved to Chesterfield, Virginia. When he was growing up, he played some baseball and basketball, but he always loved racing. Even when it came to his schoolwork, he was focused on racing.
"If he had to do a book report and it was a biography, it was on a racer," Hamlin's mother Mary Lou said to The Richmond Times-Dispatch. "Everything was racing. He was very fortunate to have teachers who knew his dream and let him incorporate that into his schoolwork."
Hamlin also had a lot of support from his parents. They wanted to help him achieve his dream. "We felt like he had talent, but we knew there were probably 1,000 Denny Hamlins out there who never get the opportunity," Mary Lou said. "We put everything we had, whatever resources we had, into his racing because we at least wanted to give him whatever opportunity we could."
Denny Hamlin knew he would be a racer at age 7
Like most racers, Denny Hamlin began on the go-kart scene. When he was 7 years old, his father, Dennis, realized his son would grow up loving the racing life. He didn't expect him to become one of NASCAR's best but knew there was something special about his son after his first go-kart race.
During Hamlin's first-ever go-kart race, he won. Dennis was there to celebrate the victory, but watched as Denny kept circling round and round well after the race was over.
"There were probably 10 daddies out there on the track, trying to stop him," Dennis said to The Richmond Times-Dispatch. "When he finally stopped, I asked him what he was doing. He said he knew he'd won, it was just too much fun to stop."