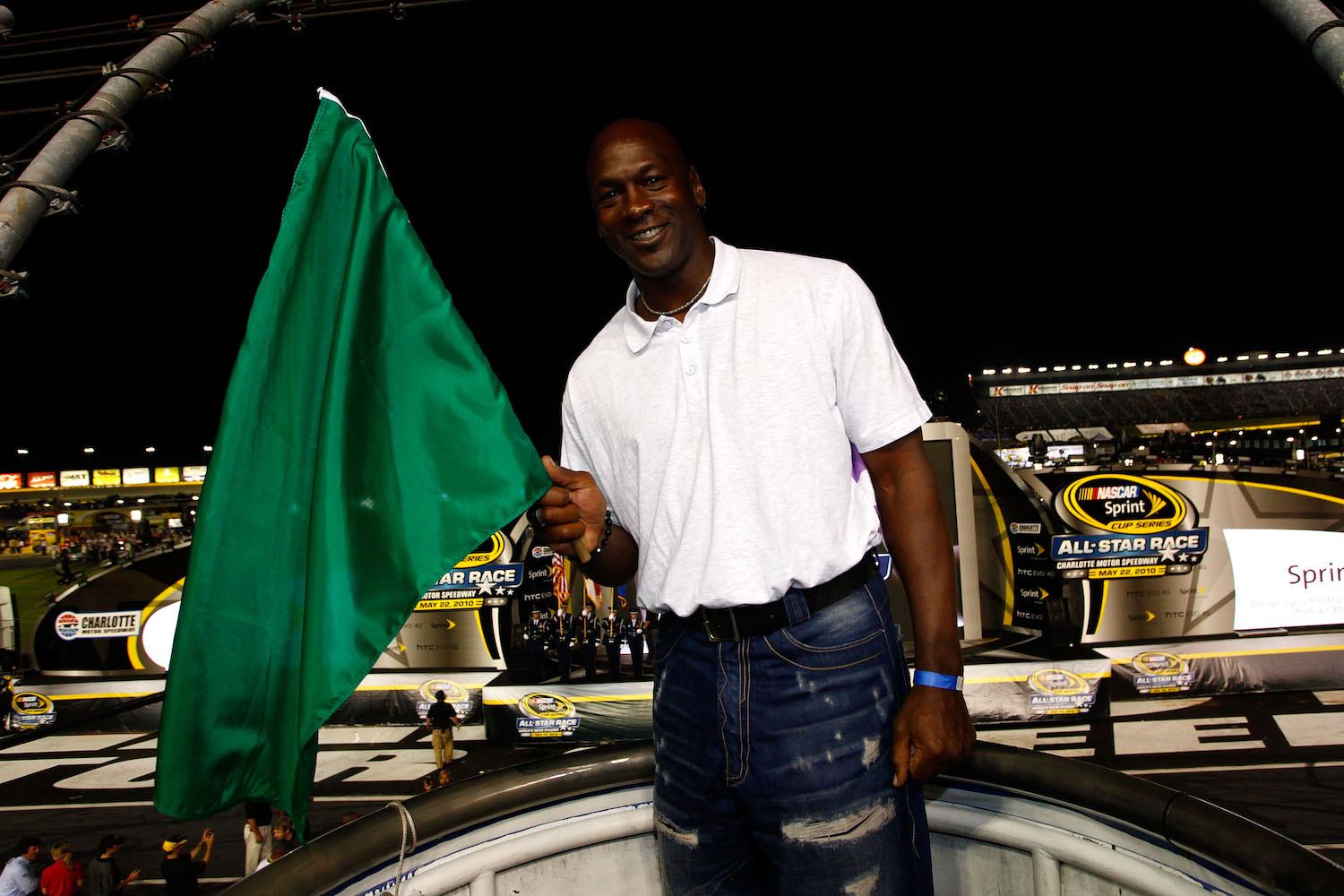 Michael Jordan Just Revealed New NASCAR Team Name and Bubba Wallace's Number for 2021
Michael Jordan and Denny Hamlin officially announced their NASCAR team name is 23XI Racing and Bubba Wallace will be racing a familiar number in 2021.
Michael Jordan became the NBA GOAT, winning six titles while donning the No. 23 jersey. Denny Hamlin has won 44 Cup Series races, including three Daytona 500s driving the No. 11 car. In September, the duo announced a partnership to form a new NASCAR Cup Series team for 2021 with Bubba Wallace behind the wheel. Today, the pair officially announced the new team name and car number, and it's exactly what you would expect from two of the most respected athletes in sports.
Bubba Wallace becomes household name in 2020
Bubba Wallace has experienced a variety of emotions in 2020. Like the rest of the world, he had to endure the lockdown in the midst of a worldwide pandemic. He didn't race for several months. In addition, as NASCAR's lone Black driver on the Cup Series, Wallace became the face and voice of the organization in the national conversation on racial injustice. 
On the track, Wallace has had the best Cup Series of his career, earning five top-10 finishes, including a fifth-place finish in Daytona at the Coke Zero Sugar 400. That success on the track, coupled with his powerful voice off it, has generated many business opportunities.
DoorDash, Columbia Sportswear Co., Beats by Dre, and numerous others have flocked to partner with Bubba Wallace. In addition to new sponsorship opportunities, Wallace's rise in popularity allowed him more options for potential teams next season with his current contract expiring in 2020.
Bubba Wallace joining Michael Jordan and Denny Hamlin
In September, after weeks of speculation, Bubba Wallace found his new ride for next year. Interestingly, it wasn't with another established NASCAR team as many suspected. Instead, it was with one of the biggest names in sports. Former basketball superstar Michael Jordan and NASCAR driver Denny Hamlin announced they were forming a team for the 2021 season, and Wallace would be behind the wheel. 
"11 years ago, I met Michael Jordan at a then-Charlotte Bobcats game, and we became fast friends," Hamlin said in his statement. "Not long after, I joined Jordan Brand as their first NASCAR athlete. Our friendship has grown over the years, and now we are ready to take it to the next level. Tonight, I'm excited to announce MJ, and I are starting a new, single car NASCAR Cup Series team for 2021.
"Deciding on the driver was easy — it had to be Bubba Wallace," Hamlin said. "Bubba has shown tremendous improvement since joining the Cup Series, and we believe he's ready to take his career to a higher level. He deserves the opportunity to compete for race wins, and our team will make sure he has the resources to do just that. Off the track, Bubba has been a loud voice for change in our sport and our country. MJ and I support him fully in those efforts and stand beside him."
Wallace will race a familiar number in 2021
On Thursday, Michael Jordan and Denny Hamlin announced their newly-formed NASCAR Cup Series team is called 23XI Racing—pronounced twenty-three eleven—and will field the No. 23 car for Bubba Wallace next season. 
"Michael and I have a shared vision for this team, so it's exciting to see it reflected in the team name and on the race car with the iconic number 23 that Michael made famous," Hamlin said in a statement. 
"A new chapter in motorsports. The norm doesn't fit for us. This is only the beginning," Hamlin wrote on Twitter.
"This is the start of the new adventure! So ready! #23XI," Bubba Wallace added. 
The 23XI Racing team makes its first official NASCAR Cup Series debut in the Daytona 500 at Daytona International Speedway on February 14, 2021.