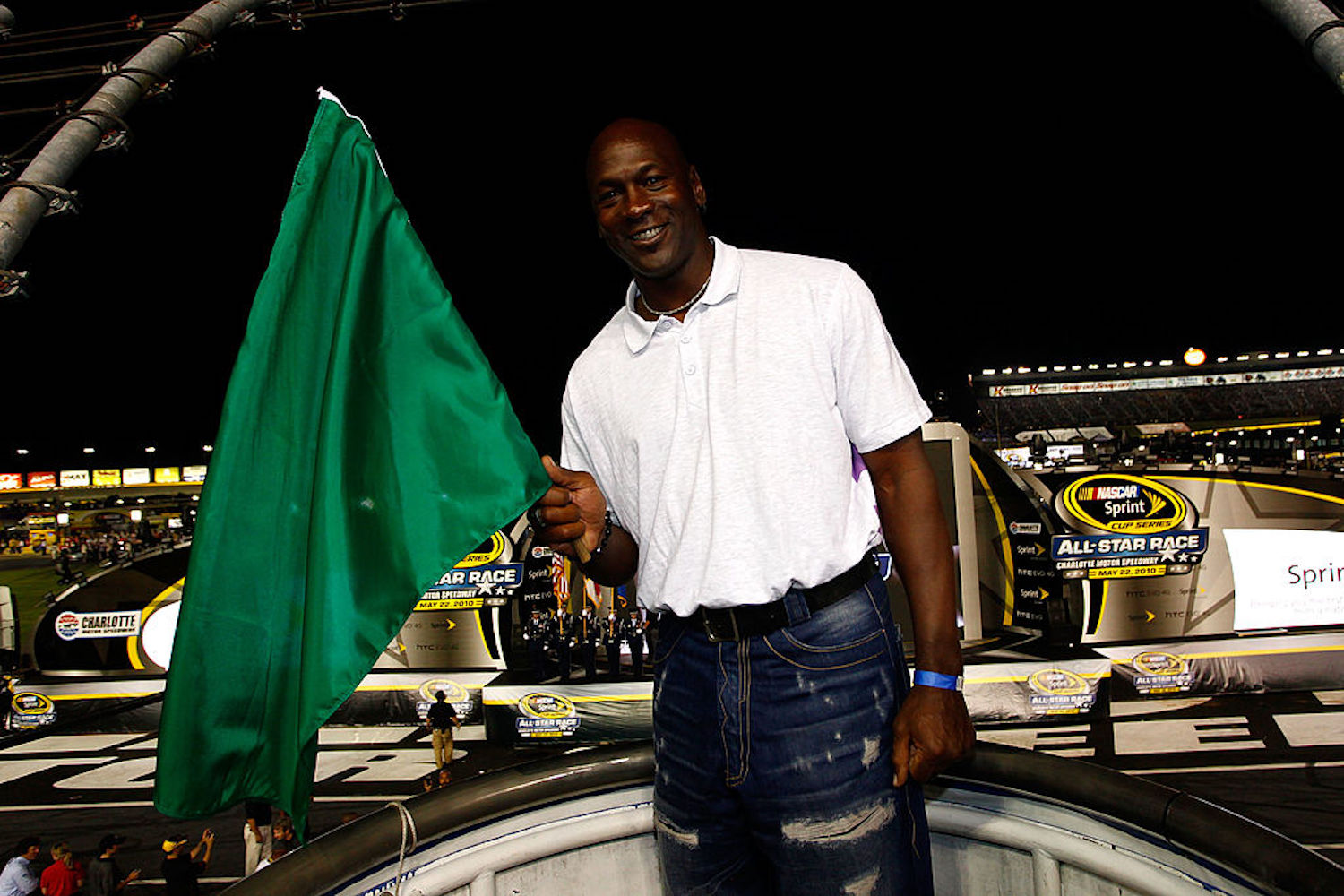 Michael Jordan Is Joining Forces With Bubba Wallace to Form a NASCAR Superteam
Michael Jordan has always had a secret affinity for NASCAR, and now he's teaming up with Bubba Wallace and Denny Hamlin to form a superteam.
You've heard about superteams in basketball, but what about NASCAR?
Michael Jordan, the NBA great and NASCAR enthusiast, is joining forces with Bubba Wallace and Denny Hamlin to form a NASCAR superteam. The duo of Jordan and Hamlin will become the owners of a single-car Cup Series team starting in 2021, and Wallace will be the driver.
Michael Jordan and Denny Hamlin have been good friends for years
Jordan and Hamlin have been close friends for over a decade. After Hamlin wins a race, one of the first calls he receives is from Jordan to congratulate him. The two went into business together when Hamlin became the first NASCAR driver to sign with Jordan Brand. Now, they're teaming up in a different way.
Late Monday night, Jordan and Hamlin both released statements announcing their intent to start a NASCAR Cup Series team starting in 2021. It will be a single-car team with Wallace as the driver.
"11 years ago, I met Michael Jordan at a then-Charlotte Bobcats game, and we became fast friends," Hamlin said in his statement. "Not long after, I joined Jordan Brand as their first NASCAR athlete. Our friendship has grown over the years, and now we are ready to take it to the next level. Tonight, I'm excited to announce MJ and I are starting a new, single car NASCAR Cup Series team for 2021."
Jordan and Hamlin peg Bubba Wallace as their Cup Series driver
Jordan and Hamlin's Cup Series team will consist of just one driver in 2021, and it just happens to be the only black driver in NASCAR's highest level.
"Deciding on the driver was easy — it had to be Bubba Wallace," Hamlin said. "Bubba has shown tremendous improvement since joining the Cup Series, and we believe he's ready to take his career to a higher level. He deserves the opportunity to compete for race wins, and our team will make sure he has the resources to do just that. Off the track, Bubba has been a loud voice for change in our sport and our country. MJ and I support him fully in those efforts and stand beside him."
Both Jordan and Hamlin have been at the forefront of the fight for racial equality recently, so Wallace was a perfect choice for their driver, as he's been the leader for change in NASCAR for years.
"Historically, NASCAR has struggled with diversity, and there have been few Black owners," Jordan said in his statement. "The timing seemed perfect, as NASCAR is evolving and embracing social change more and more. In addition to the recent commitment and donations I have made to combat systematic racism, I see this as a chance to educate a new audience and open more opportunities for Black people in racing,"
Wallace's new team can help him take his racing to the next level
Through four seasons in the NASCAR Cup Series, Wallace is winless in 105 races. He's never had the resources and high-level equipment that the elite drivers use every week. Until now.
As the only driver on Jordan and Hamlin's team, Wallace will get their full financial and emotional support, and he can finally make the leap toward the top of the Cup Series.
"This is a unique, once-in-a-lifetime opportunity that I believe is a great fit for me at this point in my career," Wallace wrote in a tweet Monday night. "I'm grateful and humbled that they believe in me and I'm super pumped to begin this adventure with them."