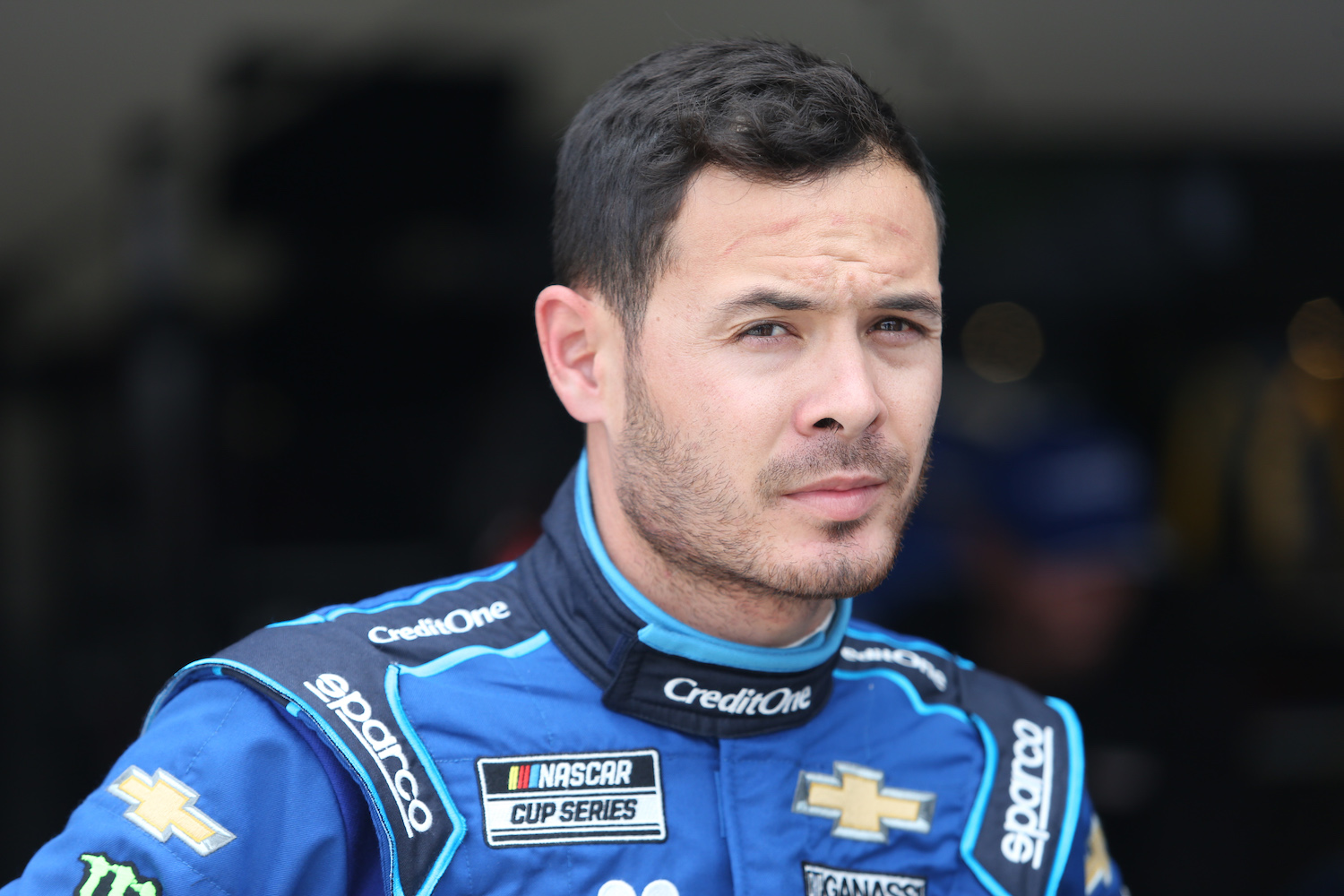 Could Kyle Larson Be Returning to NASCAR and Hendrick Motorsports?
NASCAR suspended Kyle Larson in April for using a racial slur. Several reports suggest the six-time Cup Series winner might be returning to NASCAR and Hendrick Motorsports.
Since April, Kyle Larson has been out of NASCAR after he was indefinitely suspended for using a racist slur during an iRacing event. During the suspension, the six-time Cup Series winner has returned to his roots and dirt track racing, where he has dominated.  
With the NASCAR playoffs in full swing, free agent drivers are jockeying into position and trying to line up rides for 2021. According to various reports, one of the biggest names possibly landing with a team in 2021 is Kyle Larson. Will he return in 2021? What teams are legitimately in the running to sign him? Here's what we know.
Kyle Larson suspended from NASCAR
Since arriving on the Cup Series in 2014, Kyle Larson has been one of the top young drivers in NASCAR. Larson won the Sunoco Rookie of the Year his first season, and has won six times on the Cup Series. Prior to his move up to the Cup Series, he earned 12 victories on the Xfinity Series.
In April, Larson's hard-earned reputation on the track vanished in one moment. With NASCAR on hiatus due to the COVID-19 pandemic, Larson joined other drivers for NASCAR virtual races. During one race, Larson used a racial slur while streaming on Twitch and didn't realize the other drivers and thousands of viewers watching heard the offensive remarks. 
NASCAR didn't waste any time and indefinitely suspended Larson the next day. The Chip Ganassi Racing Team fired him. All of Larson's primary sponsors, including McDonald's, Credit One Bank, and Chevrolet, cut him loose. 
Tony Stewart interested in bringing Kyle Larson back
Since his suspension, Kyle Larson has returned to his roots and dirt track racing. Not surprisingly, the top driver from NASCAR has been quite successful competing on the regional circuits. His success recently caught the eye of another dirt track racing legend and NASCAR Hall of Famer Tony Stewart. 
In June, reporter Robin Miller revealed a conversation he had regarding Larson and his return to NASCAR. "I called A.J. Foyt several weeks ago and told him to hire Larson, but he seemed to think Tony Stewart was going to do it. I asked Stew a couple weeks ago and he said he'd like to, but nothing to report yet."
Stewart has been linked to Larson for years. In 2015, Stewart tried to bring Larson on board to serve as his replacement when he retired after the 2016 season. It didn't happen.
In recent months, Stewart has been vocal, suggesting NASCAR should "get off their ass" and reinstate Larson, who has completed sensitivity training, a prerequisite for a return to NASCAR.   
Hendrick Motorsports a possibility in 2021?
Kyle Larson officially applied for reinstatement in August. NASCAR has yet to rule on his application. With Stewart's vocal support, coupled with the time of the year and various free agents aligning with teams for 2021, it is expected NASCAR would rule on Larson's reinstatement in a matter of weeks.
If Larson gets reinstated, there's speculation swirling that he will sign with Rick Hendrick. In fact, according to Fox Sports' Bob Pockrass, there are signs a deal might already be done. Hendrick has confirmed he has selected a driver to replace seven-time champion Jimmie Johnson in 2021. However, Hendrick has said now is not the time to discuss Johnson's replacement while his teammates, Chase Elliott, William Byron and Alex Bowman, are in the playoffs vying for a championship. 
With the playoffs not ending until early November, NASCAR fans will have to wait and see if a) Kyle Larson returns, and b) if he does, what team he partners with in 2021. Wherever he signs, if he does, in fact, return, you can be sure Larson will have his backers there waiting to cheer him on to victory. 
Like Sportscasting on Facebook. Follow us on Twitter @sportscasting19.