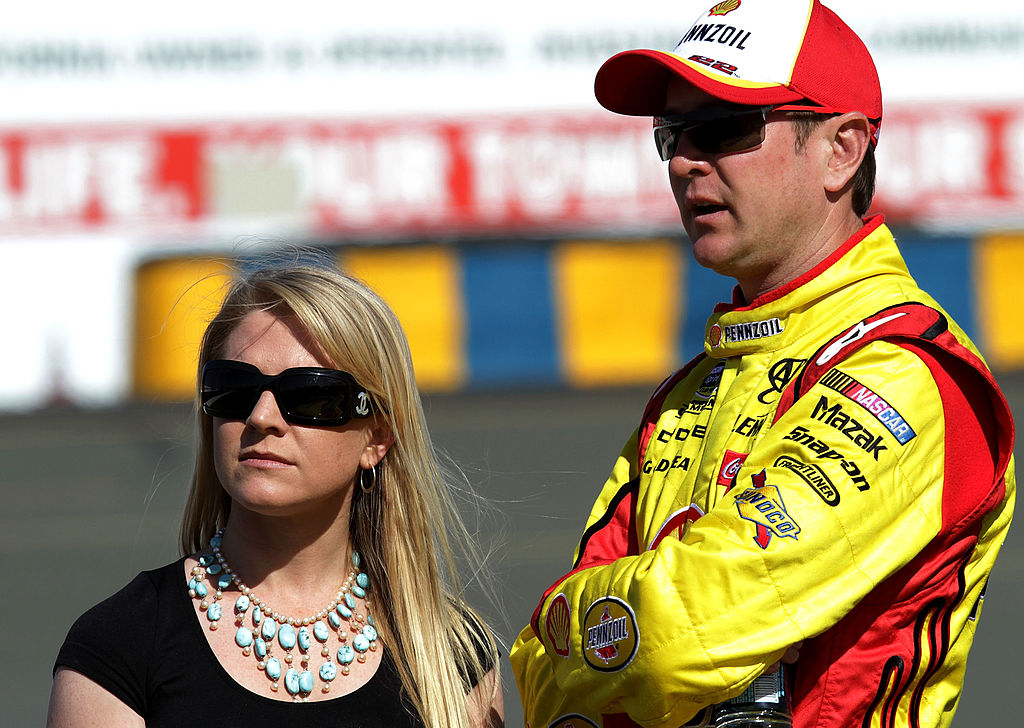 You Won't Believe Where Kurt Busch's Trained Assassin Ex-Girlfriend Is Today
Sometimes life is stranger than fiction. NASCAR driver Kurt Busch's life fit that description several years ago when he was dating a trained assassin. You'll be shocked to know where she is now.
Five years ago, NASCAR driver Kurt Busch was in court after his ex-girlfriend had filed a protective order against him. During testimony, Busch made a shocking revelation when he claimed his ex-girlfriend was a trained assassin. Interestingly, the woman and her counsel never denied Busch's claim. What happened to this mystery woman?
Kurt Busch meets Patricia Driscoll
Kurt Busch met Patricia Driscoll by accident when the two were attending a function at Walter Reed Medical Center back in 2011. The two immediately hit it off because they already had something in common—working with veterans.
Busch is known in NASCAR circles for his special relationship with the veteran community. Driscoll worked as the executive director and president of the Armed Forces Foundation, a non-profit created to promote the morale, welfare, and quality of life of the military community with a special emphasis on military families. Driscoll started working with the AFF in 2003. 
She was responsible for fundraising in the organization. Through the years Driscoll raised hundreds of thousands of dollars. Unfortunately, it was only discovered later that Driscoll directed a large portion of those funds for her own personal use.  
Kurt Busch charges Driscoll is a trained assassin
In January 2015, Kurt Busch faced Patricia Driscoll in court after she filed for a protective order alleging that Busch assaulted her in his motorhome several months earlier. While the alleged abusive incident was the focus of the four-day hearing, the explosive charges claimed by Busch made headlines.
Busch stated that Driscoll had a background as a trained assassin who had experience killing drug lords via long-range sniper rifles and close combat tactics—including the use of knives and poison. Busch cited specific examples of her returning from missions, in some cases with bruises.
In one incident, he said they were in El Paso, Texas one evening when Driscoll left the hotel that night in camouflage and boots. She returned later to the hotel wearing a trench coat. Underneath Driscoll wore an evening gown splattered with blood and other matter, Busch testified.
Neither Driscoll nor her attorney refuted the claims during the hearing. Busch's claims were never verified, but Driscoll's grandfather was a spy and her father worked for U.S. Customs, investigating illegal drug activities.
What happened to Patricia Driscoll?
In November 2018, a federal jury found Patricia Driscoll guilty on two counts of wire fraud and tax evasion and one count of first-degree fraud. During her time at the Armed Forces Foundation, Driscoll stole nearly $1 million.
In court documents, prosecutors said Driscoll "solicited donations to AFF by making representations that 95 percent of donations would go to benefit military members and their families, when she knew that she was diverting significant portions of AFF's funds to pay for her personal expenses, such as her personal attorneys' fees, her personal property tax, and her for-profit company's expenses."
Less than a year later, in September 2019, Driscoll was sentenced to a year and a day in prison and ordered to serve 36 months supervised release, a period of home confinement, and 360 hours of community service. She also had to pay $154,289 in restitution and $81,779 in a money judgment forfeiture.
AFF closed its doors in 2016. Busch has moved on and since 2015 has been dating professional polo player and model, Ashley Van Metre. No word on her counter-intelligence credentials.