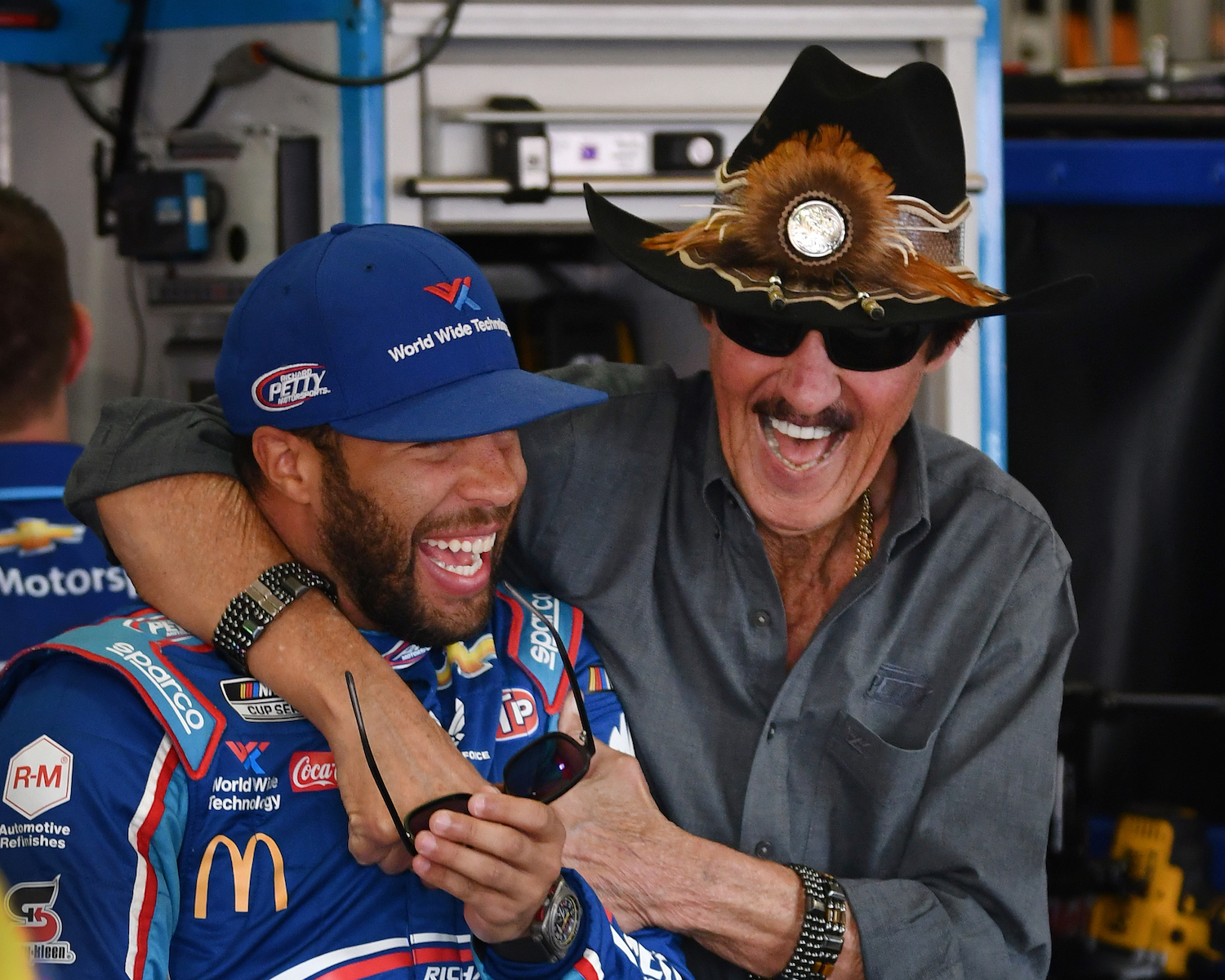 Bubba Wallace Just Sent a Scary Message to His NASCAR Competition for 2021
Bubba Wallace has had his best year on the Cup Series while serving as an unofficial spokesman for NASCAR. In 2021, Wallace will be in a new ride with much bigger expectations.
At the start of 2020, NASCAR Cup Series driver Bubba Wallace's name was known in the racing community. Outside of NASCAR, he was a relative unknown. Like so many other athletes, Wallace's profile changed the day George Floyd died. 
The lone Black NASCAR Cup Series driver has been the unofficial spokesman for the racing series for months regularly answering questions on the issues of racial inequality and police brutality. That higher profile has resulted in a lot of new fans for Wallace and the sport in general. That's also meant a host of new sponsors signing on to be associated with Wallace and his team. And now, Wallace has announced he will have a new team in 2021. 
Bubba Wallace becomes the face of NASCAR
Like the rest of the world, Bubba Wallace never saw 2020 coming. Prior to this season, he was just your average Cup Series driver who might finish in the top 10 once or twice a year. He never received a lot of media attention. 
In June, just days after George Floyd's death, that all changed as Bubba Wallace started making the rounds as the unofficial spokesman for NASCAR doing interviews with various media outlets, including CNN, Good Morning America, and The Jimmy Kimmel Show. And the conversations weren't limited to sports. 
In an interview with CNN, Wallace took the bold position that NASCAR should remove the Confederate flags at all NASCAR-related events. Days later, NASCAR announced it would happen. In addition to speaking more broadly about racism, Wallace has shared his own personal experiences, including the devastating death of his young cousin killed by police.
To his credit, Bubba Wallace has used his platform to educate on a broad scale with his national interviews, as well as with those within the NASCAR family. He's had numerous conversations with fellow drivers on what it's like being a Black man and specifically how it relates to NASCAR. The drivers have responded and supported Wallace in a variety of ways, including on Twitter, where they defended him against the President's attack. 
Bubba Wallace having best year on track
Impressively, the higher profile of Bubba Wallace off the track has not distracted from his performance on it. In fact, it appears to have helped. This year Wallace has had his best season on the Cup Series.
He started the season strong with a 15th place finish at Daytona. A week later, he followed it up with 6th place in Las Vegas, his first top 10 of the year. Since that time, Wallace has added four other top-10 finishes, including his most recent and best finish of the season, a fifth place at Daytona at the Coke Zero Sugar 400. His previous career-best total in a season for top-10s was two, which he achieved in 2017. 
Wallace's overall improved performance has resulted in the best Cup standings of his career, where he sits in the 23rd spot with nine races still remaining on the 2020 schedule.
The combination of Bubba Wallace's success on the track and voice off of it has been attractive to sponsors. This year he's added new partners in Door Dash, Columbia Sportswear Co., Cash App, and a personal deal with Beats by Dre. 
Wallace leaving Richard Petty Motorsports after 2020
Like other sports, free agency in NASCAR allows drivers to complete their existing contract with a certain team and then explore possible opportunities that might be available elsewhere. With the 2020 season being the final year on Bubba Wallace's contract with Richard Petty Motorsports (RPM), he announced in mid-August he was going to test the market and see what might be available for 2021.
Around that same time, RPM announced that Wallace was offered an ownership stake in the team. "They did offer me part ownership of the race team to re-sign there. I have a lot of options on the table, so I'm not sure what I'm going to do yet," Wallace told NBC's Marty Snider. 
On Thursday, Bubba Wallace didn't officially announce what team he would be racing for in 2021, but he did announce he won't be racing for RPM. 
"This was not an easy decision as I have nothing but the utmost respect for Richard Petty and his family, but I believe it's time for someone else to take over the reins of the No. 43," Wallace tweeted.
"Thank you to the King and everyone at Richard Petty Motorsports for giving me the opportunity to start my Cup Series career. I've grown so much as a driver and as a person since joining them. We've got nine more races together, and I hope we can finish the 2020 season on a high note."
One day Bubba Wallace will look back on 2020 and marvel at everything he accomplished. With a move to a new team next season, Wallace clearly has expectations that 2021 will be even better.
Like Sportscasting on Facebook. Follow us on Twitter @sportscasting19.