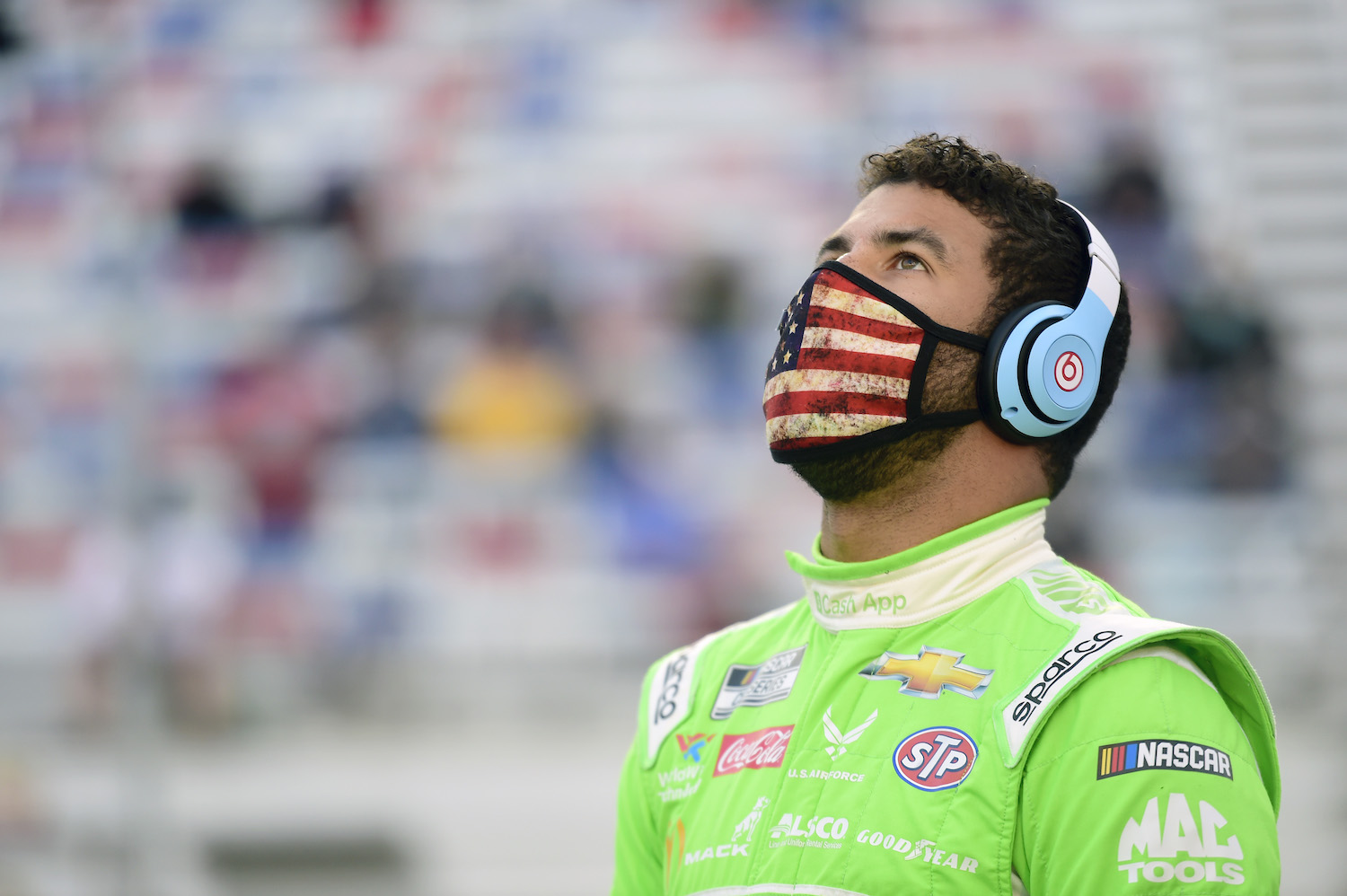 Bubba Wallace's Move to Michael Jordan's NASCAR Team Paved the Way for a Watermelon Farmer to Join the Cup Series
Bubba Wallace signed with Michael Jordan and Denny Hamlin for the 2021 NASCAR Cup Series season only after turning down Chip Ganassi. Ganassi turned to watermelon farmer Ross Chastain.
At the start of 2020, when most sports fans heard the name Bubba Wallace, they immediately thought of the golfer and two-time Masters Tournament champion. That's Bubba Watson. Now, the world knows Bubba Wallace, the NASCAR driver. Since May, he has been the face and voice of NASCAR on social injustice issues. More recently, he signed to drive in 2021 with a new team formed by former basketball superstar Michael Jordan and fellow NASCAR driver Denny Hamlin.
Before Wallace signed with the Jordan-Hamlin team, he turned down Chip Ganassi Racing. Ganassi then turned to eighth-generation watermelon farmer Ross Chastain. Chastain, like Wallace in 2020, might be an unknown to start the 2021 season, but based on his success on the other NASCAR circuits, don't expect his anonymity to last long.
Bubba Wallace popularity explodes in 2020 
To say 2020 has been a wild ride for Bubba Wallace is a major understatement. While the entire world has had to endure a pandemic, Wallace, as the lone Black NASCAR Cup Series driver, has dealt with that while becoming the unofficial spokesperson for NASCAR in the national conversation on racial injustice issues in America. 
To his credit, Wallace's efforts off the track have not resulted in diminishing returns on it. In fact, Wallace has had his best Cup Series year to date with five top-10s, including a fifth-place finish in Daytona at the Coke Zero Sugar 400. 
His success as an activist and driver, coupled with his regular appearances on shows outside of sports like Jimmy Kimmel Live, his popularity has exploded. Sponsors like DoorDash, Columbia Sportswear Co., Beats by Dre, and others have flocked to Wallace. 
With his meteoric rise and growing number of business opportunities, Wallace announced that he was leaving Richard Petty Motorsports to pursue another opportunity in early September. Many speculated where Wallace might land.
Bubba Wallace joining Michael Jordan and Denny Hamlin
Earlier this week, speculation about who Bubba Wallace would race for in 2021 ended when former basketball superstar Michael Jordan and top NASCAR driver Denny Hamlin released statements announcing that they were forming a team, and Wallace would be the driver.
"11 years ago, I met Michael Jordan at a then-Charlotte Bobcats game, and we became fast friends," Hamlin said in his statement. "Not long after, I joined Jordan Brand as their first NASCAR athlete. Our friendship has grown over the years, and now we are ready to take it to the next level. Tonight, I'm excited to announce MJ, and I are starting a new, single car NASCAR Cup Series team for 2021.
"Deciding on the driver was easy — it had to be Bubba Wallace," Hamlin said. "Bubba has shown tremendous improvement since joining the Cup Series, and we believe he's ready to take his career to a higher level. He deserves the opportunity to compete for race wins, and our team will make sure he has the resources to do just that. Off the track, Bubba has been a loud voice for change in our sport and our country. MJ and I support him fully in those efforts and stand beside him."
Watermelon farmer Ross Chastain lands Cup Series ride
While Bubba Wallace signed with Michael Jordan and Denny Hamlin's new team, he was offered the ride in the No. 42 car at Chip Ganassi Racing, where he would have replaced Matt Kenseth, who came out of retirement in April and replaced Kyle Larson after he was fired for using a racial slur during an iRacing event. 
With Wallace opting for Jordan's team, Ganassi turned to former watermelon farmer Ross Chastain. Chastain's story is a unique one as an eighth-generation watermelon farmer. But he proved long ago with his successes in almost a decade racing NASCAR's top three series, his farming days are long behind him. 
In just the last two seasons Chastain has won five races across NASCAR's national series, including two with the XFINITY Series and three in the Truck Series. He is currently racing for a championship in the Truck Series playoffs. 
Chastain's promotion to a regular ride on the Cup Series, where he will now battle against Wallace each week, will be one to watch in the 2021 season. While he'll be racing against a different level of competition, don't expect his celebration to be any different when he wins. He'll be more than prepared to continue his tradition of smashing a watermelon in Victory Lane. You may be able to take the farmer off the farm, but you can't take the farm out of the farmer. 
Like Sportscasting on Facebook. Follow us on Twitter @sportscasting19.