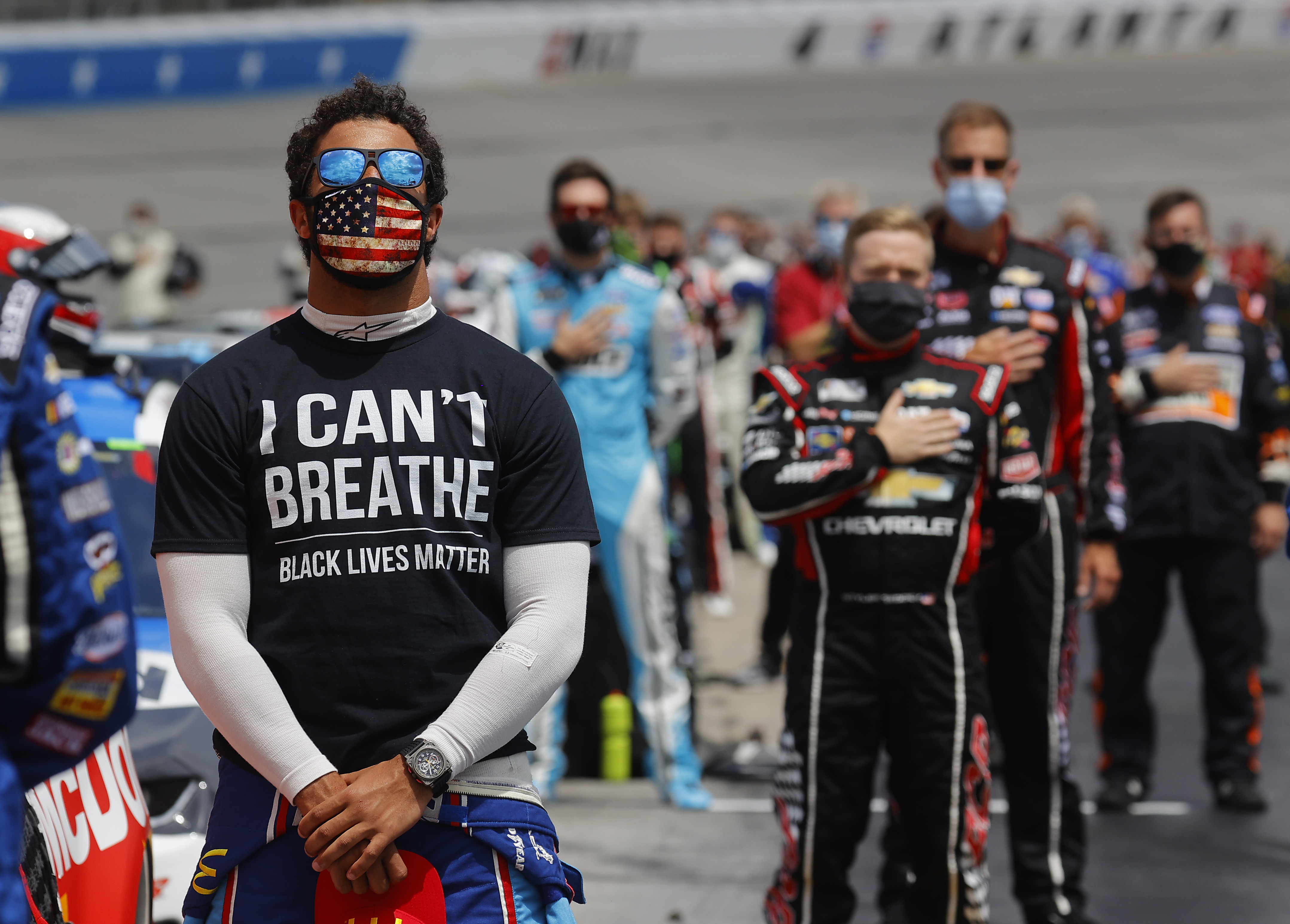 Bubba Wallace Traumatized by Family Member's Tragic Death from Police Brutality
Bubba Wallace has been outspoken on racial injustice and police brutality since the death of George Floyd. Unfortunately, Wallace is speaking from personal experience.
Since the death of George Floyd, Bubba Wallace has admirably taken on the role of spokesman for NASCAR speaking out on racial injustice and police brutality. Unfortunately, Wallace is speaking from personal experience. A few years ago, police killed one of Wallace's cousins who was hanging out with friends and having a good time until things went horribly wrong.
Bubba Wallace becomes NASCAR spokesman
Bubba Wallace has found himself in the national spotlight not by choice, but because of his skin color. As the lone black driver on the NASCAR Cup Series, Wallace has become the default face and voice for NASCAR in the national conversation on racial issues in America. 
In addition to speaking to those within the NASCAR community, including his fellow drivers, Wallace has given numerous interviews to media outlets, including ESPN and CNN. Wallace's interview with CNN generated an entirely new topic of conversation—removal of the confederate flag from future NASCAR events. Two days later, NASCAR announced it would be banning all confederate flags and related memorabilia. 
In addition to publicly discussing issues, Wallace has used his platform to advocate for Black Lives Matter wearing a shirt that read, "I Can't Breathe," and he had the color scheme of his No. 43 car changed to a Black Lives Matter theme. On it, it prominently featured the phrase "Compassion, Love, Understanding" on the hood and rear bumper and had a black and white hand clasping on the hood.
NASCAR community rallies around Wallace
In addition to NASCAR listening and making changes, many of the drivers have listened to Bubba Wallace and his own personal experiences, and more importantly, responded. After seven-time Cup Series Champion Jimmie Johnson had a conversation with Wallace, he felt compelled to act. 
Johnson reached out to various NASCAR drivers and asked them to participate in a video against racism. Many responded and produced a powerful message. NASCAR legend Dale Earnhardt Jr. participated in that video and has also been an outspoken supporter of Wallace, acknowledging the burden he shoulders on multiple fronts.
"I'm hearing the message in a more impactful way. I'm learning more in this go-round than I did ever before," Earnhardt said in an interview with ESPN's Scott Van Pelt. "It was a great opportunity to listen to Bubba and everyone else who shared their stories and trying to understand what they're dealing with and how extremely serious this problem is in our country. I'm thankful for the opportunity to open my ears and take it and hopefully we can see some real change. That's all I want is for things to get better."
Bubba Wallace's unarmed cousin killed by police
Earnhardt also interviewed Bubba Wallace on his "Dale Jr. Download" podcast where he heard a painful story on how police brutality has personally touched Wallace's family. The 26-year-old driver described a 2003 incident when he was nine years old. 
Wallace's 19-year-old cousin, Sean, was with a group of friends at a gas station hanging out. The white clerk inside the store felt threatened by the congregating group of young African-Americans playing loud music and called police. When police arrived, one officer ordered Sean to put his hands up, which, according to Wallace, he did. 
"And then that officer walked away, and [my cousin] went to grab his phone to call his mom because he was scared and was shot and killed from the other police officer," Wallace recalled.
"I was running around the gym with all the other brothers and sisters there, and all of a sudden, I hear a scream—like the worst scream that you'd want to hear…And I look over and I see my mom running out the door, and we had just found out my cousin had been shot and killed by a police officer. Unarmed. And so I was young. I didn't understand it. We lost a family member. But now seeing everything come full circle, I totally get it now."

Bubba Wallace
NBC Sports reported a judge eventually cleared the officer in the shooting, and the family lost a wrongful death lawsuit against the City of Knoxville. 
Wallace's mother, Desiree, told CBS News the recent deaths of Ahmaud Arbery, Breonna Taylor, and George Floyd, reminded Bubba of his cousin and sparked his activism.
"Every time a black man is killed unnecessarily, you know, we relive that," she said. "He probably just finally realized that, you know, I have a platform, so it's time that I use it, so I am very proud of him."
Out of his personal pain, Wallace has found his voice. And it's a powerful voice that is making an impact in the world of NASCAR and beyond.