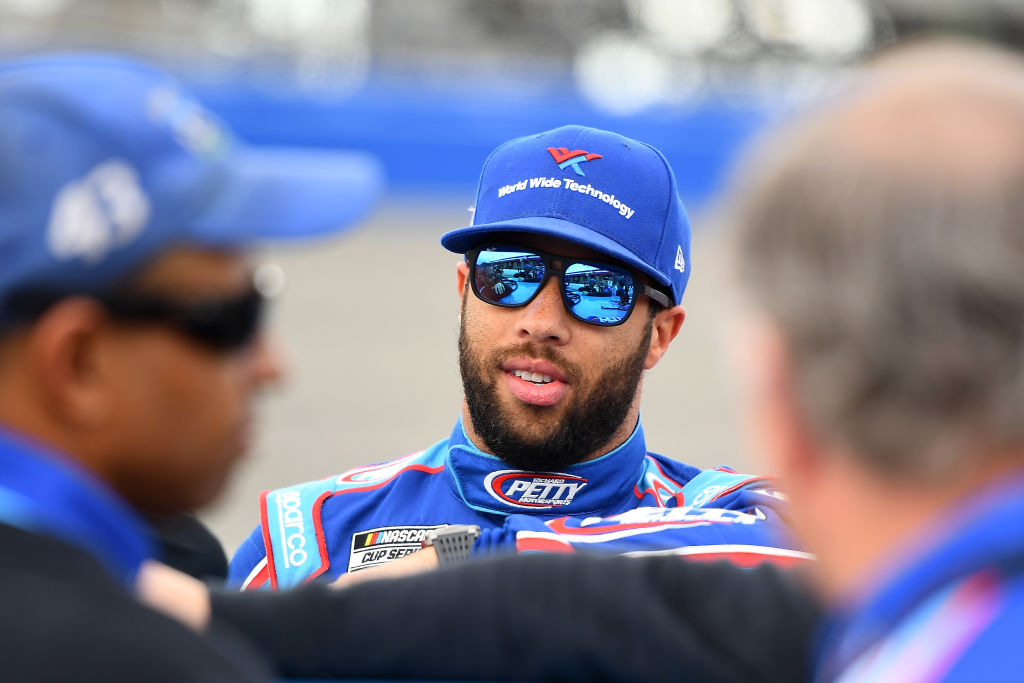 What Is Bubba Wallace's Net Worth?
Bubba Wallace is the lone black driver on the NASCAR Cup Series and has become the unofficial voice of the racing series speaking out on racial injustice. What is Bubba Wallace's net worth?
Bubba Wallace has been making a lot of headlines lately. The lone black driver on the NASCAR Cup Series has become the unofficial voice for NASCAR in the national conversation on racial inequality and police brutality. 
In recent weeks the 26-year-old driver has made the media rounds discussing his own experiences with racism, as well as detailing the personal conversations he's had with fellow drivers and the NASCAR community as a whole on the subject. In his fourth season on the Cup Series, what is Bubba Wallace's net worth?
Bubba Wallace's young NASCAR career
Bubba Wallace made his NASCAR debut on the Xfinity Series in 2012. He didn't win any races that first year, but he did have a couple of top tens and won one pole. In 2013, Wallace switched over to the Truck Series and the results were dramatically improved.
In October 2013, Wallace became the first African-American driver to win in one of NASCAR's national series since 1963, earning a victory at the Camping World Truck Series Kroger 200 at Martinsville Speedway. He followed up the 2013 season with a breakout season in 2014, where he won four times and had 14 top-ten finishes. He finished third in the points.
Over the next four years Wallace split time between the two series and the Cup Series. In 2018, he transitioned to a full-time ride in the Cup Series and became the first African-American driver to race full-time on the top level series since Wendell Scott in 1971.
His rookie season, Wallace came out strong finishing second at the Daytona 500, the highest finish by a full-time rookie in the race's storied history. However, he struggled for much of that first year and only had two additional top-ten finishes. He finished second in Rookie of the Year voting behind William Byron. 
Wallace becomes voice of NASCAR on racial issues in America
In NASCAR's shortened 2020 season due to the pandemic, Wallace is off to a good start with a pair of top-ten finishes. His success on the track, however, doesn't even compare to the difference he's making off it. 
Since the death of George Floyd, an unarmed black man killed by a Minneapolis, Minnesota police officer, Wallace has joined the chorus of voices speaking out against racial injustice in America. But Wallace hasn't only spoken out on the issues being discussed as part of the national conversation, he has taken it one giant leap further.
Wallace has been having deeply personal conversations with members of the NASCAR community including many drivers, where he has shared his own personal experiences with racism. His voice has made a tremendous impact. Legendary driver Dale Earnhardt Jr. recently interviewed Wallace on his podcast and talked about how that conversation personally affected him.
"He's saying a lot of powerful things. I'm so grateful for Bubba because without him we might not have that leadership and that guidance and the opportunity to understand and to listen. That hasn't always been there in our sport so I don't think I can say enough how much I appreciate him. He's also had a lot of conversations with drivers that I think it really helped Bubba and the drivers understand what Bubba deals with and what his life is like and how it's different from theirs."
What is Bubba Wallace's net worth?
While Bubba Wallace has embraced his role as an ambassador of sorts, it has taken a toll on him both physically and mentally. After his most recent race in Atlanta, which included an emotional pre-race message on racism in America, Wallace fainted a couple of times including once during a live television interview.
Despite that toll, Wallace, who has a net worth of $3.5 million, continues to speak out openly on the tough subjects facing this country and his sport. He recently visited with CNN's Don Lemon and suggested that all Confederate flags should be removed from all NASCAR races going forward. 
While fan response to some of his comments is what you might expect from a white-dominated sport like NASCAR, he's received the support of those within the NASCAR community who matter the most—officials and drivers. 
Bubba Wallace's story in NASCAR is still very much an incomplete one. At this point in his career, his success on the track has been limited. One thing, however, is already quite evident and will forever be a part of Wallace's legacy in the sport—he raised his voice when it needed to be heard the most and made a difference that changed minds, and more importantly, changed lives. No racing trophy can ever top that.