Michael Jordan and Tom Brady Actually Once Won a Championship Together
Michael Jordan and Tom Brady are seen by many as the GOAT in their respective sports and there are certainly plenty of arguments to back up those arguments if you're into that sort of thing. Jordan won six titles with the Chicago Bulls back in the 1990s and Brady just claimed Super Bowl title number seven, his first with the Tampa Bay Buccaneers after six with the New England Patriots.
But did you know that Michael Jordan and Tom Brady once won a championship together?
Michael Jordan won six titles with the Chicago Bulls
RELATED: Michael Jordan Is Directly Connected to the GameStop Trading War and Has Been Bleeding Money for the Last Year
Famously taken with the third pick of the 1984 NBA draft out of North Carolina by the Chicago Bulls, Michael Jordan spent the first six years of his career turning the team into championship contenders before finally winning his first title in 1991. He and the Bulls then also won the next two NBA Finals before Jordan decided to retire for the first time in 1993 following the death of his father.
After his short-lived baseball career, Jordan returned to the NBA in 1995 and although the Bulls were knocked out of the playoffs that year by Shaq and Penny's Orlando Magic, they came back the following season and went 72-10 on the way to a fourth NBA championship, which was then followed up with two consecutive NBA Finals series wins over the Utah Jazz to complete the repeat three-peat.
Tom Brady just won his seventh Super Bowl
RELATED: Tom Brady Refuses to Sign a Certain Type of Autograph For the Most TB12 Reason Ever
As for Tom Brady, he won his first championship quite a bit quicker than did Michael Jordan. After throwing just three passes as a rookie after being taken in the sixth round of the 2000 NFL draft by the New England Patriots, Brady became the Pats' starting quarterback in 2001 when Drew Bledsoe went down with an injury, an injury that actually nearly killed him, and promptly led New England to the franchise's first Super Bowl victory.
Brady won three Super Bowls in his first four seasons as New England's starting quarterback but then went a decade without winning one before finally getting his fourth following the 2014 season. TB12 & Co. won two more titles over the next four seasons and Brady just won his seventh Super Bowl following his first season with the Tampa Bay Buccaneers.
Michael Jordan and Tom Brady once teamed up to win MJ's celebrity golf tournament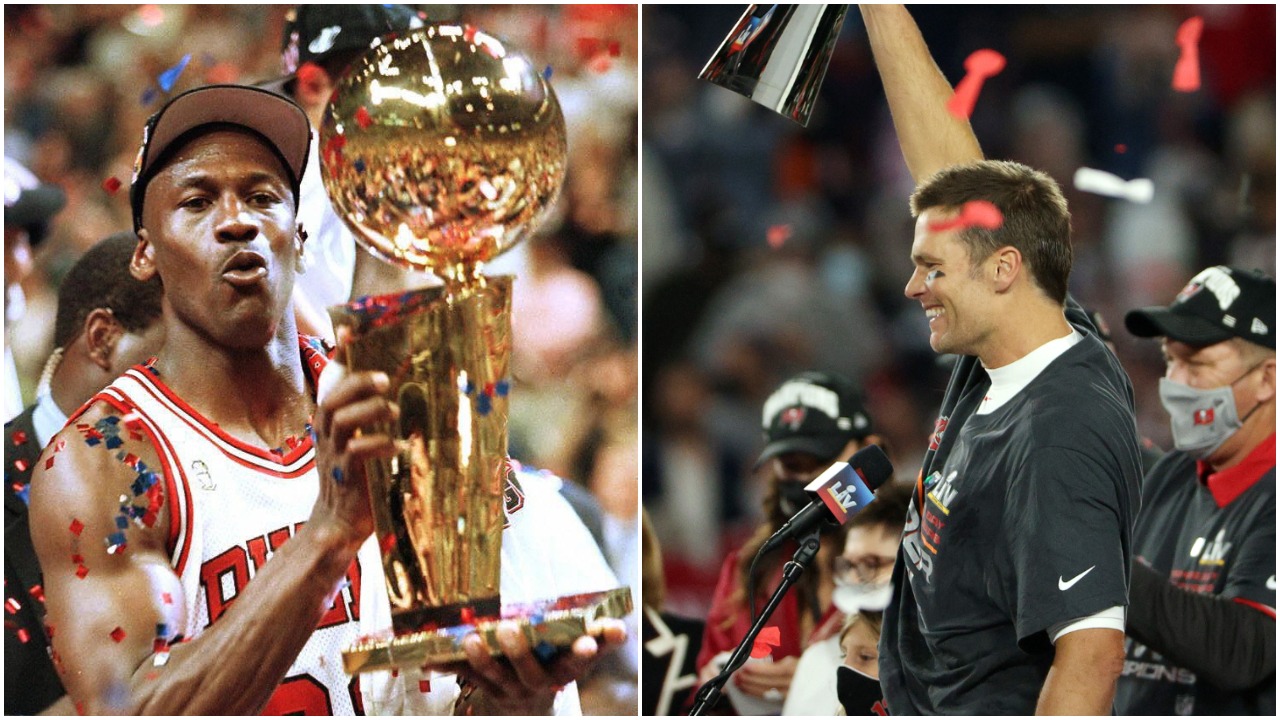 RELATED: Skip Bayless Says Not Even Michael Jordan Can Match Tom Brady's 'Unequaled' Clutchness
As most of their fans probably know, both Michael Jordan and Tom Brady are fairly solid golfers. But what some may not know is that the two once teamed up to win MJ's celebrity golf tournament back in 2006.
For those unaware, Jordan hosted a celebrity tournament for years that raised a lot of money for charity. The first two days saw a celebrity paired with four amateur participants while the last two days saw two celebrities paired together in teams for a 36-hole scramble format tournament.
In '06, Jordan and Brady teamed up and came away with a two-shot victory in the Bahamas over former MLB pitcher Rollie Fingers and former North Carolina basketball coach Bill Guthridge, who was an assistant under Dean Smith during MJ's tenure with the Tar Heels. John Smoltz and Charles Barkley finished fourth. Here's a clip of MJ and TB12 accepting their championship trophy.
That was the first time Jordan won his own tournament, which he'd do again in 2011 teaming up with former Bulls teammate Toni Kukoc, who's quite the golfer himself.