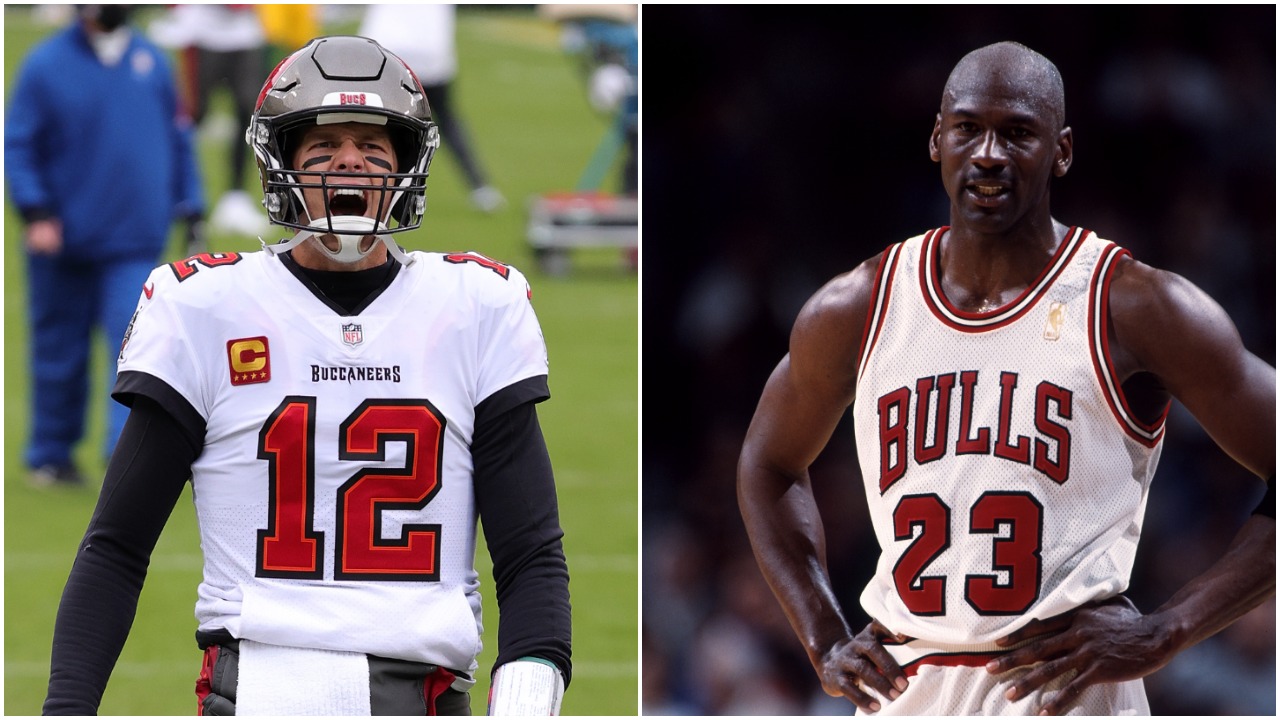 Skip Bayless Says Not Even Michael Jordan Can Match Tom Brady's 'Unequaled' Clutchness
On a recent episode of 'Undisputed,' Skip Bayless had a tough decision to make on who was more clutch, Tom Brady or Michael Jordan.
Michael Jordan and Tom Brady are easily two of the greatest athletes to ever walk the planet. Both are widely considered to be the GOAT in their respective sports and there's certainly plenty of evidence to make those arguments if you're into that sort of thing.
Former ESPN and current Fox Sports personality Skip Bayless has never hidden the fact that he's a huge fan of both and as Brady prepares for his record 10th Super Bowl appearance, his first with the Tampa Bay Buccaneers, Bayless took the opportunity to compare the two as it pertains to clutchness (yes, that's a word). It seemed to be a very tough choice for Skip but in the end, while he chose Jordan in one aspect, the overall edge went to Brady and Skip's reasoning for his pick was actually quite logical.
Michael Jordan won six NBA titles with the Chicago Bulls
In 15 NBA seasons, 13 with the Chicago Bulls and two with the Washington Wizards, Michael Jordan won six championships, obviously all in the Windy City. Jordan and the Bulls struggled in the early years of his career to beat good teams in the postseason, as evidenced by the two straight seasons they were swept out of the playoffs by Larry Bird's Celtics and the three consecutive years they were knocked out by the "Bad Boys" Detroit Pistons.
Jordan & Co. finally got over the hump in 1991 as they famously swept the Pistons in the Eastern Conference Finals before defeating Magic Johnson and the LA Lakers in the NBA Finals to secure the franchise's first championship. The Bulls would go on to win five more titles over the next seven seasons, a total some think would be higher had Jordan not chosen to retire after the team's first three-peat in 1993.
With his six titles, Michael Jordan is tied for 10th on the all-time championships list with his longtime teammate, Scottie Pippen, as well as fellow Hall of Famers Bob Cousy and Kareem Abdul-Jabbar.
Tom Brady is preparing for his 10th Super Bowl appearance and has six titles of his own
As for Tom Brady, he won six championships of his own with the New England Patriots could pass Michael Jordan if his Tampa Bay Buccaneers can defeat the Kansas City Chiefs in Super Bowl 55.
Unlike Jordan, Brady found immediate success in the postseason as he led the Patriots to a Super Bowl title in his first year as New England's starting quarterback in 2001. He won three titles in his first four seasons as the starter and then went on to win three in five years in the mid-to-late 2010s. His six Super Bowl wins are the most by any player in NFL history.
Now, at age 43, Brady has the Buccaneers in their first Super Bowl in 18 years and it's his longevity that has Skip Bayless calling him the most clutch athlete of all time.
Skip Bayless says he'd take Tom Brady over Michael Jordan in 'one game for your life'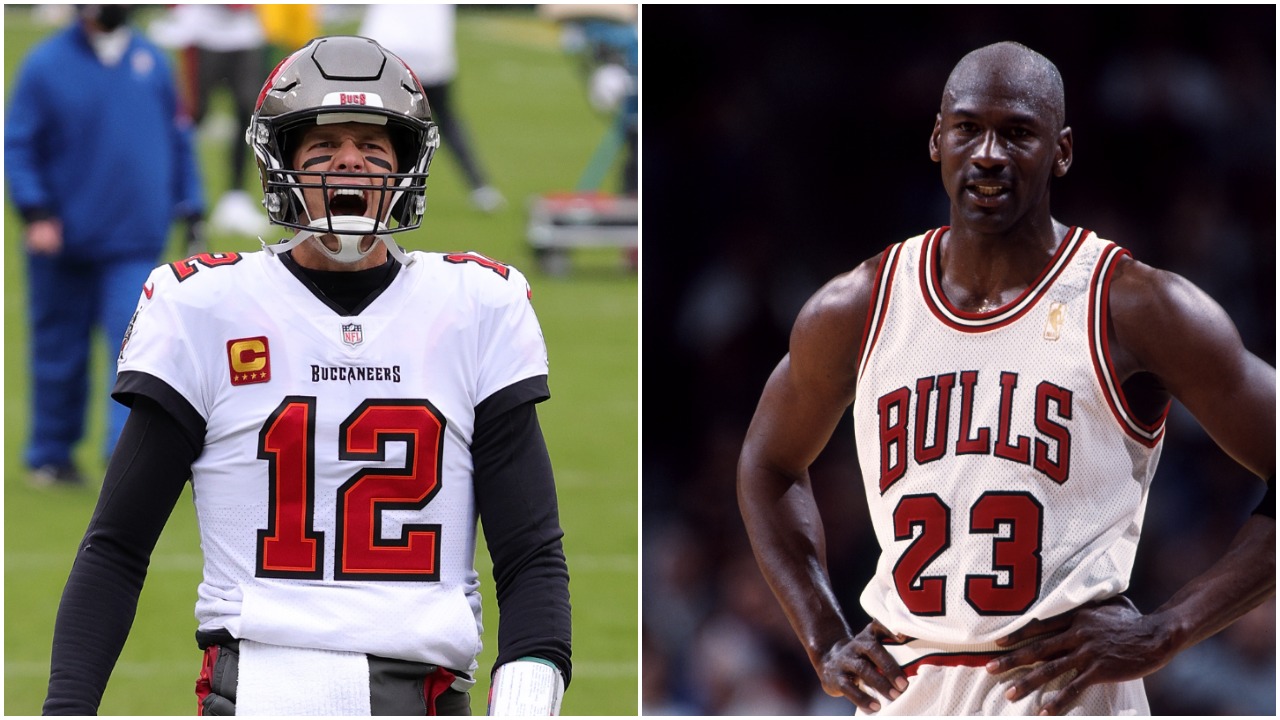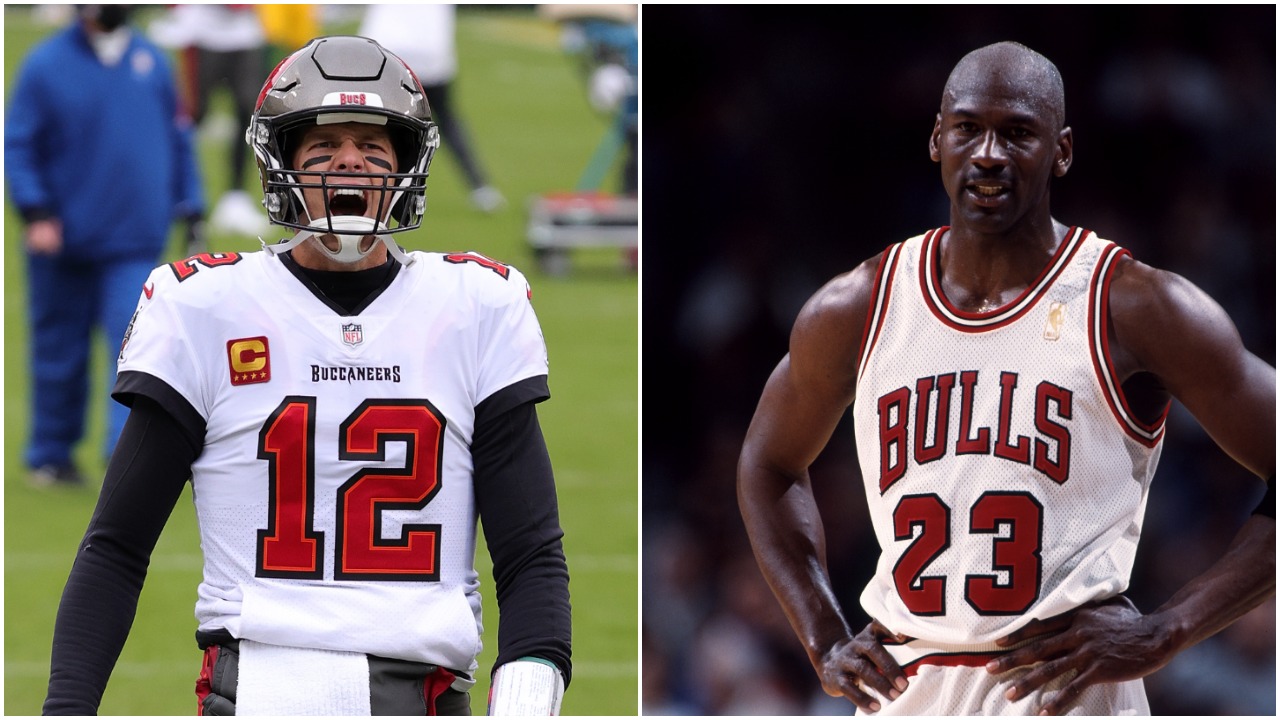 With all of those championship runs for Michael Jordan and Tom Brady, both obviously put on some clutch performances throughout their respective careers.
In 15 NBA seasons, Jordan had 25 game-winning shots, including an NBA-record nine buzzer-beaters, seven of which were unassisted. As for Brady, he holds the all-time NFL record for game-winning drives with 62, 48 in the regular season and an additional 14 in the postseason.
On a recent episode of Undisputed, Skip Bayless had a decision to make on who was more clutch and had a very difficult time with it. In the end, however, he chose Brady overall seeing as how TB12 has performed at such an elite level for more than two decades now. But he didn't completely discount MJ, saying he'd go with him for one shot or one pass while he'd take Brady in a full game in a life or death situation.
"It's hard for me to say Brady is more clutch than Michael Jeffrey Jordan. But Tom Brady has been more clutch than Jordan had the opportunity to be clutch because he's done it longer.

"Tom's been doing this for 20 years. So if you look at the scope of his consistent, classic clutchness, it's unequal – it's unparalleled.

"If you push me to the brink and say one shot or one pass for your life, I'll still take Jordan. But if you talk about one game for your life, I'm gonna go Tom.

"And especially one season for your life, the longer the expanse of time, the more I'm gonna take Tom Brady."

Skip Bayless on Tom Brady vs. Michael Jordan
Let the argument begin.
Stats courtesy of Sports Reference