Tom Brady and Patrick Mahomes Will Make NFL History One Second Into Super Bowl 55
Close to 100 players will suit up for the highly-anticipated Super Bowl 55 matchup between the Tampa Bay Buccaneers and Kansas City Chiefs but we all know the majority of attention will go just two. Of course, we're talking about Tom Brady and Patrick Mahomes, who will make some NFL history the moment the game begins.
Tom Brady and Patrick Mahomes each had MVP-caliber seasons
While it's likely that Green Bay Packers quarterback Aaron Rodgers will win his third NFL MVP trophy, both Tom Brady and Patrick Mahomes put themselves in that conversation this year.
Mahomes, the 2018 NFL MVP and reigning Super Bowl MVP, had yet another phenomenal season, leading the Chiefs to a 14-2 record (he sat out the final regular-season game) and a fifth straight AFC West title. He completed 66.3% (390-588) of his passes for 4,740 yards with 38 touchdowns against just six interceptions, also adding 308 yards and two scores on the ground.
In his first year with the Buccaneers after 20 years and six Super Bowl titles with the Patriots, Brady had quite the underrated season, completing 65.7% (401-610) of his passes for 4,633 yards with 40 touchdowns and 12 interceptions. Tampa Bay went 11-5 on the season, their best record since 2005, and made the postseason for the first time in 15 years.
Their wild-card win over Washington was the team's first playoff victory since winning Super Bowl 37 following the 2002 season and they became just the fifth team in NFL history to reach the Super Bowl by winning three postseason games on the road.
The Chiefs got the better of the Buccaneers back in Week 12
RELATED: Super Bowl 55: What Is Tom Brady's Record Against the Kansas City Chiefs?
Super Bowl 55 will be the second meeting between Tom Brady's Buccaneers and Mahomes' Chiefs this season as the two teams squared off at Raymond James Stadium back in Week 12.
The Chiefs came out insanely hot in the first quarter, taking a 17-0 lead behind two big touchdowns passes from Mahomes to Tyreek Hill, the first for 75 yards and the second for 44. Brady hit Ronald Jones with a 37-yard TD pass in the second quarter to cut the lead to 10 but a Harrison Butker field goal, his second of the day, gave KC a 20-7 lead heading into halftime.
Following a Ryan Succop field goal for Tampa Bay, Hill found the end zone for a third time as Mahomes hit him with a 20-yard touchdown pass with seven minutes remaining in the third to give the Chiefs 27-10 advantage. Brady fought furiously in an attempt to bring Tampa Bay back, finding Mike Evans for two scores in the fourth quarter, but Kansas City held on for a 27-24 victory.
Tom Brady and Patrick Mahomes will make NFL history the moment Super Bowl 55 begins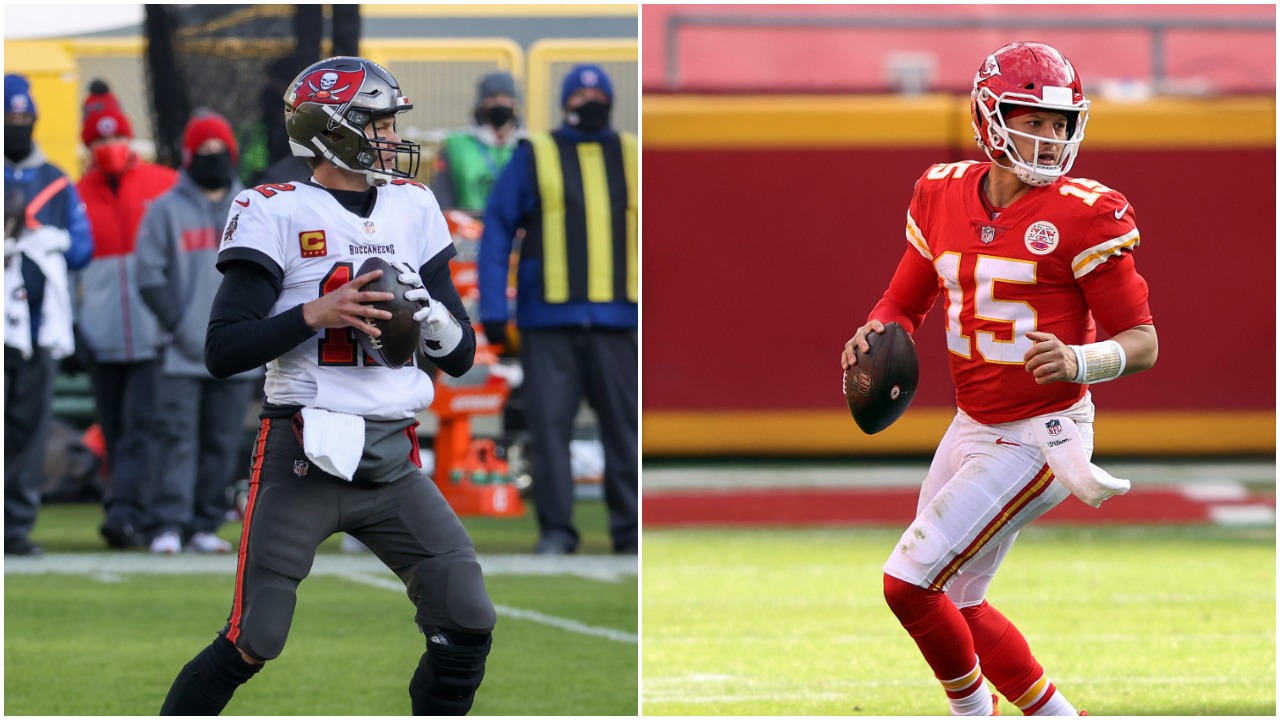 RELATED: Patrick Mahomes May Need Surgery Following Super Bowl 55
The Week 12 matchup certainly wasn't the only close game that Tom Brady and Patrick Mahomes have had against one another. Their most famous encounter (Super Bowl 55 will be the fifth time they've faced one another as starters) came back in the AFC Championship Game following the 2018 season, the year Mahomes won NFL MVP.
Brady and the New England Patriots went into Arrowhead Stadium and engaged in a fierce battle with the Chiefs that featured six lead changes. 60 minutes wasn't enough to settle the score but Mahomes, who threw for 295 yards and three touchdowns that day, never even touched the ball in overtime as Brady led a 13-play, 75-yard touchdown drive to start the extra frame to give the Pats a 37-31 victory, earning them a third consecutive trip to the Super Bowl.
And it's that game that will help the two quarterbacks make history. The moment Super Bowl 55 begins, Tom Brady and Patrick Mahomes will become the first two quarterbacks to start a Super Bowl against one another after having squared off as starters in a conference championship game.
Super Bowl 55 begins at 6:30 p.m. Eastern on February 7 on CBS.
Stats courtesy of Pro Football Reference