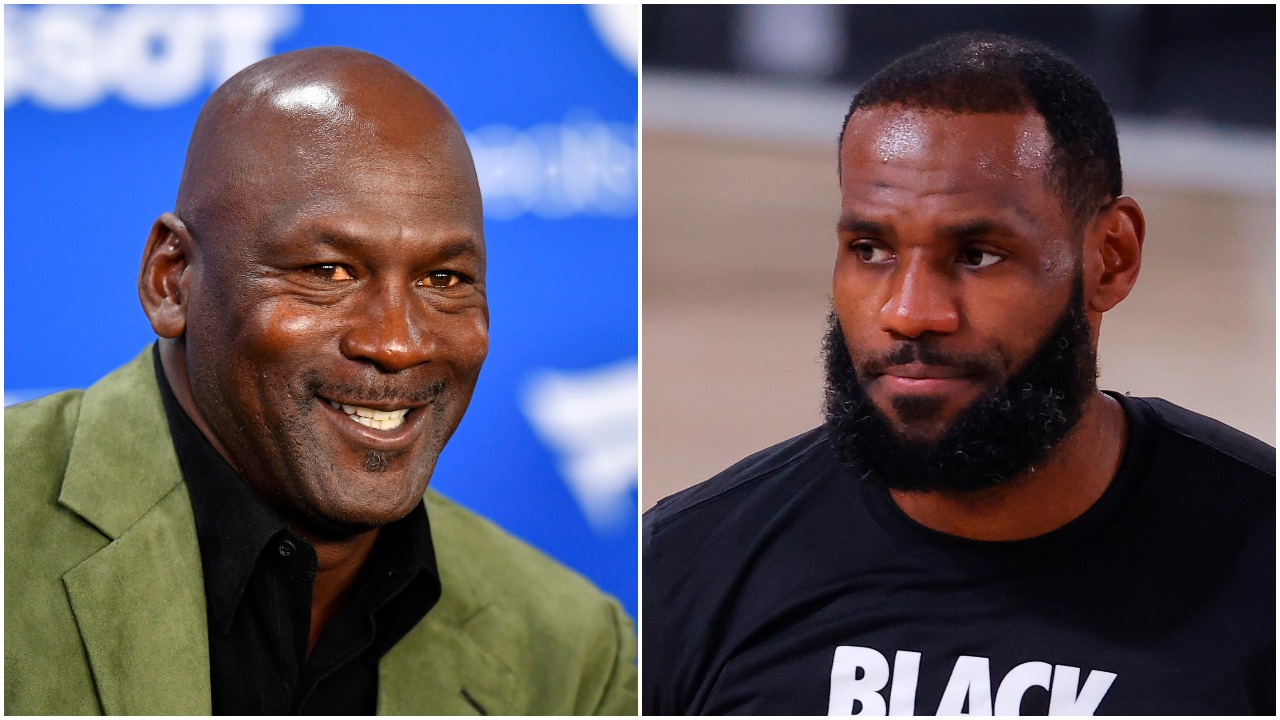 Here's the Real Difference in the NBA Finals Records of Michael Jordan and LeBron James
When looking at the respective NBA Finals records of Michael Jordan and LeBron James, the results don't tell the entire story.
LeBron James has won his fourth NBA championship, his first with the LA Lakers, and the argument on how his NBA Finals record stacks up to that of Michael Jordan has reared its ugly head once again. But here's the thing about that: it doesn't freaking matter.
The Michael Jordan vs. LeBron James debate has been one that's gone on for years now. And it's one that will continue to go on long after James finally decides to call it quits, although it seems at times that he could just play forever given the fact that, after 17 years in the league, he's still the best player on the planet. Sorry, LeBron haters, but that's absolutely true.
So here's the deal, folks. Michael Jordan and LeBron James are two of the best to ever play the game of basketball. Period. But people can't just leave it at that, can they? They want to compare this and compare that and it's absolutely ridiculous. They're from different eras (both would have dominated in any era) and are different types of players but that certainly doesn't stop people from bickering about it.
Obviously, the biggest argument recently has been about their respective records in the NBA Finals. With his latest title win, LeBron is now 4-6 while Jordan went a perfect 6-0, which is obviously the biggest point MJ supporters like to make when making the case for their guy. But things just aren't that simple. If you want to compare the NBA Finals records of Michael Jordan and LeBron James, you can't just look at the result. What most people fail to look at is the fact that Michael Jordan's Bulls were favored in every NBA Finals they played. More often than not, LeBron James' teams weren't.
Michael Jordan's Chicago Bulls were favored to win the NBA Finals every single time
Before we get to LeBron James' teams being consistent underdogs in the NBA Finals, let's first look at how Michael Jordan's Chicago Bulls were expected to dominate the championship series each and every year.
In 1991, Michael Jordan and the Bulls were -200 favorites against Magic Johnson's Lakers and won the series in five games. The following season, against Clyde Drexler and the Blazers, the Bulls were -250 favorites and closed things out in six games. In 1993, Chicago faced off against league MVP Charles Barkley's Phoenix Suns and were -240 favorites. The Bulls again won the title in six games.
In his first full season back in the NBA after trying his hand at baseball, Michael Jordan led Chicago to a 72-10 mark in the regular season, at the time an NBA record. The Bulls went into the 1996 NBA Finals as -950 favorites and dispatched of the Seattle Supersonics in six games. In 1997, the Bulls were -600 favorites against the Utah Jazz and were -115 favorites the following year. Chicago won each series in six games.
LeBron James' teams have only been the favorite in the NBA Finals 30% of the time
So now let's look at what LeBron James' teams were expected to do in the NBA Finals.
2007 Cleveland Cavaliers: +360 underdogs
2011 Miami Heat: -175 favorites
2012 Miami Heat: +155 underdogs
2013 Miami Heat: -220 favorites
2014 Miami Heat: +135 underdogs
2015 Cleveland Cavaliers: +190 underdogs
2016 Cleveland Cavaliers: +180 underdogs
2017 Cleveland Cavaliers: +250 underdogs
2018 Cleveland Cavaliers: +688 underdogs
2020 Los Angeles Lakers: -350 favorites
So as you can see, out of LeBron James' 10 NBA Finals appearances, his teams were only expected to win on three occasions. And here he is with four NBA championships. It's true that he didn't win every Finals he was supposed to as Michael Jordan did. Dirk Nowitzki took care of that in 2011 in leading the Dallas Mavericks to a series win over the Heat.
But LeBron can say that he won two titles that he wasn't supposed to win. The Heat were underdogs in 2012 against Kevin Durant and the Oklahoma City Thunder and won in five games. And we all know what happened in 2016 when LeBron led the Cavaliers back from a 3-1 deficit in the NBA Finals to beat the 73-9 Golden State Warriors.
Arguing the NBA Finals records of Michael Jordan and LeBron James is a pointless exercise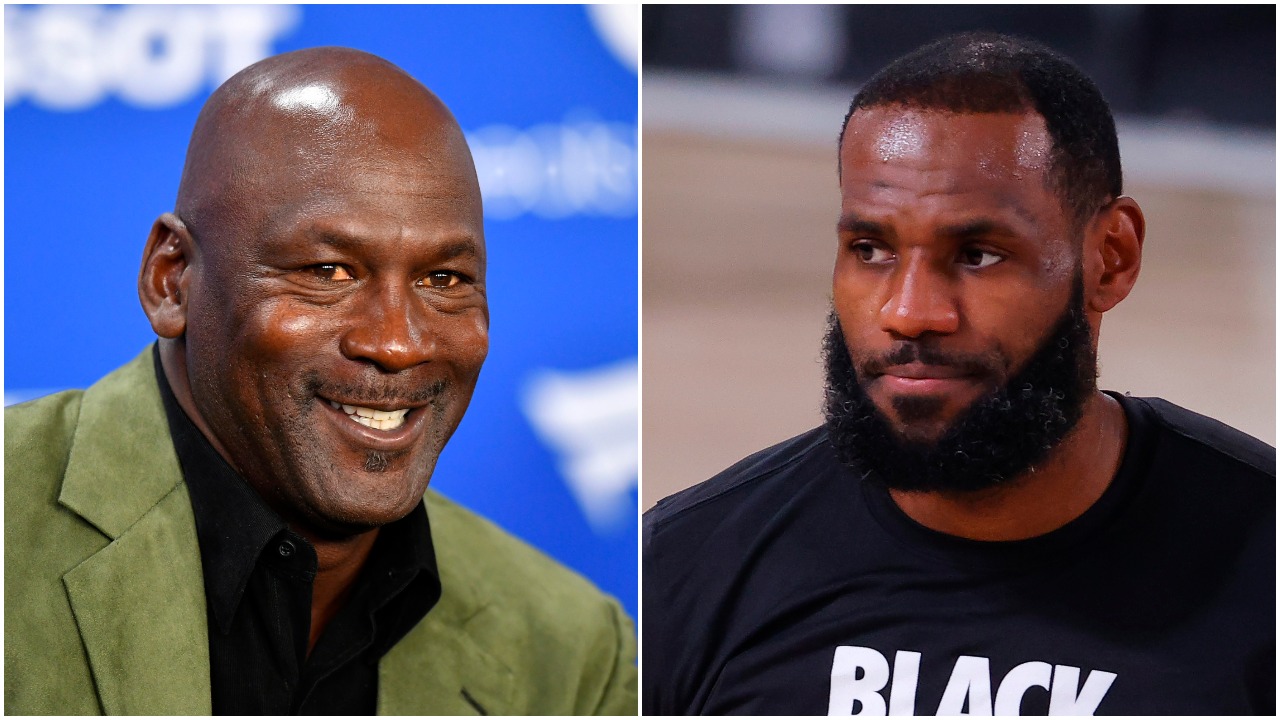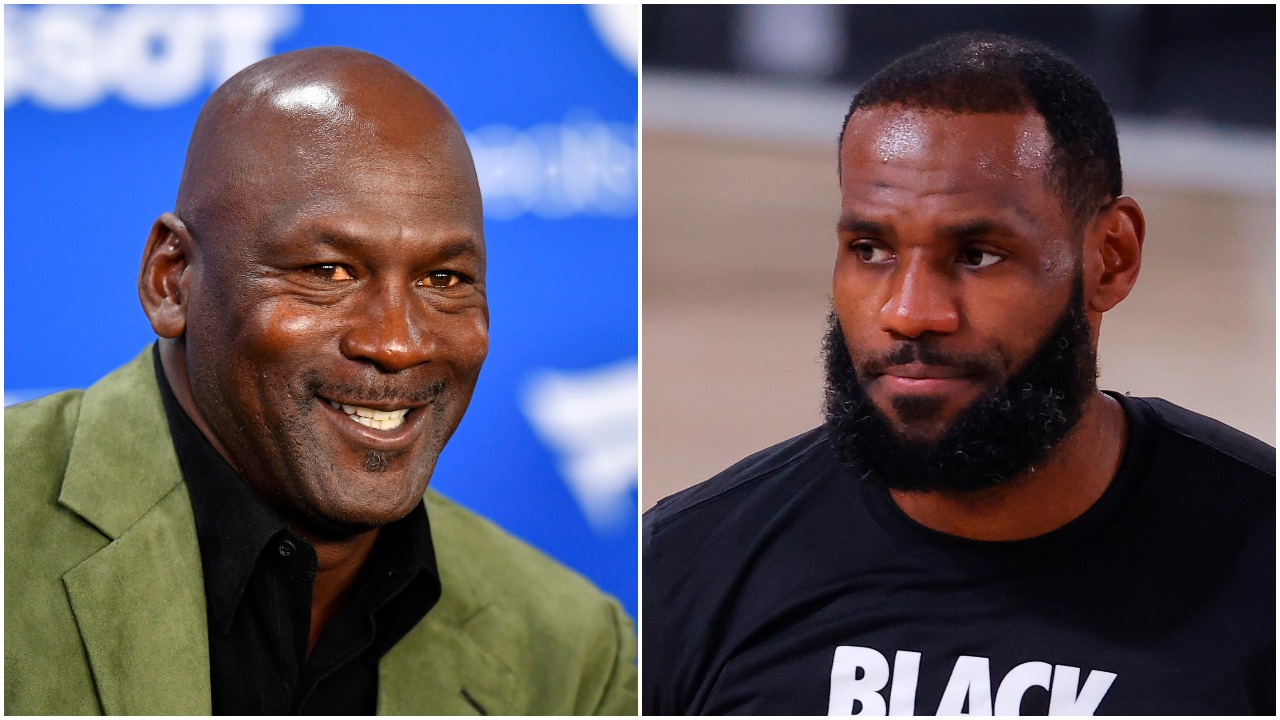 As mentioned early on, I truly believe that arguing the NBA Finals records of Michael Jordan and LeBron James is a pointless exercise. But it certainly bears repeating here after going through those betting odds. Again, there's no getting around the fact that Michael Jordan went undefeated in the Finals. But those on Team LeBron could actually say that their guy got to the Finals more often in his career. And that's not just talking about his 10 appearances to Jordan's six. If you're looking at percentages, LeBron James has gone to the NBA Finals in 10 of his 17 NBA seasons, which comes out to 58.8%. Michael Jordan reached the title series in six of 15 seasons, which comes out to 40%.
But it's then here that folks on Team Jordan would say that their guy won more titles with less opportunities. Trust me, I could sit here and throw out so many topics that could keep the Jordan vs. LeBron argument going, such as the fact that every time LeBron left a team after going to the Finals, that team failed to make the playoffs the following year. And, yes, that includes Miami, who went 37-45 the year after James took his talents back to Cleveland. When Jordan left to play baseball and gave the team to Scottie Pippen, the Bulls won 55 games and made it to the Eastern Conference semifinals. So the argument becomes that Michael Jordan played on better overall teams.
Like Captain America, I could do this all day. But, in my humble opinion, it's just pointless. Once again, can't we just enjoy the fact that Michael Jordan and LeBron James are two of the greatest to ever play and just leave it at that?
My guess is that isn't going to happen.
All betting odds courtesy of SportsOddsHistory.com