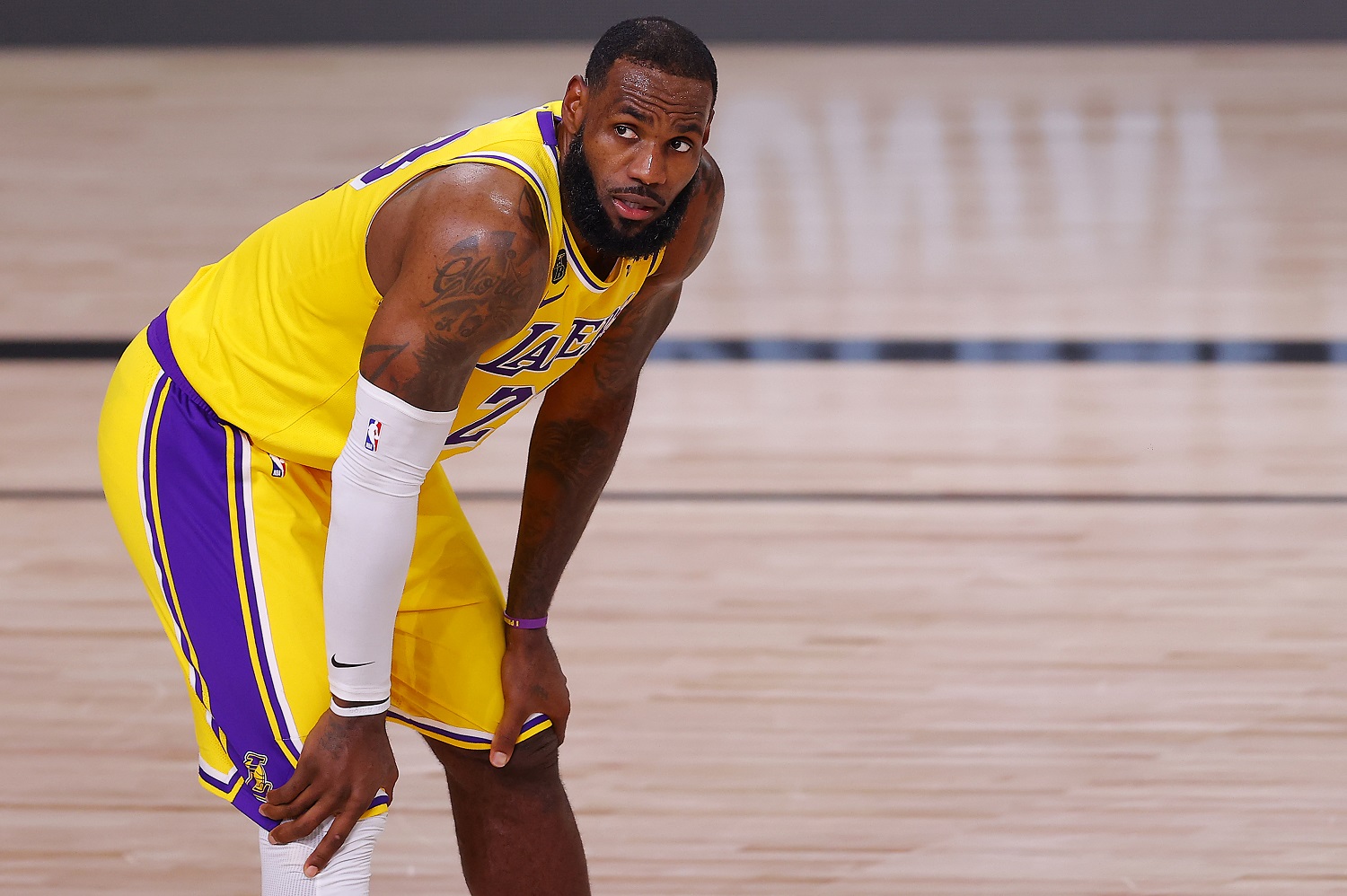 Despite 50 Games Played, LeBron James Has Not Scored the Most Points in NBA Finals History
A look at the five players with the most total points in NBA Finals history.
Currently appearing in his 10th NBA Finals, tied for the third-most in history with Kareem Abdul-Jabbar and behind only Bill Russell (12) and Sam Jones (11), LeBron James has obviously scored a ton of points on the biggest basketball stage on the planet.
But despite all of these appearances, which include eight in a row from 2011-2018, James surprisingly does not hold the all-time NBA Finals scoring record. Yes, he is in the top two (and would need a ton of points in these 2020 NBA Finals to reach the top spot) but the player in front of him isn't either of the men who have made more appearances than he has. And, no, it's not Michael Jordan, although His Airness does appear on this list of the top five scorers in NBA Finals history.
And here's a fun fact. Jordan is the only man on this list never to wear a Los Angeles Lakers uniform as four of the top five, obviously now including LeBron James, donned the purple and gold, which actually makes sense as the Lakers have appeared in more NBA Finals than any other franchise (this year marks their 32nd appearance).
So let's count down the top five scorers (by total points) in NBA history.
5. Elgin Baylor-1,161
Over the course of eight appearances, Elgin Baylor played in 44 NBA Finals games and scored 1,161 points, good for fifth on the all-time points list. His 26.39 scoring average also puts him in 11th place on the list for NBA Finals points per game leaders (minimum 10 games), just behind Stephen Curry, who holds a 26.46 average in 28 games. Unfortunately for Baylor, all of those points never helped him win an NBA title.
In his eight appearances in the title series, Baylor lost seven times to the rival Boston Celtics and once to the New York Knicks. The Hall of Famer was forced to retire just nine games into the 1971-1972 season, a season that ended with the Lakers winning their first NBA title in 18 years.
4. Michael Jordan-1,176
In six NBA Finals appearances with the Chicago Bulls in the 1990s, all of which obviously resulted in championships, Michael Jordan scored a total of 1,176 points, good for fourth on the all-time list. While he also doesn't top the NBA Finals scoring average list, he does own the highest scoring average among the players on this list at 33.6 points per game.
In his six appearances, Jordan played a total of 35 games in the NBA Finals, which include some of the greatest performances the game has ever seen, which helped him to win a record six NBA Finals MVP trophies. The Bulls are the only active franchise with multiple NBA Finals appearances with no losses.
3. Kareem Abdul-Jabbar-1,317
At No. 3 on the all-time NBA Finals scoring list is the man that's scored more points than anyone in NBA history, six-time MVP Kareem Abdul-Jabbar. First appearing in the title series with the Milwaukee Bucks in 1971, which resulted in his first championship, Kareem went on to appear in the Finals one more time with the Bucks and eight times with the Lakers, resulting in six championships.
In total, Abdul-Jabbar played in 56 NBA Finals games, third on the all-time list behind only Sam Jones (64) and Bill Russell (70). In those 56 games, he scored a total of 1,317 points, which averages out to 23.52 points per game. Kareem was named NBA Finals MVP in 1971 and 1985. LeBron James and Kawhi Leonard are the only other players in history to win NBA Finals MVP with two different teams.
2. LeBron James-1,408 and counting
As previously mentioned, this is LeBron James' 10th appearance in the NBA Finals and obviously his first with the Lakers. He made four appearances with the Miami Heat, who he's now trying to beat, and five with the Cleveland Cavaliers, which has resulted in three NBA titles and three NBA Finals MVPs.
Including Wednesday night's Game 1, LeBron James has now played in 50 NBA Finals games, which ties Magic Johnson for sixth on the all-time games played list. In those 50 games, LeBron has scored a total of 1,408 points, giving him an average of 28.16 points per game.
To become the all-time leader, James would need to score 272 points over the remainder of this series, an average of 45.33 points if it goes seven games, which seems highly unlikely at this point given how the Lakers manhandled the Heat on Wednesday night. So it looks as if another Lakers legend gets to hang onto the top spot for at least one more year.
1. Jerry West-1,679
At No.1 on the all-time NBA Finals points list is none other than "The Logo" himself, Jerry West. West appeared in the NBA Finals nine times in his illustrious career and played a total of 55 games, good for fourth on the all-time games played list. The 14-time All-Star scored a total of 1,679 points in the Finals and he holds the fourth-highest scoring average at 30.53 points per game.
Like Elgin Baylor, he suffered through eight consecutive losses in the NBA Finals. But unlike Baylor, he finally won that elusive title in the aforementioned 1971-1972 season. West also holds the distinction of being the first-ever NBA Finals MVP, which he won in 1969 despite the Lakers losing the series to the Celtics. To this day, he's the only player from the losing team to win the award.
All stats courtesy of Basketball Reference