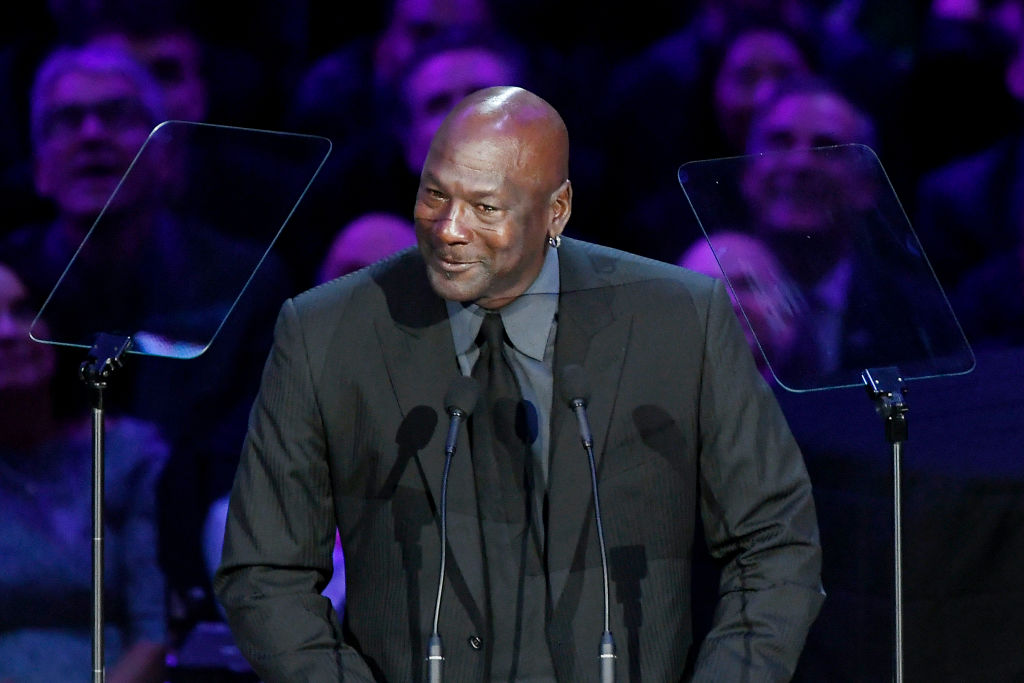 Why Michael Jordan Didn't Allow Film Crews into His Real Mansion for 'The Last Dance'
"The Last Dance" director says that Michael Jordan wouldn't let film crews into his own house for interviews for the ESPN docuseries.
If you've been watching The Last Dance over the last few weeks, you've likely been in awe of some of the stories involving Michael Jordan and the Chicago Bulls, of which there have been many. But, if you're anything like me, you maybe have also been impressed with that palatial-looking house where MJ did a lot of his interviews.
You know the one I'm talking about with the all-white living room and the ocean view in the background. As it turns out, that's not even his house, nor are the other two we've seen during the ESPN docuseries. According to the director of The Last Dance, Jason Hehir, Michael Jordan refused to allow camera crews into his actual mansion, one of many demands he's made with this production.
Michael Jordan has had a lot of control with 'The Last Dance'
Michael Jordan has had a lot of control over the production of The Last Dance. For starters, he's the one that had to agree to release all of the footage from the Chicago Bulls' 1997-1998 season to begin with, which he wouldn't do for nearly two decades. Once production finally did get underway, he told director Jason Hehir that he wanted the final word on any other interview that was done, of which there were 105 not including Jordan himself.
The biggest example we've seen thus far of that demand came when MJ discussed the walk-off of Isiah Thomas and the Detroit Pistons in Game 4 of the 1991 Eastern Conference Finals. Jordan's production company, Jump 23, was also involved with the project, which certain folks don't like. And I still believe that he had something to do with a glaring omission in episode six involving Horace Grant, but maybe that's just me reading too much into things. Nevertheless, Michael Jordan has had a lot of say in how things were done for this project, including not letting camera crews into his own house.
He refused to let camera crews into his mansion in Florida
As we saw in a recent episode of The Last Dance, Michael Jordan likes his privacy, as he should. In his prime, and still even today, it's nearly impossible for him to go anywhere without someone wanting an autograph or a quote or a picture, which contributed to that first retirement that will be discussed this Sunday. With his playing days well behind him, Jordan prefers to live a secluded lifestyle whenever possible, which is why he refused to let filming for The Last Dance occur in his own mansion in Jupiter, Florida, as Jason Hehir recently told "Business Insider."
"He said that his home is his sanctuary. I asked to get on his private plane to shoot him going to a Nike meeting and he didn't want people on his plane. There are certain aspects of his life that he wants to keep private."

"The Last Dance" director Jason Hehir on Michael Jordan
So Hehir began to search for other locations.
Where did Michael Jordan shoot his interviews for 'The Last Dance?'
Once Michael Jordan refused to allow camera crews for The Last Dance, Hehir had to go searching for locations. He wanted to find a place that at least somewhat matched up with what he'd seen at Jordan's actual house in the Bear's Club golf course community in Jupiter and found the place mentioned earlier and rented it out for a short time. As for the other two locations, those were actually houses that were owned by friends of the production, who had no problem letting the two-time Hall of Famer on their property.
"You'd be surprised how quickly people will open their doors when you say 'Can Michael Jordan come over and be interviewed at your house?'"

"The Last Dance" director Jason Hehir on Michael Jordan
Yeah, that would certainly be difficult to say no to, wouldn't it?
Episodes seven and eight of The Last Dance premiere this Sunday night on ESPN.