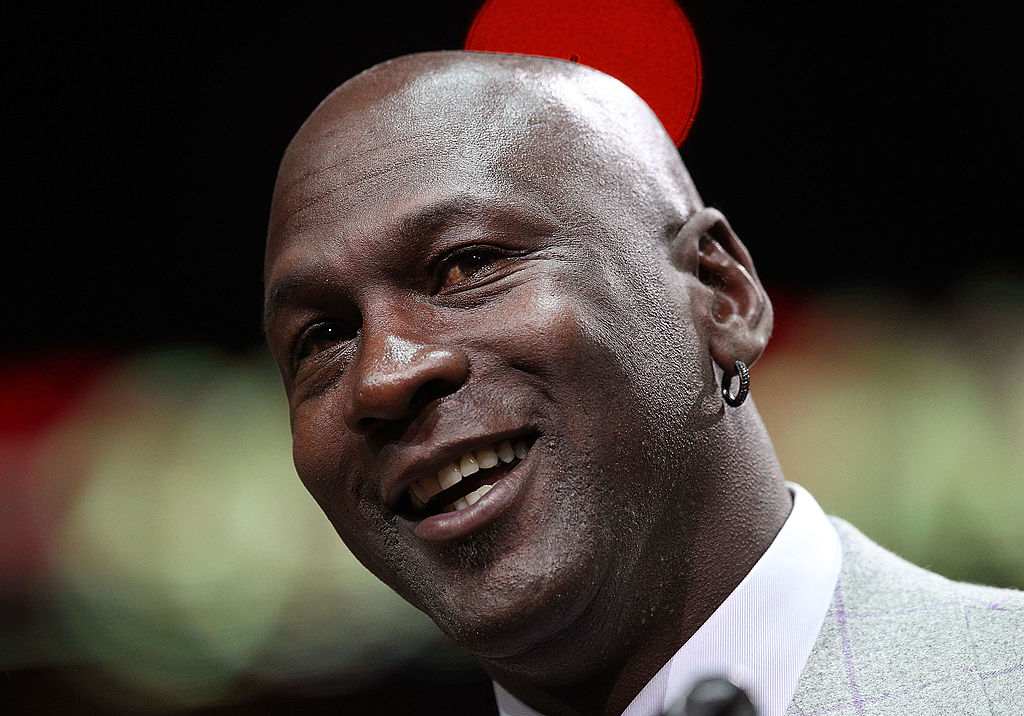 How Michael Jordan Himself Held Up 'The Last Dance' Documentary For Two Decades
The story behind Michael Jordan holding up production on "The Last Dance" ESPN documentary for nearly 20 years.
The day has finally arrived. At long last, the 10-part ESPN documentary, "The Last Dance", which follows the career of Michael Jordan against the backdrop of the Chicago Bulls' 1997-1998 season, will finally hit the airwaves. The first two parts will premiere tonight and two episodes will be shown every Sunday on ESPN through May 17.
The frenzy surrounding "The Last Dance" has been insane. When ESPN announced it more than a year ago, fans of Michael Jordan and the Bulls (honestly, just any basketball fan) went crazy. But they would have to wait for it. "The Last Dance" actually wasn't supposed to premiere until this summer. However, with the COVID-19 outbreak shutting down the sports world, the premiere date was moved up to April 19 and here we are, ready to roll.
But why did it take so long for "The Last Dance" to happen? So much of the footage was obviously shot during the 1997-1998 season and it's now 2020. As it turns out, it was Michael Jordan himself that held up production for close to two decades.
Michael Jordan has always been very protective of his likeness
Michael Jordan has long been protective of his likeness. When he was taken with the third overall pick by the Chicago Bulls in the famous 1984 NBA draft, he quickly took control of his own destiny, on the court and off.
Jordan immediately opted out of the licensing program with the NBA players' union, as he and his team believed that there was more money to be made by putting together their own marketing deals. Hmmm…wonder how that turned out for him? But it's why you would never see Michael Jordan in video games like "NBA Jam." He owned his likeness and loved having control, something that would end up playing heavily as far as "The Last Dance" is concerned.
The pitch for "The Last Dance"
As the 1997-1998 NBA season loomed, rumors swirled that it would be the final run for Michael Jordan and the Chicago Bulls. Head coach Phil Jackson dubbed the season "The Last Dance" and NBA Entertainment wanted in on it. The Bulls were the center of the sports universe and Michael Jordan was the biggest star on the planet.
Producer Andy Thompson, the brother of former Lakers star Mychal Thompson and the uncle to current Golden State Warriors sharpshooter Klay Thompson took the idea of following the team around for the entire season to his boss, who just happened to be the man that now runs the NBA, Adam Silver. Silver was the head of NBA Entertainment then and loved the idea. But he knew it would be a tough sell.
Silver first went to Bulls owner Jerry Reinsdorf for permission, who was fine with it but only if Phil Jackson got on board. Jackson agreed to the project as long as he could get rid of the cameras whenever he wanted. But there was one more hurdle: Michael Jordan.
As Silver explained to ESPN, all he had to do to convince Jordan to do it was to give him total control of the footage.
"Our agreement will be that neither one of us can use this footage without the other's permission. It will be kept — I mean literally it was physical film — as a separate part of our Secaucus [New Jersey] library. Our producers won't have access to it. It will only be used with your permission.

"Worst-case scenario, you'll have the greatest set of home movies for your kids ever created."

Adam Silver to Michael Jordan
Little did Adam Silver know that once shooting was completed in the summer of 1998, Michael Jordan would make sure that the footage stayed locked up for decades.
Michael Jordan constantly refused offers to release the footage
Once "The Last Dance" season of 1997-1998 was over, as promised by Silver, more than 500 hours of footage of Michael Jordan and the Chicago Bulls was moved to that vault in Secaucus, New Jersey. And it just sat there for a very long time.
Andy Thompson couldn't understand how his pet project wasn't being done. He was friends with Michael Jordan but could never press him about it. Word had gotten around that the footage was there and some big names wanted to make the documentary. Spike Lee made a pitch. Frank Marshall made a pitch. Danny DeVito, Jordan's nemesis in Space Jam, made a pitch. But nobody could even get a meeting with Michael Jordan to discuss it. He just shut everybody down.
At the time, most documentaries were about 90 minutes to two hours at the most and the thought of a series just hadn't really occurred to anyone involved with the Jordan project that seemed more like a folktale than an actual reality. Certain people knew the footage existed but nobody knew what to do with it and it just continued to gather dust.
"The Last Dance" finally got the green light from MJ in 2016
Producer Mike Tollin, who had been involved in numerous sports projects throughout the years, including Varsity Blues and Coach Carter, had met Michael Jordan's agent, Peter Falk, while he was the executive producer of "Arli$$" on HBO. Falk had done a guest appearance and Tollin had found out that there was this seemingly mythical footage that existed of Michael Jordan and the 1997-1998 Chicago Bulls and never forgot about it.
In February 2016, the Oscar-winning documentary about O.J. Simpson had premiered and Tollin had the same idea of doing a multi-part documentary on Jordan and the Bulls as docuseries had become all the rage. Netflix had become one of the most popular media platforms in the world and it was flooded with multi-part documentaries. Tollin saw his opening and took it.
He found a way to get a meeting with Michael Jordan and his most trusted business associates in June 2016. Jordan, as the owner of the Charlotte Hornets, was preparing for the NBA draft but agreed to the meeting, which Tollin disguised as more of a friendly hangout. Tollin pitched him, which included a list of his former projects, a list that included a documentary on Allen Iverson. And all of a sudden, Michael Jordan was in.
"I watched that thing three times. Made me cry. Love that little guy.

"Let's do it."

Michael Jordan
It still took some time to get "The Last Dance" moving but it's now time to see the series that's been more than 20 years in the making. Michael Jordan loved being in control and always had the final say in when his real story would be told. That time is now and we're certainly all ready for it.