Brad Keselowski Probably Punted Austin Dillon Right Out of the NASCAR Cup Series Playoffs: 'Aw, Man, I Didn't Want to Do That'
The most competitive aspect of Sunday's race at Michigan International Speedway featured Ryan Blaney winning the final restart and holding off William Byron's Chevy. The second most intense battle saw Brad Keselowski and Austin Dillon racing to their radios to see who could apologize first.
Officially, Keselowski punted Dillon – almost certainly knocking him out of the NASCAR Cup Series playoffs. Keselowski had the better view of the situation and a better chance at avoiding it. But he only deserves part of the blame for the wreck that greatly changed the fight for the final playoff spot.
Another Sunday, another significant NASCAR Cup Series crash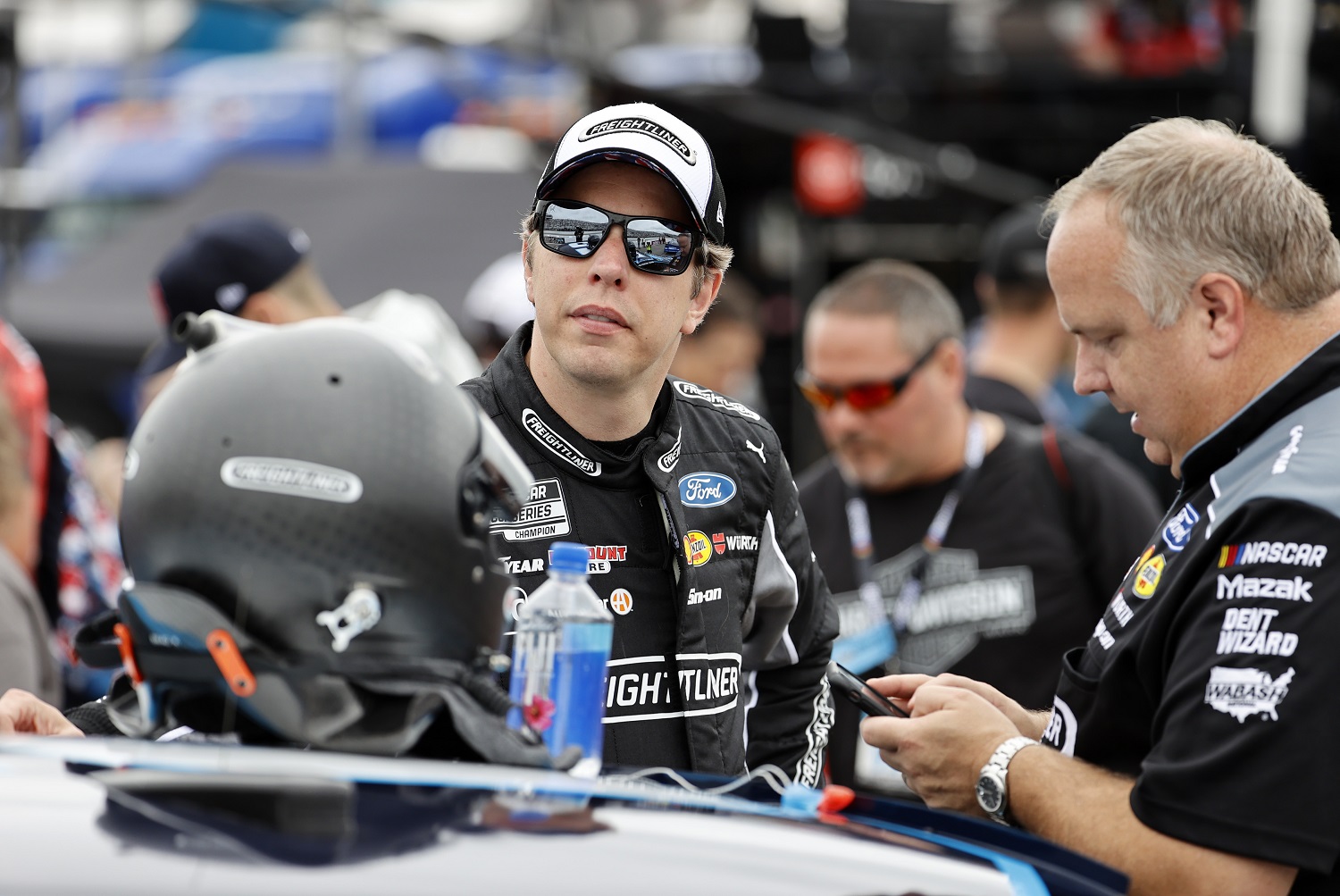 For the second week in a row, an accident with substantial playoff implications overshadowed the winner of the NASCAR Cup Series race.
The last time out, AJ Allmendinger won on the road course at Indianapolis Motor Speedway. But all anyone talked about was Chase Briscoe shoving Denny Hamlin off the course and out of the race to more or less hand the season points championship to Kyle Larson.
This time, Keselowski clipped Dillon, sending him hard into the wall and obliterating the No. 3 Chevy. Consequently, Dillon faces nearly insurmountable odds for locking down the final playoff position next week at Daytona. Tyler Reddick holds a 25-point lead, and there are at least a dozen other drivers capable of knocking them both off the bubble.
Brad Keselowski: 'Aw, man, I didn't want to do that'
Dillon began his day 28 points behind Reddick, but he was enjoying a solid ride through the first two stages at Michigan International. He gave Larson and Chase Elliott everything they could handle while placing third in the first stage and then came across the line sixth in the second stage, which is where everything came apart.
Dillon crossed the finish line on the apron, three-quarters of a car length ahead of Keselowski. Apparently thinking that Keselowski started lifting, Dillon came up the track. However, he didn't leave himself enough clearance, and Keselowski clipped the right rear fender at 180 mph or better.
That sent Dillon's Chevy hard into the outer wall, turning the car into scrap metal and ending his day. Immediately afterward, Keselowski was upset, even though he didn't have time to react once Dillon started coming up off the apron.
"Aw, man, I didn't want to do that! Ugh," Keselowski told his team on the radio. "I didn't want to wreck him but follow him down. I'm sorry about that."
Said Dillon: "I was starting to come up off the apron because it's so rough down there. But I figured by that point, he would have given me a little room. I hate it. I'm thankful that the good Lord kept me safe today. That was a heck of a wreck, but I feel fine."
Compounding everything, Dillon lost what he described as the best car that Richard Childress Racing had brought to a track all season.
"I hate it for Breztri and my guys, most of all. They built a rocket ship," he said, according to Motor Sports Tribune, after finishing 36th.
Austin Dillon will have work to do at Daytona
Though his day ended early thanks to the wreck with Keselowski, Dillon used his stage points to cut three points off the lead of Reddick, who finished 29th in the No. 8 Chevy. Superspeedways are notoriously unpredictable, so anything could happen Saturday night at Daytona. Still, Dillon will need the breaks to go his way in order to take the 16th playoff spot.
Once Aric Almirola pulled off his surprising win at New Hampshire last month, everything pointed to RCR teammates Dillon and Reddick battling for the last spot.
The wild card in the scenario, however, is that a Daytona victory by almost anyone else who has not won thus far in 2021 knocks them both out of the playoffs. Hamlin and Kevin Harvick are already in based on points, but 15 other winless drivers will do anything it takes to close the regular season in victory lane and make the 10-race playoffs.
Like Sportscasting on Facebook. Follow us on Twitter @sportscasting19.