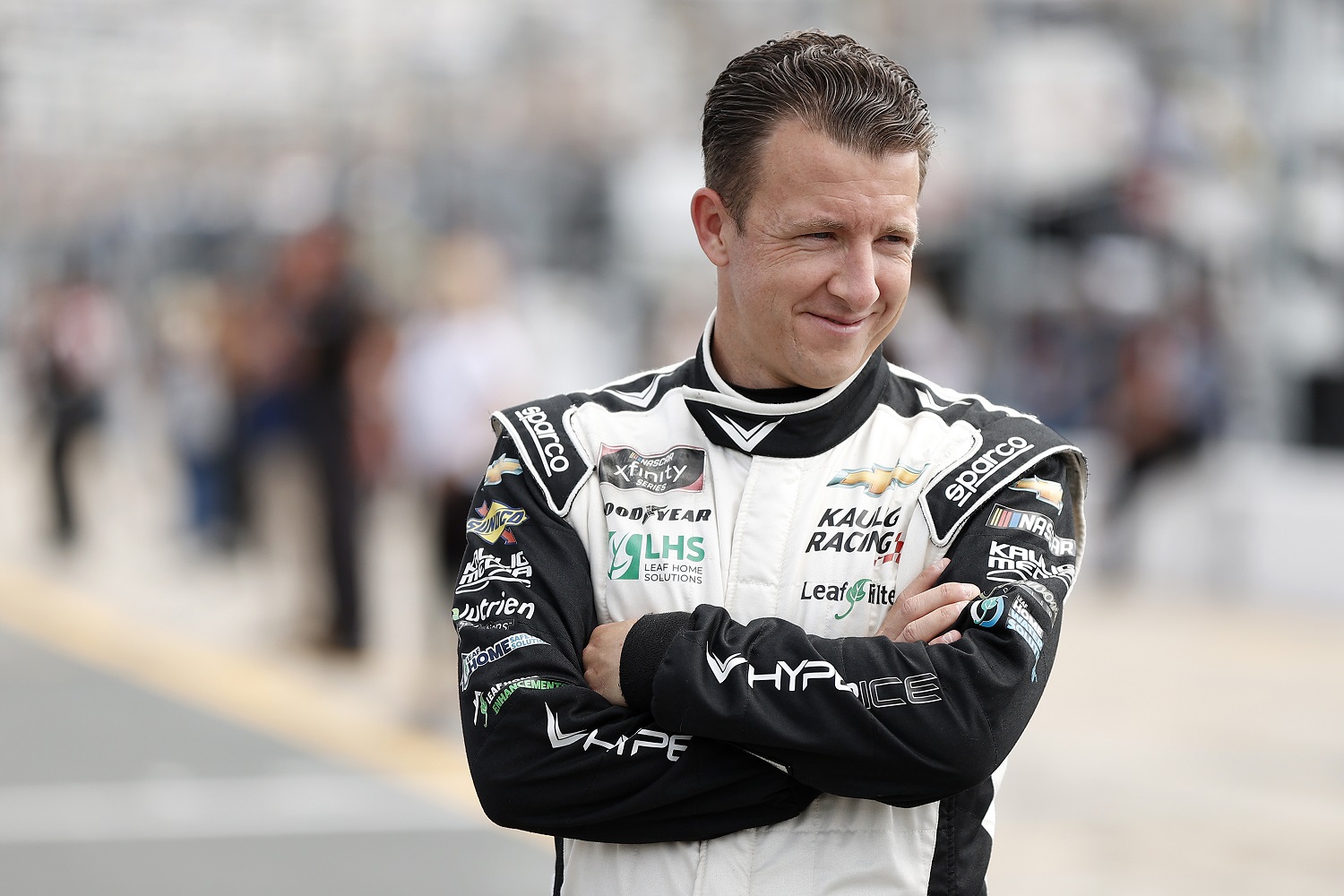 AJ Allmendinger Finished Fifth This Weekend and Was Still a NASCAR Winner
AJ Allmendinger will continue racing a partial NASCAR Cup schedule for Kaulig Racing in 2022 as the team moves up from the Xfinity Series.
AJ Allmendinger is about to learn whether life really does begin at 40. He already knows his second chance in the NASCAR Cup Series begins then. Though he only finished fifth in Saturday's Xfinity Series race in Nashville, Allmendinger was one of the sport's big winners this week when his team made its promised big move.
Kaulig Racing is ready to take on Hendrick Motorsports, Joe Gibbs Racing and the other big boys on NASCAR's big stage.
Kaulig Racing bought two NASCAR Cup Series charters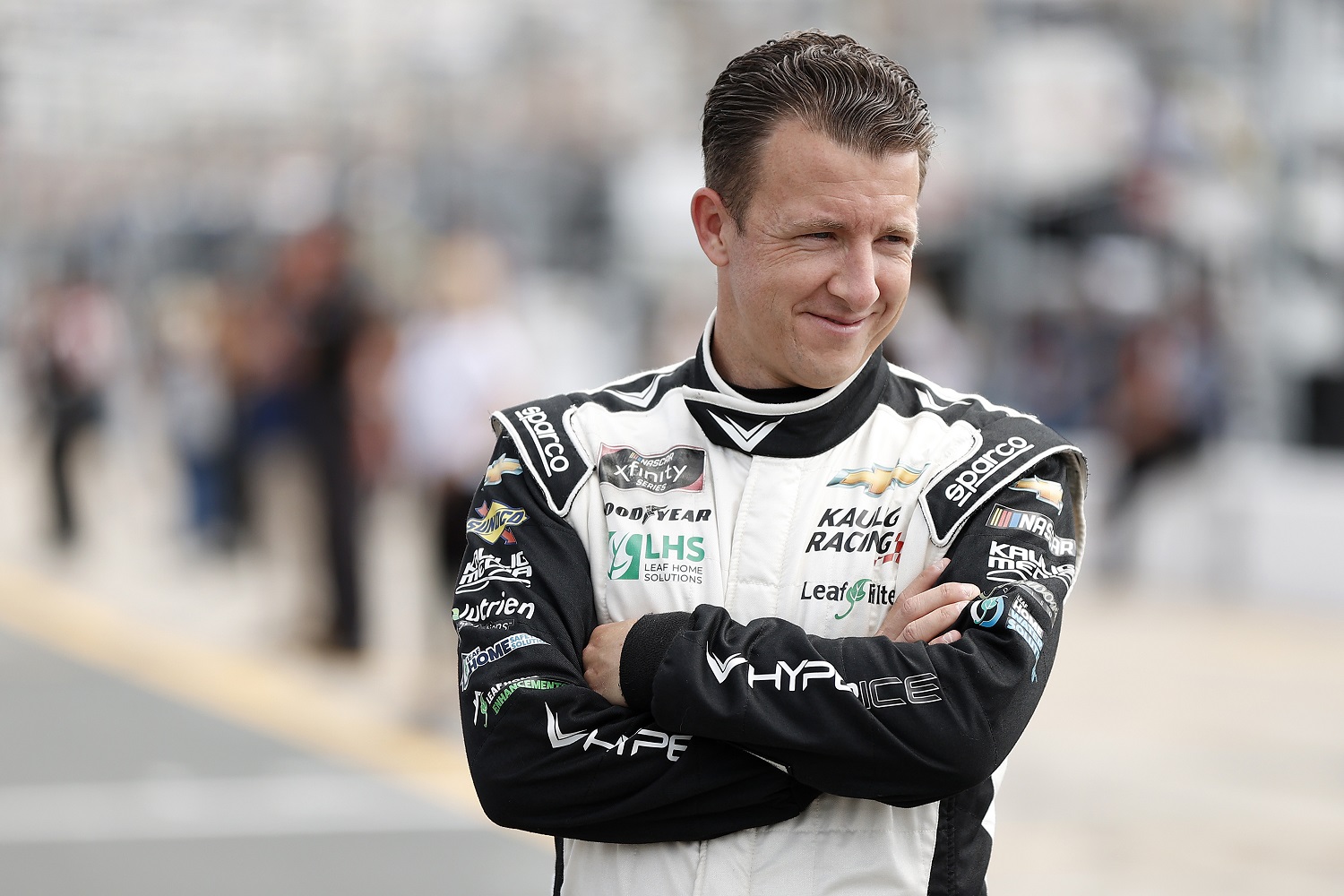 Owner Matt Kaulig jumped into NASCAR in 2016 by fielding his first Xfinity Series car. Kaulig Racing has since ramped up to a three-car outfit, and the team announced its intention to move up to NASCAR Cup Series racing for the 2022 season.
In order to do so, however, Kaulig Racing needed to acquire a charter, NASCAR's equivalent to a franchise in leagues like the NFL or NBA, in order to guarantee a place in the field for each race.
On Friday, Kaulig acquired not one but two charters from Spire Motorsports. Kaulig will use one of its charters for a car driven by Justin Haley, who has been splitting time this season between a Kaulig Xfinity car and Spire's Cup Series team.
Kaulig has not committed to a full schedule for its second newly acquired charter, but the organization did say that Allmendinger, who turns 40 in December, will run a limited schedule for them in 2022 while maintaining his full Xfinity schedule.
"Not only are we planning on making a splash in the NASCAR Cup Series, we plan on continuing to trophy hunt in the Xfinity Series," Matt Kaulig said in a statement. "AJ has been a phenomenal addition to this Kaulig Racing family, and we are glad to have him back with us moving forward."
AJ Allmendinger has been a top Xfinity Series contender
Since joining Kaulig Racing in 2019, Allmendinger has won five Xfinity Series races and finished in the top five 17 times, including his fifth-place showing Saturday in Nashville. His most recent victory came at Kaulig's home track of Mid-Ohio Sports Car Course.
"I can't wait to see what the future holds on both the Xfinity and Cup sides of the program and what it will look like for Kaulig Racing," Allmendinger said in the team's statement. "I'm thoroughly enjoying it, and I can't wait for the next couple of years together."
The partial Cup Series schedule that Kaulig envisions for Allmendinger almost certainly includes all the road courses next season. Allmendinger ran the Daytona road course and the COTA layout so far this season, finishing seventh and fifth, respectively. That's in keeping with his reputation as a road-course ace, and he should have more resources at his disposal in 2022.
Even if he remains limitedly primarily to the road courses next year as Kaulig ramps up its Cup Series program, Allmendinger is positioning himself as the guy to earn the full-time ride in the future.
AJ Allmendinger has made 373 Cup Series starts
Allmendinger started out in open-wheel racing, winning five CART events in the 2006 season before moving to the NASCAR Cup Series with Team Red Bull the following season. He raced for six other teams through the 2018 season but scored only one victory (on the Watkins Glen road course) and placed in the top 10 in another 58 events over 373 starts.
Allmendinger has never finished higher than 13th in the season points. He placed 22nd in 2018 before JTG Daugherty Racing released him.
The Kaulig gig has helped Allmendinger rehabilitate his reputation, and now there is a fresh opportunity on the horizon for a team that is showing a commitment to racing.
All stats courtesy of Racing Reference.
Like Sportscasting on Facebook. Follow us on Twitter @sportscasting19.