Kyle Busch Infamously Smashed a $25,000 Guitar at Nashville Superspeedway but Was Also Involved in the Track's Most Famous Wreck With Clint Bowyer
As far as NASCAR villains are concerned, it's probably safe to say that Kyle Busch would be at or near the top of just about everyone's list. Throughout his career, Busch has often been a sore loser in defeat and has also been an arrogant winner in victory. And that trait was on full display in Victory Lane following a Nationwide Series (now Xfinity Series) win at Nashville Superspeedway in 2009 when he smashed the guitar trophy valued at $25,000, although there's a little more to the story than people realize.
But that infamous incident certainly isn't the only noise Busch has made in Music City as he's recorded three victories on the 1.333-mile concrete oval and was also involved in the most famous wreck at Nashville Superspeedway, a crash that also involved Clint Bowyer.
Kyle Busch and Clint Bowyer were involved at the most famous NASCAR wreck at Nashville Superspeedway in 2005
Opened in 2001, Nashville Superspeedway hosted NASCAR Busch/Nationwide Series and Truck Series races until 2011, perhaps none more notable than the Busch Series Pepsi 300 in April 2004.
The 225-lap race featured a number of future superstars still looking for their first NASCAR victory, including 18-year-old Busch and 24-year-old Bowyer, both of whom put themselves in great position to nab that first win. Bowyer led 104 laps that afternoon but Busch was able to sneak by him with two laps remaining with veterans Robby Gordon and Johnny Benson not far behind.
But as the front four hit Turn 2, Bowyer slightly nudged Busch, sending him spinning. But Busch wasn't the only one to spin out as all four cars were collected in the ensuing crash, allowing Michael Waltrip to slide on by to take his 11th and final checkered flag in the second-tier series.
Busch wouldn't have to wait much longer to record his first NASCAR win as he won a Busch Series race at Richmond the following month. Bowyer would have to wait a little longer, finally taking his first checkered flag in June 2005, oddly enough at Nashville Superspeedway.
Busch infamously smashed the hand-painted Les Paul guitar trophy valued at $25,000 following a Nationwide Series win in 2009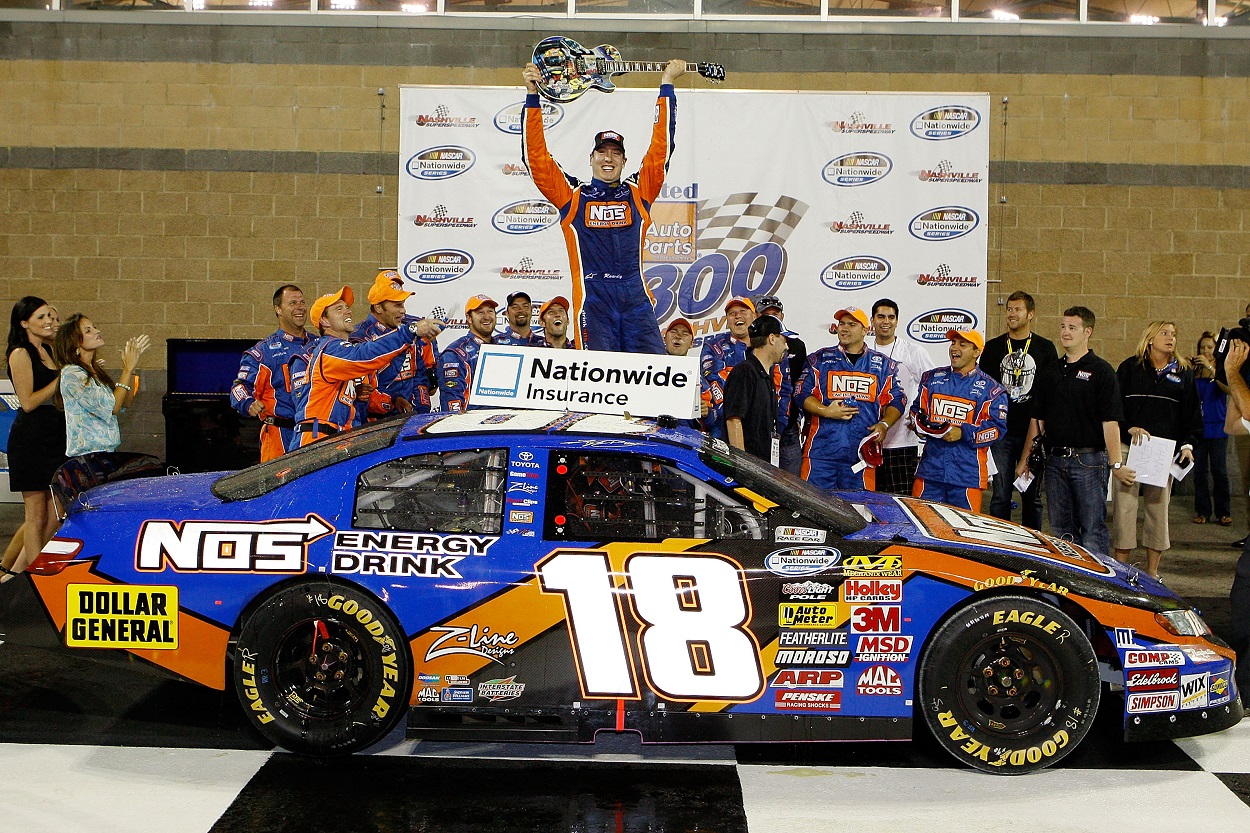 By the time June 2009 rolled around, Busch had recorded 50 victories across NASCAR's three series and picked up win No. 51 with a dominating performance at the Nationwide Series Federated Auto Parts 300 at Nashville Superspeedway, although the finish was much closer than he probably would have liked. Busch led 173 of 225 laps but Brad Keselowski, who led 10 laps that day, certainly made things interesting. But Busch had just enough to take the checkered flag, winning by .891 seconds.
But while the finish was exciting, it was the celebration that ended up making bigger headlines.
Back then, winners received a Gibson Les Paul guitar as a trophy which was hand-painted by legendary NASCAR artist Sam Bass, who sadly died in 2019 at the age of 57. Bass' designs adorned numerous NASCAR vehicles over the years, his most famous paint scheme being the iconic "Rainbow Warrior" colors on Jeff Gordon's No. 24 Chevrolet. So this trophy was a big deal.
With Bass standing right in front of him on Victory Lane, Busch channeled his inner rock star and smashed the guitar, which was said to be worth somewhere in the neighborhood of $25,000, to pieces, a jaw-dropping move that The Tennesseean says "appalled and offended" quite a few people. But Busch says he never meant any disrespect to Bass as he only broke it so he could give a piece to each of his crew members.
It was later said that Bass held no ill will towards Busch for his actions. And what many don't know is that Busch donated quite a bit of money to music programs in Nashville soon after.
He's now recorded four NASCAR victories at Nashville Superspeedway
The following year, Busch captured his second NASCAR victory at Nashville Superspeedway, winning the Truck Series Nashville 200. In 2011, he won a second Truck Series race in Music City with a win at the Bully Hill Vineyards 200. To the best of our knowledge, each of those guitar trophies are still in one piece.
But there's now one more guitar trophy that's in jeopardy of being smashed. After a decade away, NASCAR returned to Nashville Superspeedway this weekend and Busch captured his 100th victory on the Xfinity Series on Saturday, winning the Tennessee Lottery 250 in a fierce battle with Justin Allgaier.
When Busch received his trophy, he played to the booing crowd and acted as if he was going to recreate the scene from 2009, but instead pretended to play it.
The first-ever NASCAR Cup Series race at Nashville Superspeedway takes place on Sunday.
Stats courtesy of Racing Reference