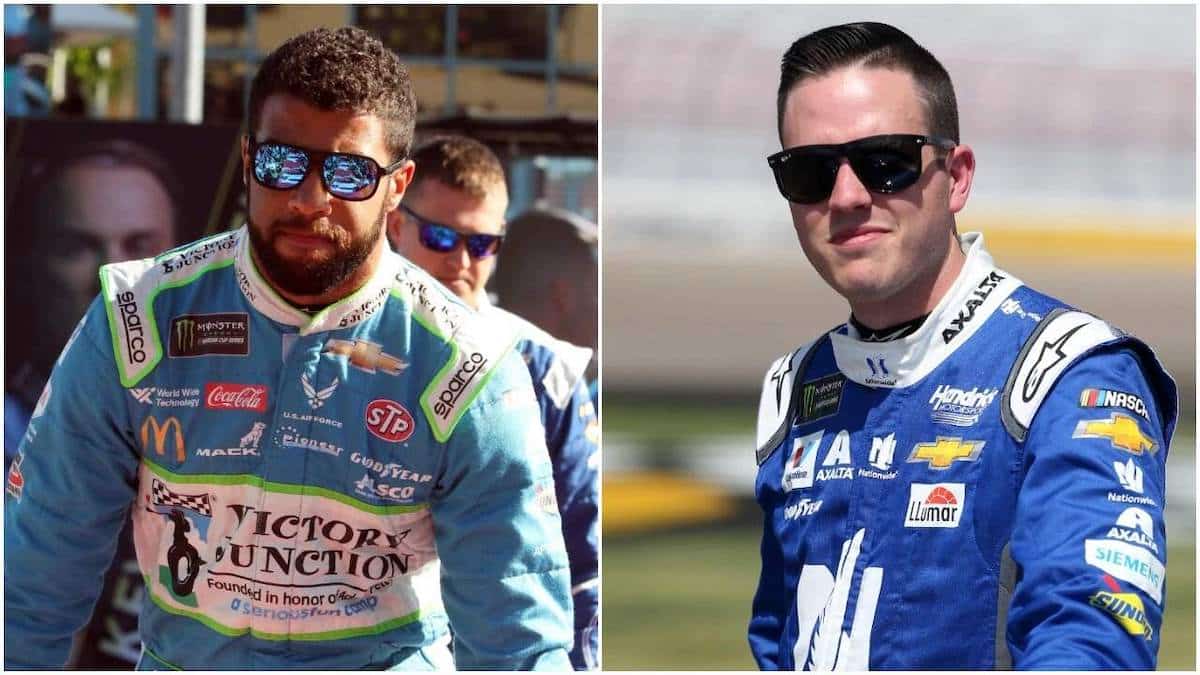 Jeff Gordon and an On-Track Doctor Were Casualties of an Odd Post-Race Altercation Between Bubba Wallace and Alex Bowman
NASCAR legend Jeff Gordon and an on-track doctor were up close and personal for a post-race altercation between Bubba Wallace and Alex Bowman in 2019.
NASCAR is obviously a very competitive sport. Like engines, tempers can often run hot during a race. We've seen countless post-race altercations over the years (and some during races). One occurred at the 2019 Bank of America ROVAL 400 at Charlotte Motor Speedway involving Bubba Wallace and Alex Bowman.
But this wasn't your ordinary post-race fight where drivers duke it out over something that happened on the track. Yes, the incident occurred due to some in-race action — things got heated there as well, with multiple middle fingers thrown. But this particular post-race altercation was unique as Wallace went after Bowman while he was being medically treated for heat exhaustion.
He never even actually hit him, at least not with his fists anyway. No, Wallace's weapon of choice that day was a bottle of Powerade. A doctor and Jeff Gordon got a little splash in the process.
Alex Bowman and Bubba Wallace got into it on the very first lap of the 2019 NASCAR Bank of America ROVAL 400
On September 29, 2019, Bubba Wallace and Alex Bowman were in Charlotte for the running of the Bank of America ROVAL 400. This occurs on the famed speedway's "roval" track, a part-oval, part-road course.
On the very first lap of the race, Bowman lost control of his No. 88 Chevy and made contact with Wallace's No. 43 Chevy. This caused both of them to miss the backstretch chicane, which brought on a penalty for both drivers.
Bowman later said Wallace began giving him the middle finger on every straightaway for the next few laps, which he'd also apparently done the week before in Richmond during the Federated Auto Parts 400, where the two had a little beef. Bowman admitted to making a mistake on that first lap in Charlotte but grew tired of getting flipped off, which led to more contact between the two on lap 42.
Wallace and Bowman had another incident on lap 42
Upset about Bubba Wallace repeatedly giving him the finger, Alex Bowman apparently told his crew (as you can see in the above tweet from that day) that if it didn't stop, Wallace was "going to get one."
Bowman backed that up as he bumped the rear of Wallace's car on lap 42, causing the No. 43 to spin out, which brought out a caution flag. Bowman later attempted to justify his actions in a post-race statement to NBC Sports.
"I've got to stand up for myself at some point. Probably wouldn't have gotten wrecked if he had his finger back in the car.

"If you do it once, I get it, I ran into you on the first lap, that's on me, I messed up. Don't do it three laps in a row every single straightaway."

Alex Bowman on Bubba Wallace
He finished second in the race, while Wallace finished 24th. And that didn't sit well with Bubba.
Bubba Wallace threw Powerade in Alex Bowman's face while he was being treated for heat exhaustion
In the days leading into the race, Alex Bowman hadn't been feeling well. Following his second-place finish in Charlotte, he received treatment at the infield care center for heat exhaustion.
However, immediately following the race, Bowman exited his car and sat on the ground as Dr. Angela Fiege treated him. NASCAR legend Jeff Gordon was also right there when Wallace came storming in, said something to Bowman and then threw Powerade right in his face, which splashed onto the doctor and Gordon.
Clearly still upset, Wallace had his own thoughts on what had transpired that day (h/t NBC Sports).
"He don't like to race. He just runs over everybody.

"He gets to Lap 1, and he runs over me and (Austin Dillon) into the back chicane. We're back there in the trunk, man. Just take it easy for a lap. He had a fast car and he just run over us. Shoot us through the chicane and then we get a penalty for it. Every time he gets to me, he just runs over me.

"Smooth move of playing the sick card so I couldn't bust him in his mouth."

Bubba Wallace on Alex Bowman
Bubba Wallace was not penalized by NASCAR for the incident.
Have thoughts on this topic? Keep the conversation rolling in our comments section below.