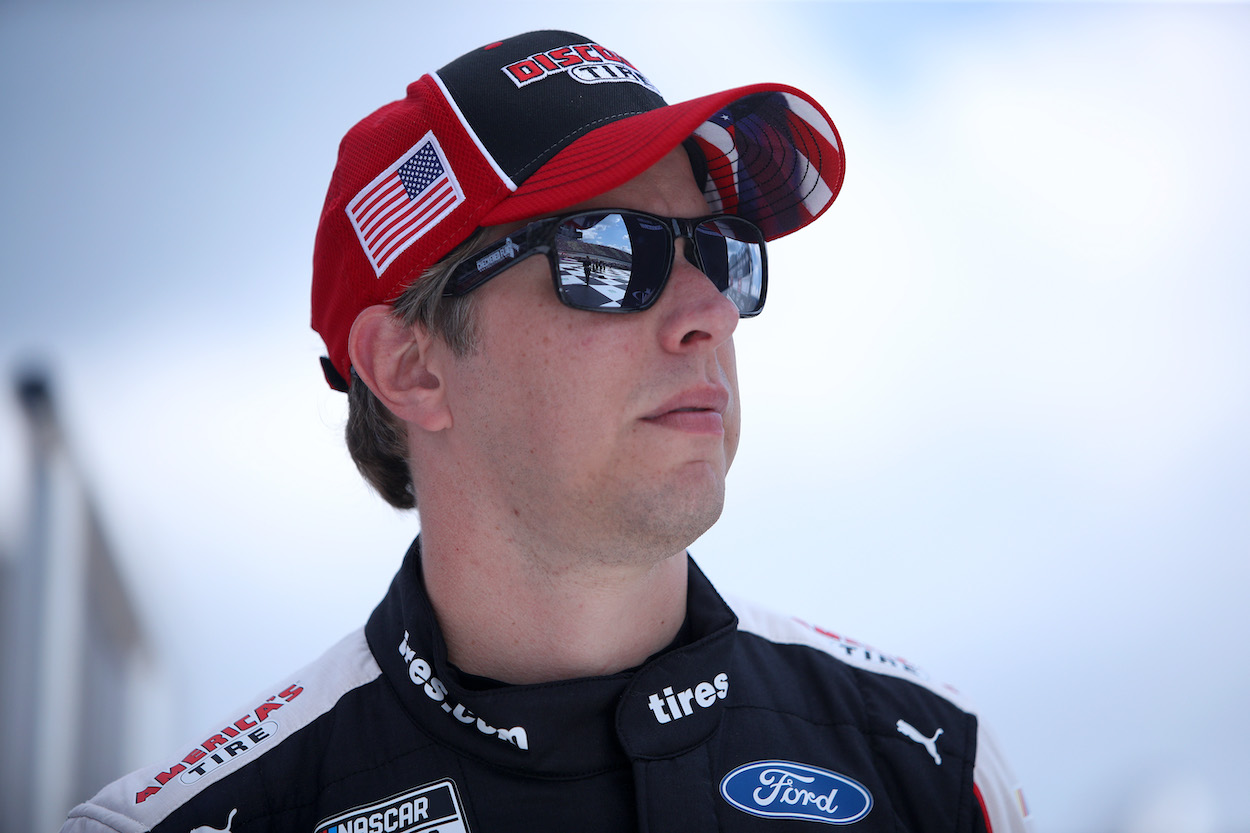 Brad Keselowski Makes Big Move for 2022 With Roush Fenway That Includes Taking Major Penske Talent With Him
Brad Keselowski confirmed before Sunday's Cup Series race at Michigan than he will be taking a major talent from Team Penske with him.
After weeks of speculation, Brad Keselowski confirmed his move to Roush Fenway in late July, where he will be a driver and part-owner with the organization starting in 2022. This week the 2012 NASCAR Cup Series champion made a major move that will benefit his new team, and it came at the expense of his current one at Team Penske. 
Brad Keselowski joins Roush Fenway Racing in 2022
For more than a decade, Brad Keselowski has raced for Team Penske, including his 2012 championship season. In July, Keselowski held a press conference at the NASCAR Hall of Fame with Jack Roush and members of the management team to talk about his new business venture.
"It's been a heck of a journey with Roger Penske and the whole team," Keselowski said. "I'm really proud of it. I'd be remiss to say I'm a little bit sad to leave some great people, some great friendships. But I'm excited with this opportunity in front of me. It's an incredible opportunity."
In 2022, Keselowski will get behind the wheel of the No. 6 for Roush. As part of the deal, he will also have a minority stake ownership in the company and play a large role on the organization's competition committee. 
Brad Keselowski gets TJ Majors as spotter  
While Brad Keselowski is locked in the playoffs and focused on racing the rest of the season with Team Penske, this week the organization announced a swap of spotters that will send veteran spotter TJ Majors, who has worked with Joey Logano since 2018 (same year Logano won the Cup Series title), to work with Keselowski, while Keselowski's spotter Coleman Pressley will now spot for Logano. The arrangement will remain in place through the remainder of the 2021 season.
On Sunday, before the Cup Series race in Keselowski's home state of Michigan, he confirmed that the move will carry over into next year with Roush. He also thinks he got the better end of the swap. 
"We're just kind of in an interesting situation with the team change and shuffles, and all that is going on and the spotter's contracts were all in different positions and trying to get alignment on it," he said. "It ended up working out in a really good way for all parties. I've had a lot of success with Coleman Pressley, and proud of that history that we had. I look forward to doing the same with TJ. I feel like I'm looking at having the No. 1 spotter in the sport. That's a big kind of get for me, not just now, but for years to come. I'm pretty happy." 
Partnership gets off to a rough start
In the duo's first race together at Michigan, things didn't exactly get off to the best of starts. After Keselowski crossed the finish line side-by-side with Austin Dillon at the end of Stage 2, the No. 3 car dipped down onto the apron. Keselowski followed close behind. 
The left front of the No. 2 contacted Dillon's right rear and sent him sideways before he shot up and made hard contact with the outside wall. Fortunately, he narrowly avoided flipping after going up on two wheels. Seconds after the accident, a distressed Keselowski apologized over his radio to Majors. 
"Aw man, I didn't want to do that," Keselowski said. "Aaaah. Why'd he come? Aaaah!" 
"I already talked to his spotter. It's all good, man, he knows," Majors assured him.
"I didn't want to wreck him. I was just following him down. Man, I'm sorry about that." 
Keselowski finished ninth. Logano finished 33rd.
Like Sportscasting on Facebook. Follow us on Twitter @sportscasting19.