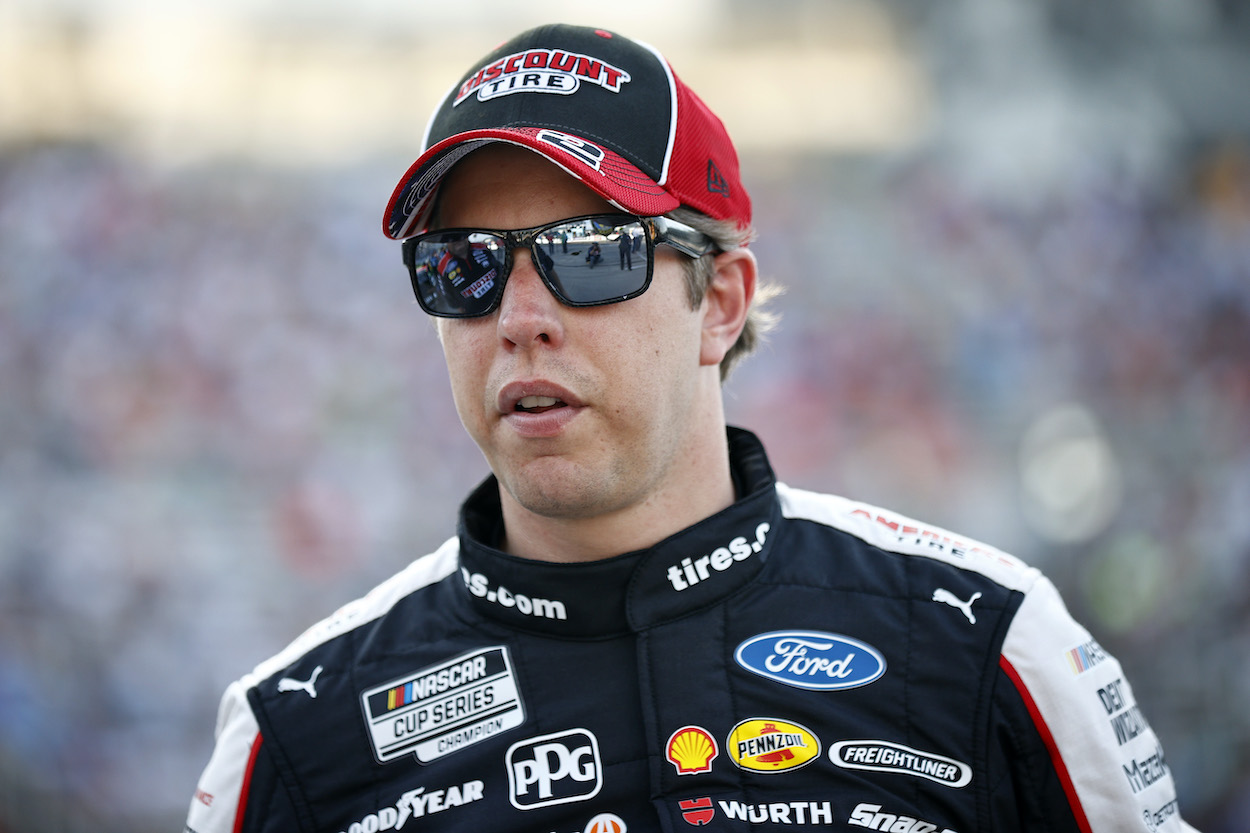 Brad Keselowski Hints at First Big Move With Roush Fenway and Why It Might Include More Personal Seat Time
Brad Keselowski joined Roush Fenway Racing this week where he will be a part owner and start racing in 2022. He's also hinted at plans for one of his first big moves.
This past week Brad Keselowski made it official. After months of speculation, the 2012 NASCAR Cup Series champion announced he was leaving Team Penske to join Roush Fenway as a driver and part-owner in 2022. You'd think that would be enough on his plate for next season.  
However, just hours after the big announcement, Keselowski appeared on NASCAR Race Hub and indicated he'd also be interested in ownership and potentially racing in the Truck Series and/or Xfinity Series in 2022. On Saturday, Keselowski took to Twitter and confirmed it.
Brad Keselowski joins Roush Fenway Racing
For months, rumors swirled around Brad Keselowski's departure from Penske Racing. On Tuesday, the worst kept secret in NASCAR circles was made official when Keselowski held a press conference at the NASCAR Hall of Fame with Jack Roush and members of the management team present.
"It's been a heck of a journey with Roger Penske and the whole team," Keselowski said. "I'm really proud of it. I'd be remiss to say I'm a little bit sad to leave some great people, some great friendships. But I'm excited with this opportunity in front of me. It's an incredible opportunity."
As part of the deal, Keselowski will drive the No. 6 car for Roush in 2022, have a minority stake ownership in the company, and have a large role on the competition committee. 
Brad Keselowski indicates interest in ownership and racing in Trucks and Xfinity Series
A few hours after the announcement, Keselowski appeared on NASCAR Race Hub, which devoted most of the day's coverage to the Keselowski news. Host Shannon Spake mentioned to Keselowski that she had heard rumors that he was also potentially interested in getting involved with the Xfinity Series or Truck Series in 2022.
"Never say never," Keselowski admitted. "I think as the sport continues to evolve there's a lot of great things going on in our sport. The Xfinity Series and Truck Series is something I have a passion for as well. The ability to grow young talent, whether it be drivers, pit crew members, and beyond. I'm really excited about any opportunities that might exist there."
When Spake asked if he missed racing in those two series, Keselowski said "absolutely." He said he has enjoyed working in the Fox broadcast booth on occasion covering the Xfinity Series, but it's not the same as sitting behind the wheel. 
"Hopefully those opportunities will come back," Keselowski suggested. 
On Saturday, Keselowski added more fuel to the fire about future ownership in the Truck Series when he responded to a tweet from NASCAR on Reddit asking why big Cup teams don't run Truck Series operations anymore.
"I'd love to change this for 2022, just need the right partnerships…," Keselowski replied.
Owned Truck Series team in the past 
While the news of Keselowski leaving Penske to join Roush Fenway as a driver-owner surprised a lot of folks when it initially broke, the possibility of the 37-year-old getting involved in the Truck Series isn't surprising at all. That's because, in 2007, he formed the Brad Keselowski Racing Team that started racing Trucks in 2008.   
Keselowski drove sparingly for the team, which fielded two full-time trucks and served as a training ground for up-and-coming drivers like Tyler Reddick, Chase Briscoe, and Austin Cindric. In 10 seasons, the team earned 11 victories, the most recent from Briscoe in 2017. However, after that season, Keselowski announced he was shutting down team operations.
Now, just a few years later, it appears he wants back into the game. Based on his recent comments, sounds like the move to Roush Fenway just might allow him to do it. 
Like Sportscasting on Facebook. Follow us on Twitter @sportscasting19.