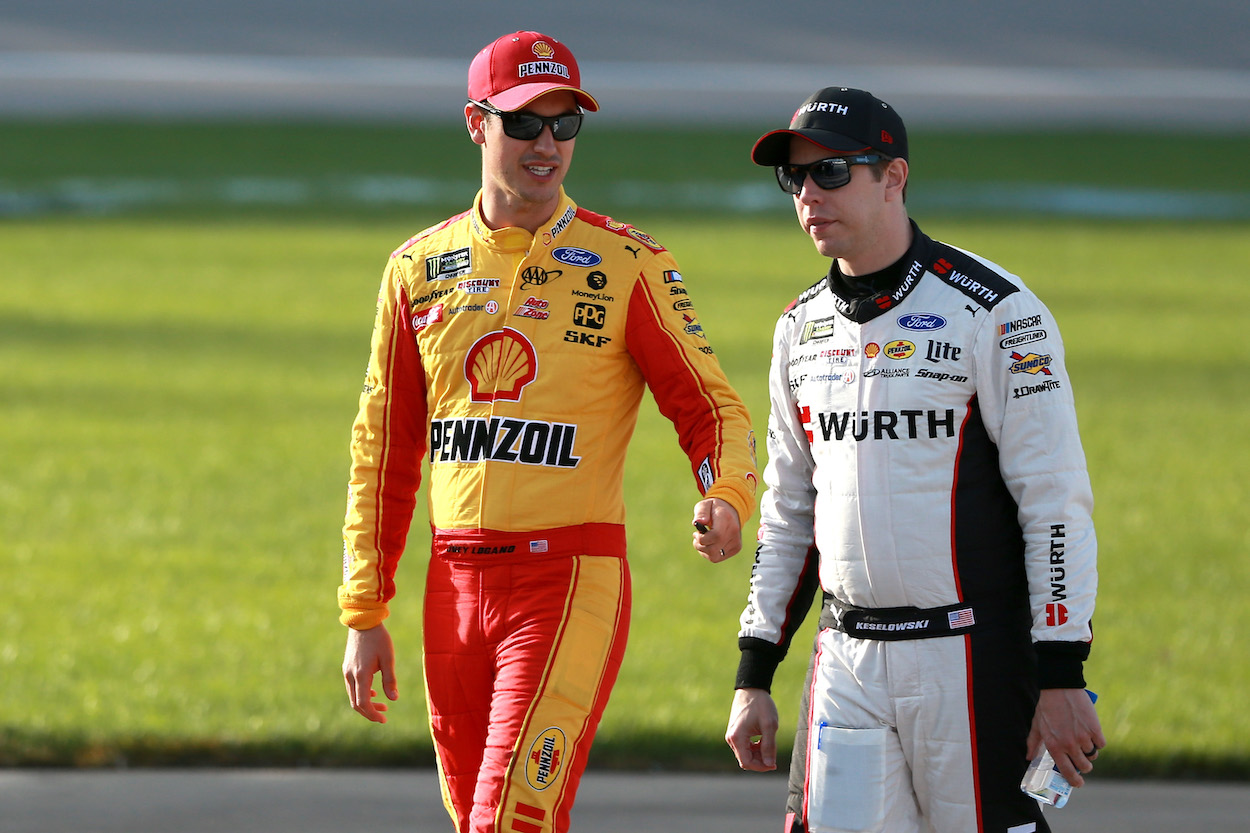 Joey Logano Candidly Admits News of Brad Keselowski's Potential Departure From Team Penske Didn't Surprise Him: 'You Could Kind of See the Writing on the Wall'
Joey Logano visited with reporters after racing at COTA and was candid about the situation with teammate Brad Keselowski and his potential departure from Team Penske.
Brad Keselowski landed a full-time seat racing on the NASCAR Cup Series with Penske Racing back in 2010. Since then, he's reeled off an impressive 34 wins and won the 2012 Cup Series championship. A year later, Joey Logano joined Keselowski at Penske and has enjoyed a successful run of his own with the team. 
Last week, Keselowski temporarily stole the headlines away from NASCAR's first trip to Austin and Circuit of the Americas when reports surfaced that the longtime Penske driver appeared to be headed to Roush Fenway Racing, where he would have an ownership stake in the team. This weekend in Austin, Keselowski was mum on the subject. Logano was not. 
Joey Logano and Brad Keselowski have had up and down relationship at Team Penske
Since Brad Keselowski joined Team Penske in 2010 and Joey Logano came on board three years later, the two have combined to win an impressive 61 times and claim a pair of Cup Series titles. However, despite being teammates and enjoying success together, things haven't always been rosy between the pair. 
Take the start of the 2021 season at the Daytona 500, for example. Logano and Keselowski were in prime position to win the Great American Race back in February, running first and second heading into the final lap. 
The two Penske teammates battled for position on the final two turns and ended up causing "The Big One." Both drivers crashed, allowing Michael McDowell to slip through and claim his first-ever Cup Series win at the Daytona 500. 
After the race, Keselowski was unhappy. 
"It ended up really bad," he said. "I don't feel like I made a mistake, but [I] can't drive everyone else's car. … Had to run, made the move, it just didn't work out."
A few days later, Logano acknowledged the pair weren't on speaking terms. 
"I think we've got to cool off," Logano admitted on NASCAR Race Hub. "We've got the cool-down machine plugged in right now."
Keselowski rumored to leave Penske
The pair resolved their dispute, at least publicly, and things appeared back to normal this season. Logano won on the Bristol dirt back in late March, and Keselowski picked up his first win of the season a month later at Talladega.
However, news broke last week that sent shockwaves throughout the NASCAR community when Motorsport.com and FOXSports.com reported that Brad Keselowski will likely accept Roush Fenway Racing's offer to become a part-owner and driver for the team in 2022.
On the surface, the move appeared curious, considering Penske is a top team while Roush is a borderline playoff team. However, the Next Gen car's arrival in 2022 levels the playing field. Keselowski knows he will have the exact same equipment and can, at a minimum, be competitive.
Logano candidly addresses potential departure of Penske teammate 
Since the news came out last week, Keselowski hasn't addressed the situation with the media. He and Logano both made their way to Austin and Circuit of the Americas for the inaugural EchoPark Automotive Texas Grand Prix. Keselowski finished 19th in the rain-shortened event. Logano finished third.
After the race, Logano was asked about Keselowski and admitted he didn't know his teammate was looking to leave but also said the news didn't come as a complete surprise.
"When you look at what happened last year and the one-year term, you could kind of see the writing on the wall for the most part. Whatever he does, everything is up at the end of the season," Logano said, then paused with his trademark smile. "Definitely an interesting period for us at Team Penske and for Brad and his life." 
Like Sportscasting on Facebook. Follow us on Twitter @sportscasting19.