Angry Kevin Harvick Goes Ballistic on NASCAR After Rain Creates Dangerous Conditions for Inaugural Race at COTA: 'Worst Decision We've Ever Made in Our Sport'
Since NASCAR announced the first-ever trip to Circuit of the Americas, the racing community buzzed about competing in Texas at the world-class facility. During the weekend finale in Sunday's Cup Series race, it lived up to expectations in a wet and wild event where Chase Elliott survived the rain and carnage to win the rain-shortened inaugural EchoPark Automotive Texas Grand Prix and move Hendrick Motorsports into a tie with Petty Motorsports for most team wins at 268.
After the race, Elliott's win took a back seat to the dangerous driving conditions in the rain, and Kevin Harvick and several other drivers expressed their displeasure with NASCAR's decision to allow racing in such a treacherous environment. A livid Harvick said of the situation, "It's the most unsafe thing I've ever done in a race car by a lot."  
Kevin Harvick predicted trouble at COTA
For the first time since 2018, Kevin Harvick raced on the Xfinity Series this past weekend at Circuit of the Americas to get in as much track time as possible before racing the new road course and its 20-turn layout in the Cup cars. Harvick finished fourth and, after the race, told reporters the conditions during Cup Series practice in the morning were downright scary.     
"I can't see well anyway," the 2014 Cup champion, who wears glasses behind the wheel, admitted. "When I have to try and figure out where you're going by the two tire tracks going down the straightaway, that's new to me." 
Unfortunately, Harvick's disturbing comments proved prescient.
Harvick livid after being wrecked: 'Most unsafe thing I've ever done in a race car'
On lap 19 of Sunday's Cup Series race, Bubba Wallace rear-ended Harvick as part of a multi-car accident, the first of several rear-end crashes, resulting from little to no visibility while traveling at speeds of 175 mph. The crash ended Harvick's day, and he angrily addressed the situation with a much less tolerant tone than the day before.
"It's the most unsafe thing I've ever done in a race car by a lot," Harvick said. "I let off and the guy behind me hit me wide-open because he never saw me. It's unbelievable that we're out there doing what we're doing because we're in race cars that aren't made to do this, and if you can't see going down the straightaway, it's absolutely not safe. Not even close.
"We don't have any business being out in the rain, period. All I can say is this is the worst decision that we've ever made in our sport that I've been a part of, and I've never felt more unsafe in my whole racing career, period."
Several laps later, another frightening accident happened on the long backstretch between turns 11 and 12 when Martin Truex Jr. tried to check up on a slowing Michael McDowell, only to get slammed from behind by Cole Custer, which sent Truex airborne. Custer's car then slammed into a nearby barrier wall.
"The only way to describe it is you can't see anything," Truex told Fox's Jamie Little. "You're just mashing the gas and going through the gears on the backstretch praying that nobody is going to be there. And all of a sudden I seen a tail light flash, and I was already in through him. It happens that fast going that fast. My first thought was once I hit that guy just stay in the gas and try to keep going because I knew they were coming from behind. Literally, the next thing I know I get drilled. There's nothing you can do in those situations. I'm not sure how we make it easier or better, but man, it's dangerous." 
Chase Elliott wins and NASCAR responds to criticism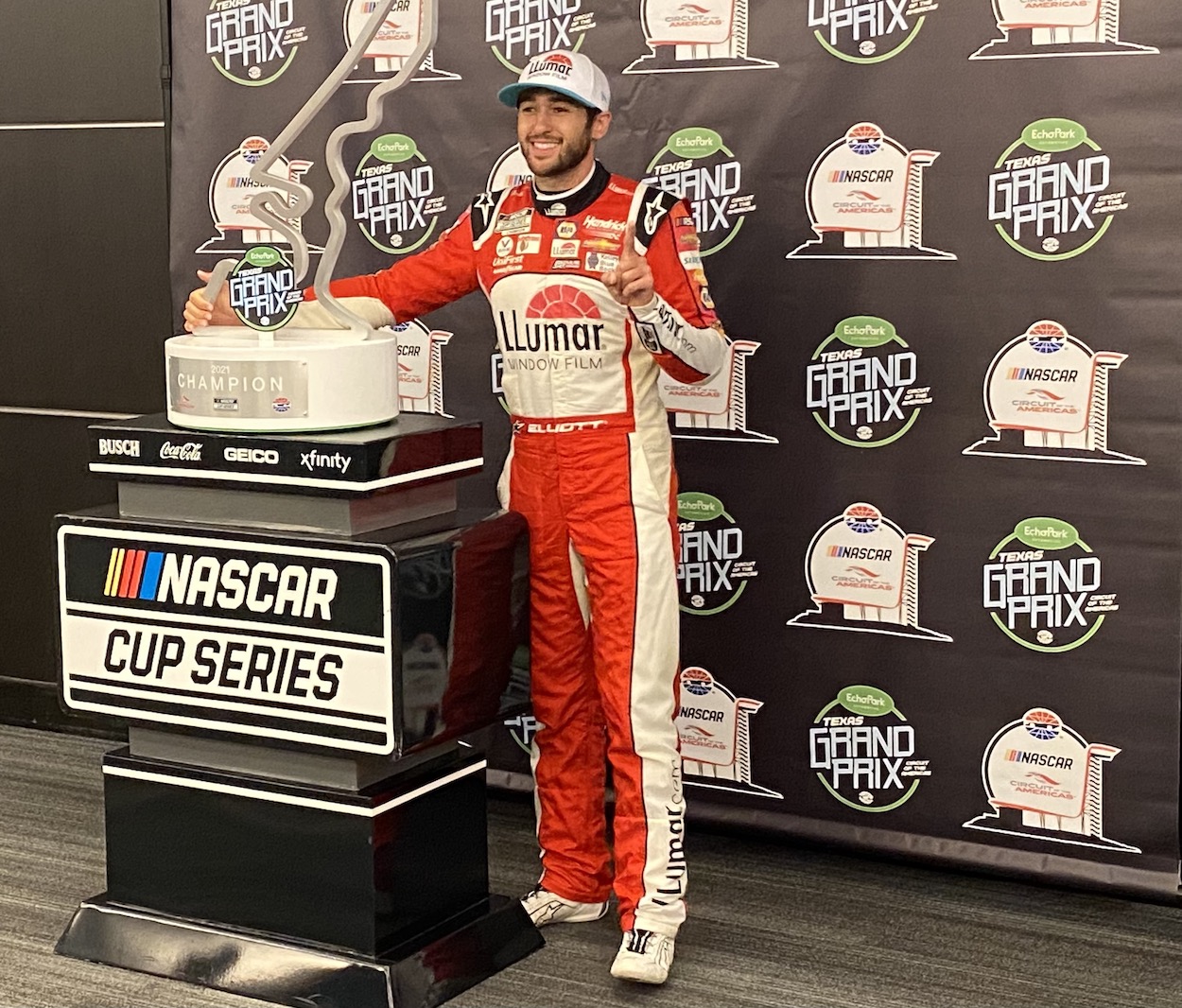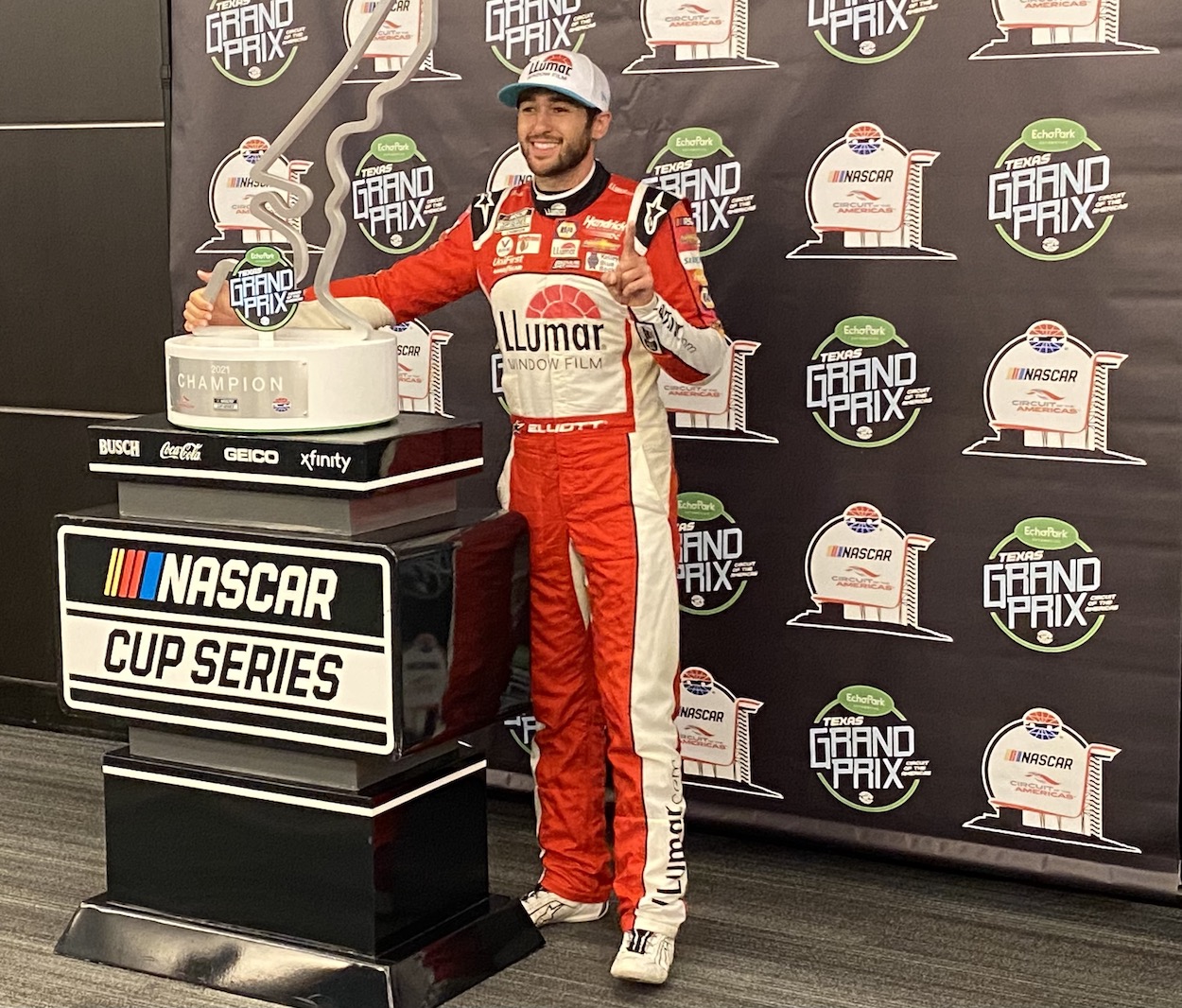 Chase Elliott won the 2020 Cup Series championship but remained the lone driver on the Hendrick Motorsports team without a victory heading into the race at COTA. Elliott, who had won four of the previous five road course events, ran up near the front much of the race and earned his first win of the season when NASCAR called it due to inclement weather with 14 laps remaining in the 68-lap race. After the race, he was happy with the win but also took time to address the conditions.
"The track went through a bunch of different stages," he told reporters. "The visibility further back in the pack, which I restarted back there on multiple occasions, it was super hard to see. That was really the case kind of all day long. I don't really know how you fix that with the spray coming off the cars."
Following the race, NASCAR Senior Vice President of Competition Scott Miller addressed the conditions and Harvick's comments in particular.
"Harvick has his right to his opinion," Miller told NBC Sports. "I don't think that's an opinion that's universally shared among the drivers. And we certainly don't want to put anybody in harm's way out there. It's a tough job for us to balance a competitive event, a good show for the fans, and with the drivers' best interest. It's a tough job. I think rain at a race points out the fact that everybody in this business has a hard job. You guys have a hard job, we have a hard job, the drivers have a hard job. Everybody has got a tough job and balancing all the elements to suit everybody is a tough job."
The inaugural NASCAR event at COTA will be remembered for a lot of reasons, and the rain will be at the top of the list.
If the race returns to Austin next year, which is still up in the air because it was just a one-year contract, NASCAR might reconsider racing in August when rain is limited and temperatures soar. Drivers and their teams might have to battle the Texas summer heat, but that's better than the frightening conditions they had to overcome Sunday.
Like Sportscasting on Facebook. Follow us on Twitter @sportscasting19.