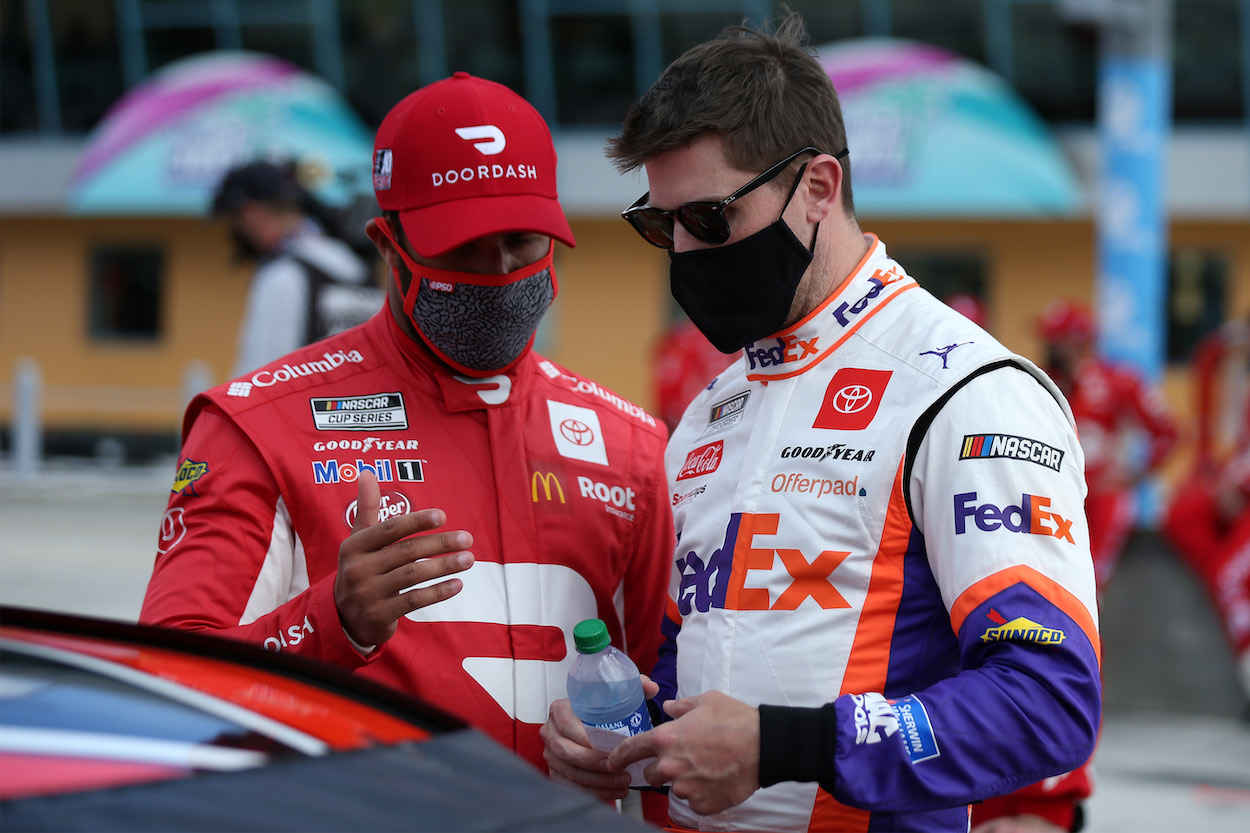 Denny Hamlin Openly Admits Bubba Wallace Has Struggled, Identifies Mistakes, and Spells Out What He Expects for Rest of Season
Denny Hamlin admitted Bubba Wallace has struggled to start the season and identified what he expects from the team moving forward.
Everyone with the 23XI Racing Team knew it wasn't going to be easy. The start of the 2021 NASCAR Cup Series season has certainly proved quite challenging. Bubba Wallace and the No. 23 car have shown glimpses of greatness this season, but they've been overshadowed by more moments of mediocrity. Team co-owner Denny Hamlin recently addressed Wallace's struggles and what he expects from the team the rest of the year.   
Denny Hamlin calls out Bubba Wallace at Talladega
While Denny Hamlin is co-owner of the 23XI Racing Team with NBA Hall of Famer Michael Jordan, he has maintained since the team's formation last year that piloting the No. 11 car for Joe Gibbs Racing would be his top priority. 
Hamlin has made it clear since the start of the 2021 NASCAR Cup Series season that he's focused on driving first. In 11 starts, he's earned eight top-5 finishes. Despite that overall success, victories have been elusive and have resulted in Hamlin getting frustrated on several occasions.  
In one instance at Talladega, he directed that frustration at Bubba Wallace, who had one of the fastest cars on the track but appeared to have no interest in working with any of his Toyota teammates. 
"The same thing happened at Daytona," Hamlin said over his radio, referring to Wallace's willingness to fly solo on another superspeedway where the formula for success typically includes multiple cars working together.
Hamlin admits Wallace and team have struggled
While Hamlin was understandably frustrated with Wallace at Talladega, he also couldn't help but be happy for his driver, who won the first stage of his career. Those mixed results at Dega are a microcosm of the No. 23 team's season. Hamlin admitted as much in a recent interview.
"You've got to just optimize your day," Hamlin said in an interview with Fox's Bob Pockrass. "That's something that team has not really done a great job throughout the year is finish where you're running. They've run inside the top 10 in three races and had a car capable of contending for a top 5, and mistakes take them out of it. I think they've really got to work on their execution. Bubba has to continue to evolve as a driver. Put the work in and concentrate on how he can do his job to the best of his ability. Use all of the tools that are at his disposal."
Hamlin said if Wallace and the team do that, they can meet the expectations set at the beginning of the year. 
"For them to be 30 points out of the playoffs and finishing where they're finishing, that should be a big wake-up call to say just do our jobs. Everyone does their jobs to the best of their ability, they'll be fine and they'll continue to get better each week. The barrier has been kind of set where we're at in the spring. I talked about earlier in the year — we want to be running better in the summer than they were in the spring. Better in the fall than where they were in the summer. This is a building process that we're putting together."
Wallace's mixed results this season
Despite running near the front of the field in multiple races, including the stage 2 win at Talladega, Wallace has no top-15 finishes through the season's first 11 races. His best finish is 16th, which he's done three different times at Phoenix, Atlanta, and Martinsville. He sits 21st in the standings.
Interestingly, Wallace had three top 15s, including a sixth-place finish at Las Vegas and 10th at Bristol, at this same point in the schedule while driving for Richard Petty Motorsports last season. He finished the season 22nd.  
There's still a lot of racing left in the 2021 season. 23XI Racing and Wallace will likely continue to undergo growing pains throughout the year. And you know Hamlin and Jordan will be watching closely. 
Like Sportscasting on Facebook. Follow us on Twitter @sportscasting19.