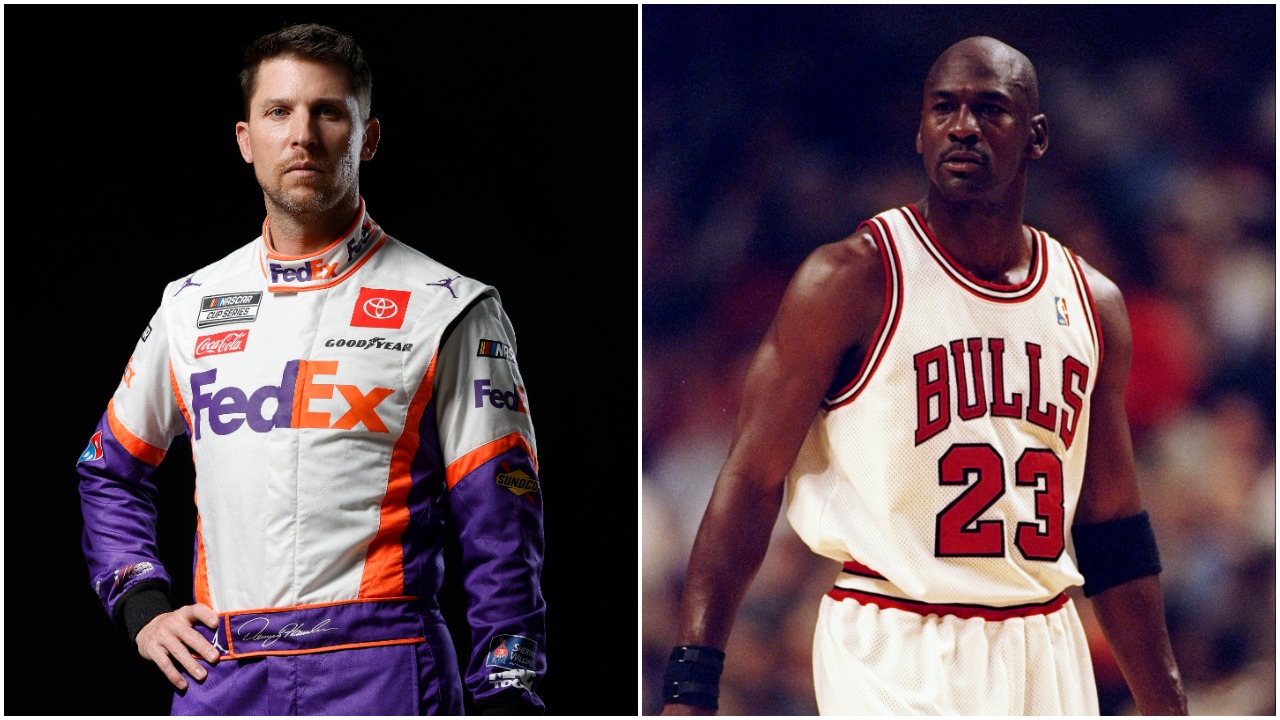 Denny Hamlin Mimicked One of Michael Jordan's Most Iconic NBA Moments Following a Dominating NASCAR Cup Series Victory
NASCAR Cup Series driver Denny Hamlin once mimicked an iconic moment of his 23XI Racing partner, Michael Jordan.
NASCAR superstar Denny Hamlin and six-time NBA champion Michael Jordan have been good friends for a while now but have also been business partners for quite some time. Long before the two became co-owners of 23XI Racing, Hamlin became the first Cup Series driver to don the Jordan Brand logo and still does to this day. And one night in Miami, Hamlin even went as far as to mimic one of MJ's most iconic moments.
How long has Denny Hamlin been repping Jordan Brand?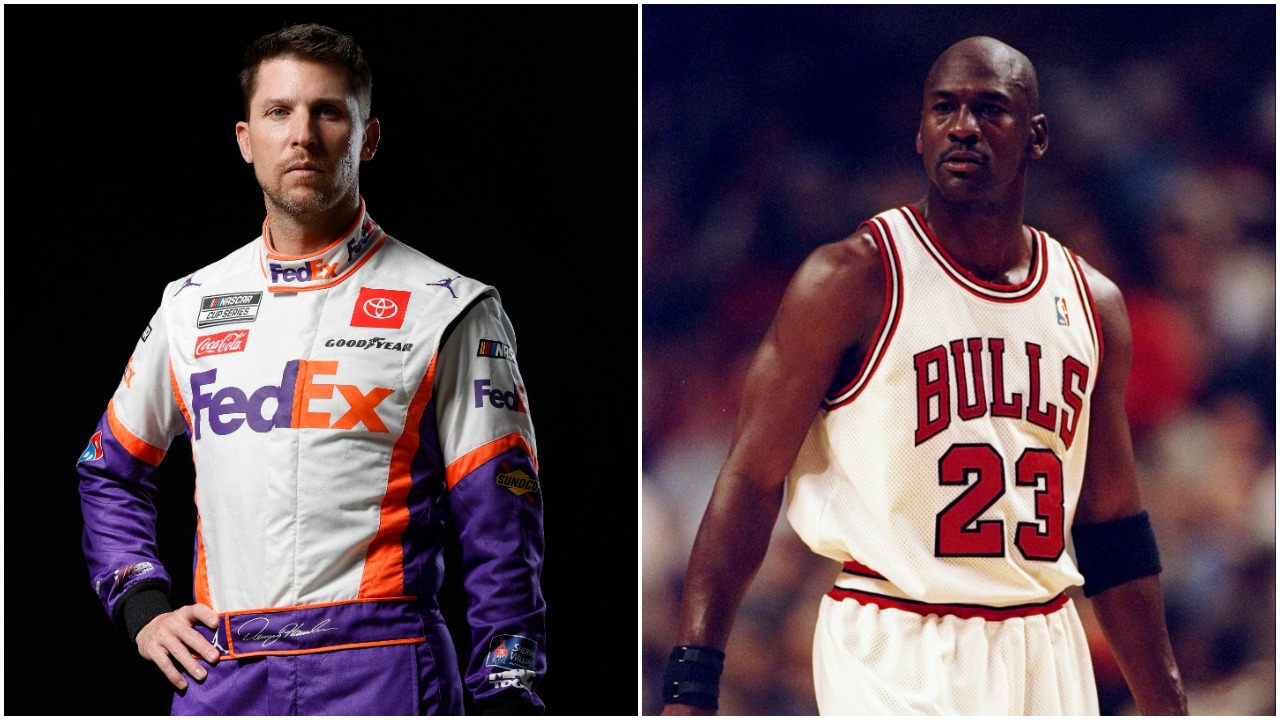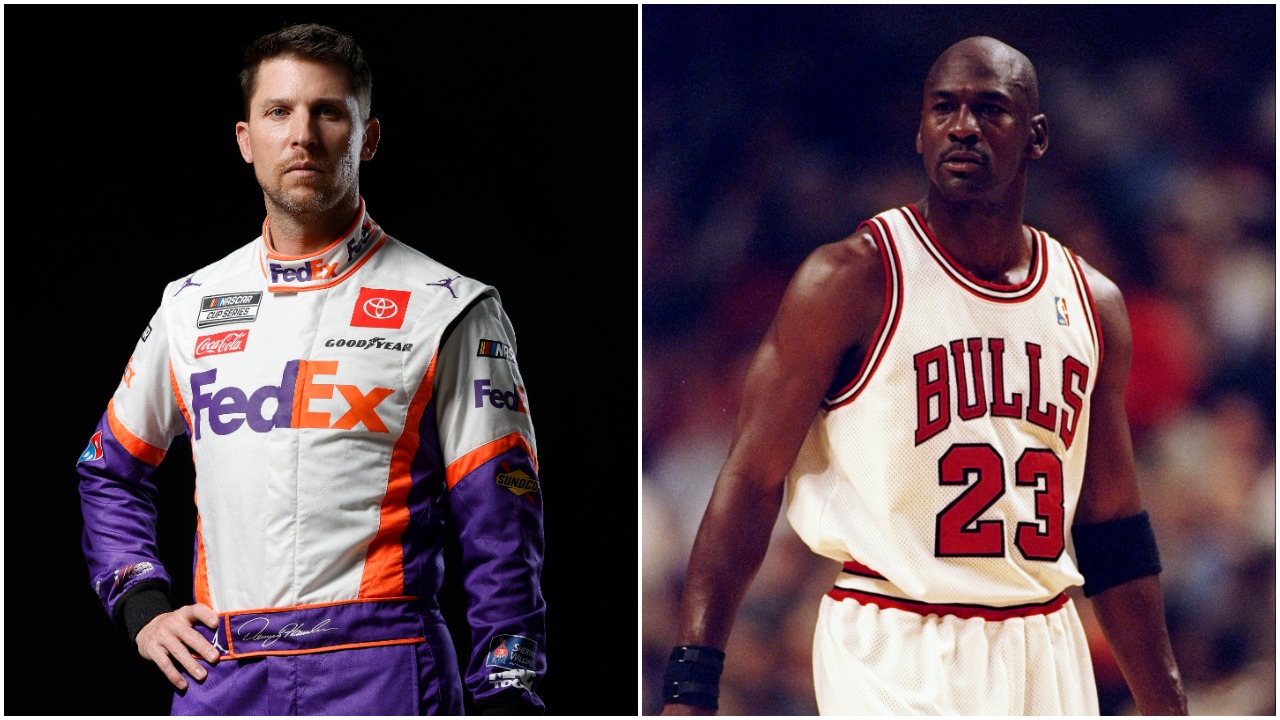 Hamlin first began repping Nike's iconic Jordan Brand back in 2011. Hamlin, a big NBA fan, was a season-ticket holder to Jordan's then-Charlotte Bobcats back in the day and first met MJ, who has long been a big NASCAR fan, at a game in 2009.
The two struck up a friendship and then struck a business deal just ahead of the 2011 NASCAR Cup Series season. It was announced that Hamlin would sport the famous Jumpman logo on his uniform belt, shoulders, back, and racing gloves and it now also appears on his No. 11 Toyota Camry for Joe Gibbs Racing.
In 2020, Jordan and Hamlin partnered to co-found 23XI Racing and brought on Bubba Wallace to be their first driver.
Michael Jordan's famous shrug from Game 1 of the 1992 NBA Finals
Before we can get into how Hamlin mimicked one of Jordan's most iconic moments, we first obviously have to give you a little frame of reference.
In 1992, Jordan and the defending champion Chicago Bulls came into the NBA Finals as heavy favorites against Clyde Drexler and the Portland Trail Blazers. As anyone who watched The Last Dance knows, Jordan wanted to prove a point to those who believed Drexler was on his level. And he certainly didn't waste any time proving that point in the opening game of the series.
Not known as a 3-point shooter, Jordan knocked down six of them in the first half alone on the way to scoring an NBA Finals record 35 points in the first 24 minutes. After hitting the sixth, Jordan famously looked over at Magic Johnson, who was calling the game for NBC Sports, and just shrugged as even he seemed shocked at what was happening. The Bulls went on to win Game 1 in a blowout and took the series in six to win their second consecutive title.
Hamlin mimicked MJ's shrug following a win at Miami-Homestead
So now that you've got the frame of reference, let's get to Hamlin.
Heading into the NASCAR Cup Series Dixie Vodka 400 at Homestead-Miami Speedway on June 14, 2020, Hamlin had already won two races on the year, the Daytona 500 (his third in five years and second straight) and the Toyota 500 at Darlington.
On what turned out to be a very long day in Miami due to a two-hour weather delay, Hamlin started the Dixie Vodka 400 on the pole following a random draw (there was no qualifying) and dominated the race, winning every stage on his way to victory. It was Hamlin's 40th win on the Cup Series, tying him with Mark Martin for 19th on the all-time victories list.
Following the race, Hamlin spoke to the Fox Sports crew about his victory and closed things out by mimicking Jordan's famous shrug. Check it out.
It's a good thing Jordan and Hamlin are friends because if anyone else did that, we all know there's a strong chance MJ would have somehow taken that personally.
Stats courtesy of Basketball Reference and Racing Reference