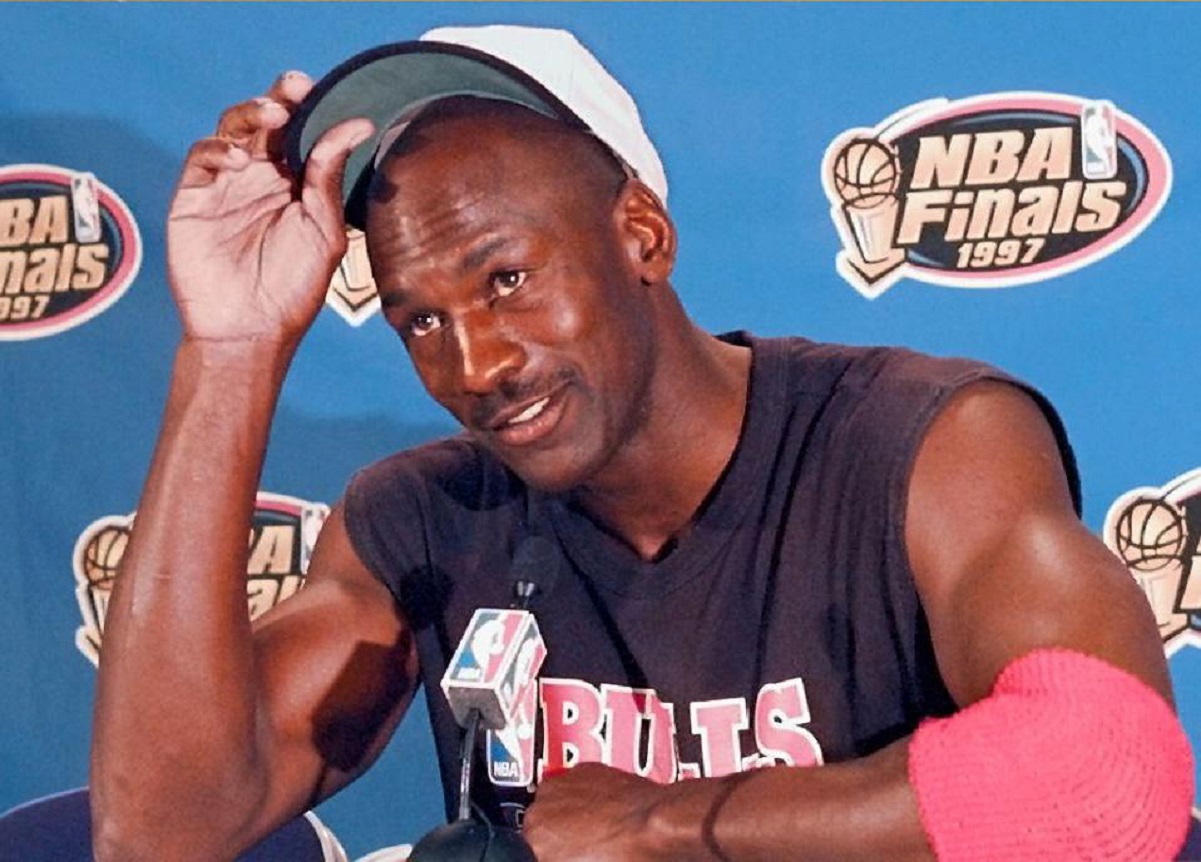 Michael Jordan's Best NBA Finals Closeout Performance Wasn't the 'Last Shot' Game in 1998
While many think Michael Jordan's "Last Shot" game in 1998 was his best NBA Finals closeout performance, that might not be the case.
Michael Jordan is obviously responsible for some of the greatest games and moments in NBA Finals history. But that's what happens when you play 35 Finals games and win six championships and six NBA Finals MVP trophies, isn't it? In those 35 games, MJ averaged 33.6 points per game, good for the second-highest scoring average in Finals history.
Michael Jordan's final shot with the Chicago Bulls in Game 6 of the 1998 Finals is seen by many as one of the most iconic moments in NBA history. And those people would be right. It truly was one of the most memorable moments the NBA's biggest stage has ever produced.
Many also see that game as Jordan's best NBA Finals closeout performance. But those people would be wrong. Yes, that is the closeout game in which he scored the most points. But that doesn't mean it was his best game, which we'll get into in just a moment. His best closeout game did come against the Utah Jazz but it actually happened a year earlier.
But before we get to those two games, let's take a look at Michael Jordan's first four NBA Finals closeout performances.
The first four NBA Finals closeout performances of Michael Jordan
Of his six NBA Finals closeout performances, Michael Jordan really only had one unremarkable game. That came in Game 6 of the 1996 Finals against the Seattle Supersonics. Jordan made just five of 17 shots that night and scored 22 points. He did, however, add nine rebounds and seven assists in the Bulls' 87-75 victory.
His second-worst NBA Finals closeout performance would easily be just about everyone else's best. In Game 6 of the 1992 Finals against Clyde Drexler and the Portland Trail Blazers, Jordan scored 33 points on 13-for-24 shooting and added four assists, four rebounds, and four steals.
It's hard to pick a winner from the other two of his first four. In his very first NBA Finals closeout game against the Lakers in 1991, Michael Jordan posted 30 points, 10 assists, and five steals. Two years later, in Game 6 of the 1993 Finals against the Suns, Jordan posted 33 points, eight rebounds, and seven assists.
MJ scored 45 points in the 'Last Shot' game of the 1998 NBA Finals
So let's take a quick look at Game 6 of the 1998 NBA Finals, otherwise known as the "Last Shot" game. As mentioned, Michael Jordan scored more points in this game than in any of his other five closeout games, mainly because he had to.
With Scottie Pippen hindered by severe back pain (he played only 26 minutes and was more of a decoy than anything else), Jordan put the Chicago Bulls on his back and carried them to victory. He scored 45 of the Bulls' 87 points, obviously including the "Last Shot," shooting 15-for-35 from the floor and 12-for-15 from the foul line. He also four steals on the night, including the one on Karl Malone that set up his iconic moment, but had just one rebound and one assist.
It was a truly memorable and great performance but it wasn't as good as the one from the year before.
Michael Jordan's best NBA Finals closeout performance came in Game 6 against the Utah Jazz in 1997
Just one game after the famous "Flu Game" in the 1997 Finals against the Jazz, which should really be called the "Pizza Game," Michael Jordan had yet another memorable NBA Finals game and it was truly his best NBA Finals closeout performance.
Oddly enough, Jordan had the exact same shooting line from the floor that he'd have in Game 6 a year later (15-for-35) but scored six points less with 39. But it was his all-around performance and his willingness to give the ball up in crunch time that makes this the better game. Jordan added 11 rebounds that night and also added four assists, none bigger than his last one.
With the game tied at 86, Michael Jordan had the ball at the top of the key with 10 seconds remaining in the game and five seconds on the shot clock. Matched up against Bryon Russell, Jordan dribbled left, which brought John Stockton over to double as it clearly looked he would take the last shot. But he faked the shot and found a wide-open Steve Kerr, who drained an 18-footer with five seconds remaining to give the Bulls a two-point lead. A Scottie Pippen steal and a Toni Kukoc dunk later, Chicago had won its fifth championship in seven years.
All stats courtesy of Basketball Reference