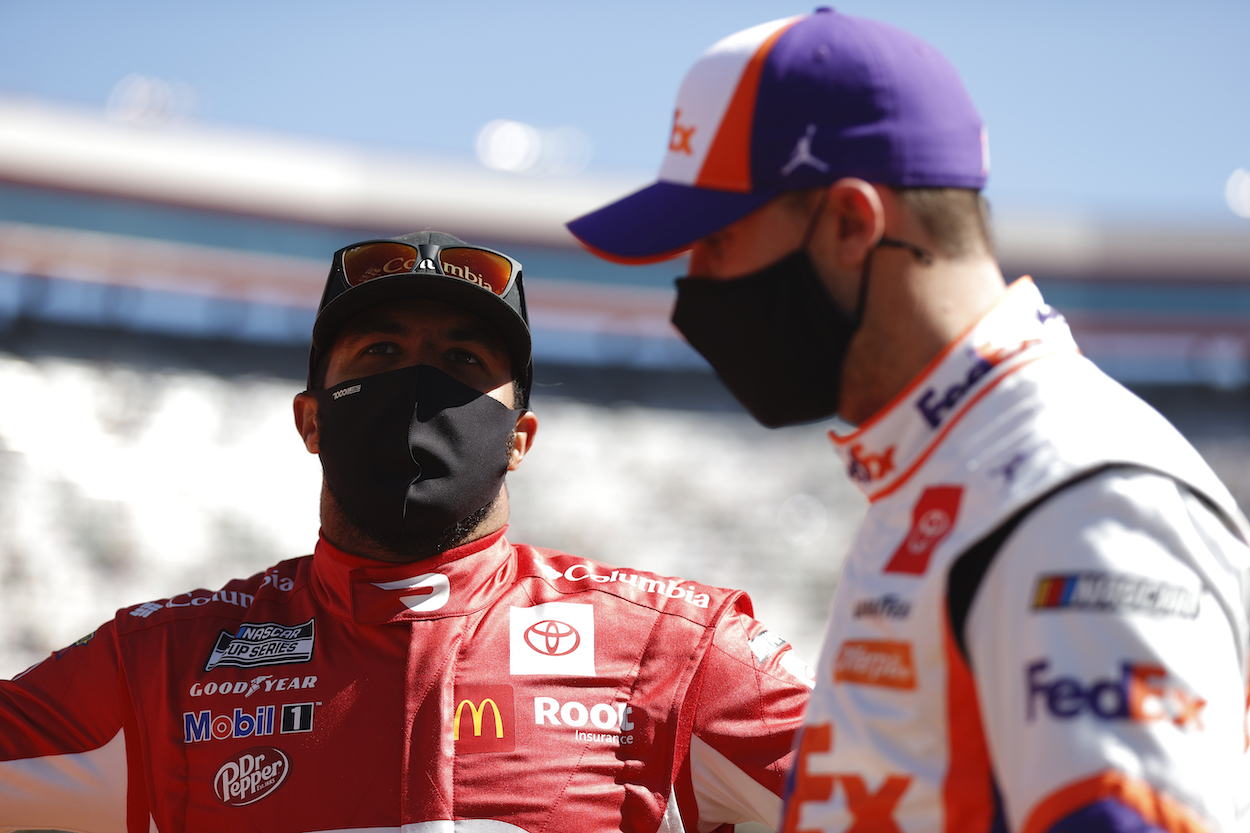 Frustrated Denny Hamlin Upset at Bubba Wallace and Calls Him Out for Not Being Team Player During Race at Talladega
Denny Hamlin expressed his frustration with Bubba Wallace and questioned his driving tactics at Talladega.
Denny Hamlin knew he would have to walk a fine line for the 2021 NASCAR Cup Series season as the driver of the No. 11 car and co-owner of 23XI Racing and the No. 23 car driven by Bubba Wallace. Hamlin has said all the right things and been supportive of Wallace throughout the season, but that changed during Sunday's Talladega race when he expressed frustration with his driver and his questionable racing tactics. 
Denny Hamlin revealed his priorities before Daytona
If anyone wanted to know Hamlin's priorities for the 2021 NASCAR Cup Series season as a driver of the No. 11 car vs. team co-owner of the No. 23 car driven by Wallace, it didn't take long to find out. 
Prior to the Daytona 500, Wallace's car was sent to the back of the field to start the race after failing two pre-race inspections. During the Fox pre-race show, Hamlin was asked for his reaction to the news. 
"It's one less car I got to pass," he half-joked. "No. It happens in our sport all the time. You see multiple failures. They're trying to get everything they can get and that car's been really fast all week."
Denny Hamlin calls out Bubba Wallace during Talladega
This season, Hamlin has unquestionably had the best car. Through nine races, he had eight top-five finishes and an 11th at Homestead. Unfortunately for the No. 11 team, all of those top performances have not led to a single trip to Victory Lane. 
Not surprisingly, Hamlin has shown recent signs of frustration, including last week at Richmond when he led for most of the race only to see it slip away in the waning laps to Alex Bowman. 
At Talladega, Hamlin expressed his frustration during the race, and this time it was pointed directly at Wallace, who had one of the fastest cars in the field but was flying solo a lot of the time and not working with any of his Toyota teammates.
"The same thing happened at Daytona," Hamlin said over his radio. 
Wallace wins stage 2 and Hamlin wrecked 
A few minutes after Hamlin expressed his frustration with Wallace, it only escalated. With two laps to go in Stage 2, Hamlin was involved in a multi-car accident that included Martin Truex Jr., William Byron, Chase Elliott, and Alex Bowman. 
The crash knocked Hamlin out of contention and resulted in his worst finish of the season at 32nd. To add insult to injury, he also had two pit-road penalties.
While Hamlin's day was ruined, he had to have mixed emotions as he watched Wallace earn his first-ever stage win. Wallace eventually slid back in the pack and finished the race 19th.
Like Sportscasting on Facebook. Follow us on Twitter @sportscasting19.