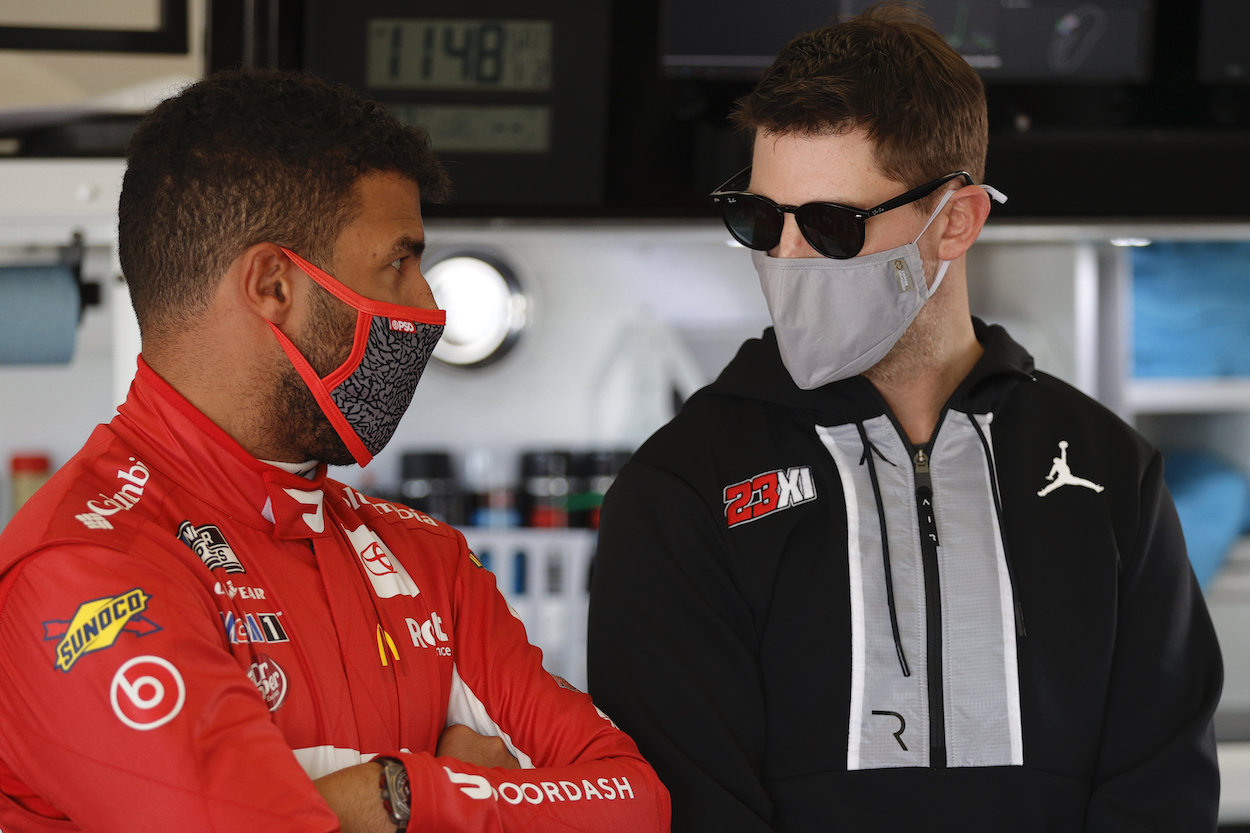 Michael Jordan Sends Clear 3-Word Message to Bubba Wallace About What He Thinks of 23XI Racing's 2021 NASCAR Performance
Michael Jordan sent driver Bubba Wallace a three-word message about what he thinks of team's 2021 performance.
Michael Jordan is a winner. So is Denny Hamlin. Not surprisingly, many NASCAR fans expected that the organization would be winning as soon as the green flag dropped after the two partnered to form the 23XI Racing Team this offseason. However, those aren't realistic expectations. 
Jordan, Hamlin, and driver Bubba Wallace all recognize that. They know achieving success takes time and is part of a process. Right now, the team is in the early stages of that process, and according to Wallace, Jordan let him know exactly what he thinks of his performance in a simple three-word text. 
Michael Jordan meets Bubba Wallace and sets expectations
If Bubba Wallace had any question what it would be like to work with Michael Jordan, arguably the greatest NBA player of all time, he didn't have to wait long to find out. In their first-ever meeting, which Fox set up to happen on national television before the Daytona 500, the six-time NBA champion made it abundantly clear what he expected from the driver of the No. 23 car. 
"We don't sign checks to losers," Jordan said, responding to Wallace's remark that Jordan is in control of the situation because he's the one who signs the checks. Moments later, the NBA Hall of Famer revealed his expectations for the 23XI Racing team in the first year.   
"I feel like he's going to learn how to win. He's got the talent. We would have not invested in him and picked him if he didn't have the talent to win. By the end of the year, I think he's going to have an opportunity and probably will win at least a couple of races. If it's more, I'll be elated."
23XI Racing making steady progress
Following that initial introduction to Michael Jordan, the 23XI team and Bubba Wallace started the season on an ominous note as the No. 23 car failed two pre-race inspections and had to start at the back of the field at the Daytona 500. To his credit, Wallace rebounded and became the first-ever Black driver to lead a lap. He finished 17th.
Wallace followed up Daytona with three consecutive races in which he finished between 22nd and 28th. Since that three-race stretch, the No. 23 car has shown considerable improvement. 
In three of the team's last four races, Wallace has finished 16th each time at Phoenix, Atlanta, and Martinsville. Overall, he has led laps in half of the starts he's made this season. He's making progress, and things are trending in the right direction.     
Michael Jordan sends clear 3-word message to Bubba Wallace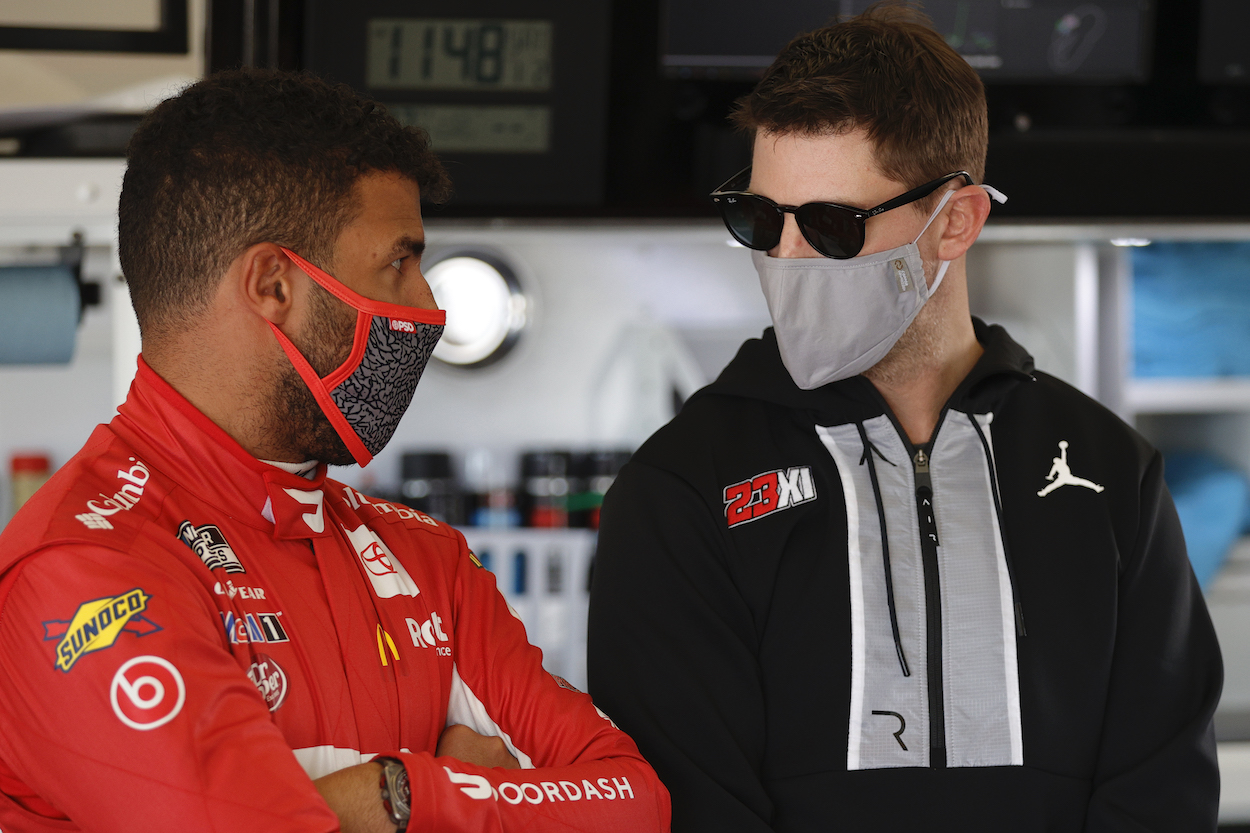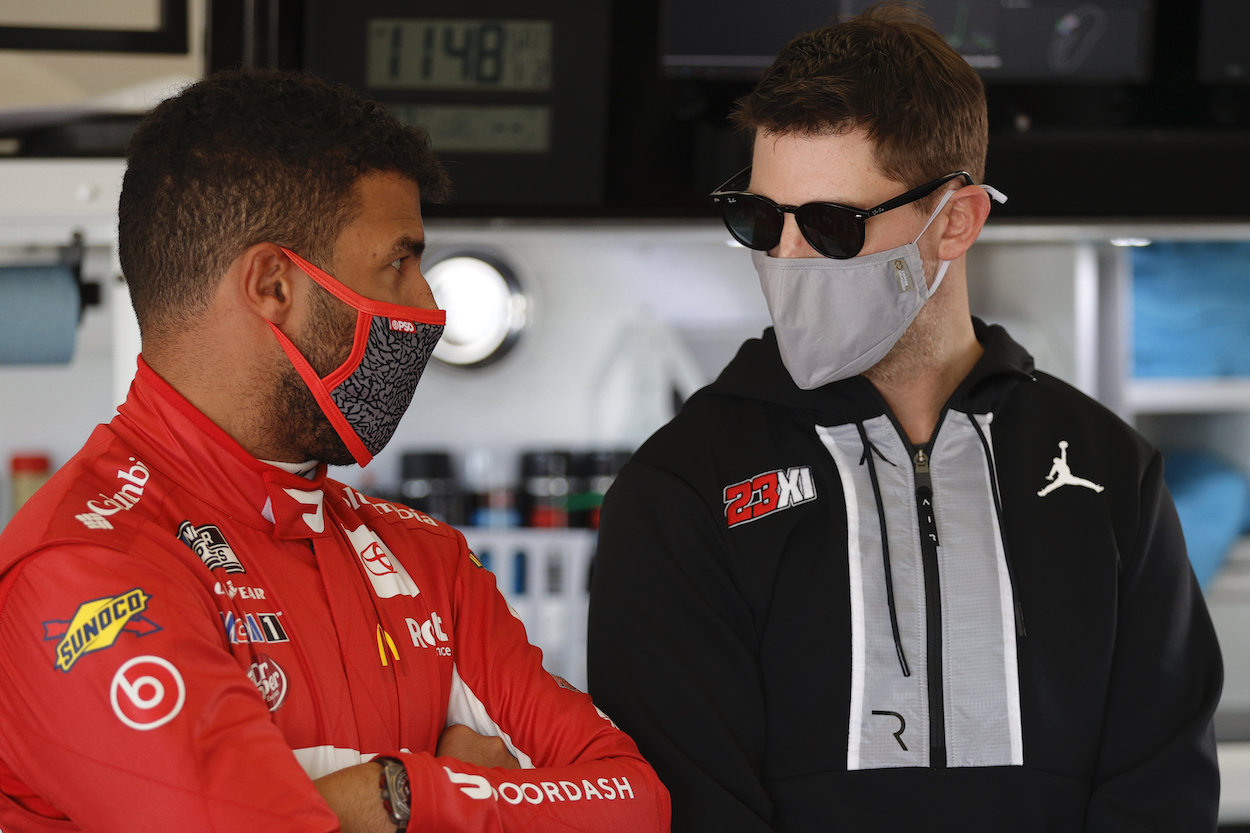 Michael Jordan didn't accumulate a net worth of $1.6 billion by accident. He's a shrewd businessman and understands that achieving success at a high level of competition takes time and patience. He's watched Bubba Wallace and the No. 23 car steadily improve throughout the first eight races of the season and likes what he's seen so far.
"He's paying attention. Yeah, he knows we're not winning, but he knows we're continuing to make steps to make progress," Wallace said to reporters. "It's not something you just jump right into and expect to win. You're living in fairy-tale land if you expect that to happen. Do we expect to win? Absolutely. But we have to do a lot of work in the meantime to get to that level. This sport is tough."
Wallace said he regularly hears from both co-owners, but it's always a special experience to receive a communication from one of the world's most famous athletes.
"You know you can't win every race. Having Denny as co-owner there is managing expectations, and from the sounds of it, talking with Denny, we are exceeding expectations that they kind of had set in place before the season started. After our good runs, I'm getting a text from MJ saying, 'Good job, kid.' It's stuff like that's like, that's pretty cool."
Wallace knows he's still in the honeymoon phase of the relationship. At some point, Jordan will expect wins, as he suggested before the Daytona 500. Until that time, Wallace and the No. 23 team will keep grinding away at improving their finishes with the hopes that one day in the not-so-distant future, they will find themselves in Victory Lane celebrating with the team owner who is synonymous with winning.