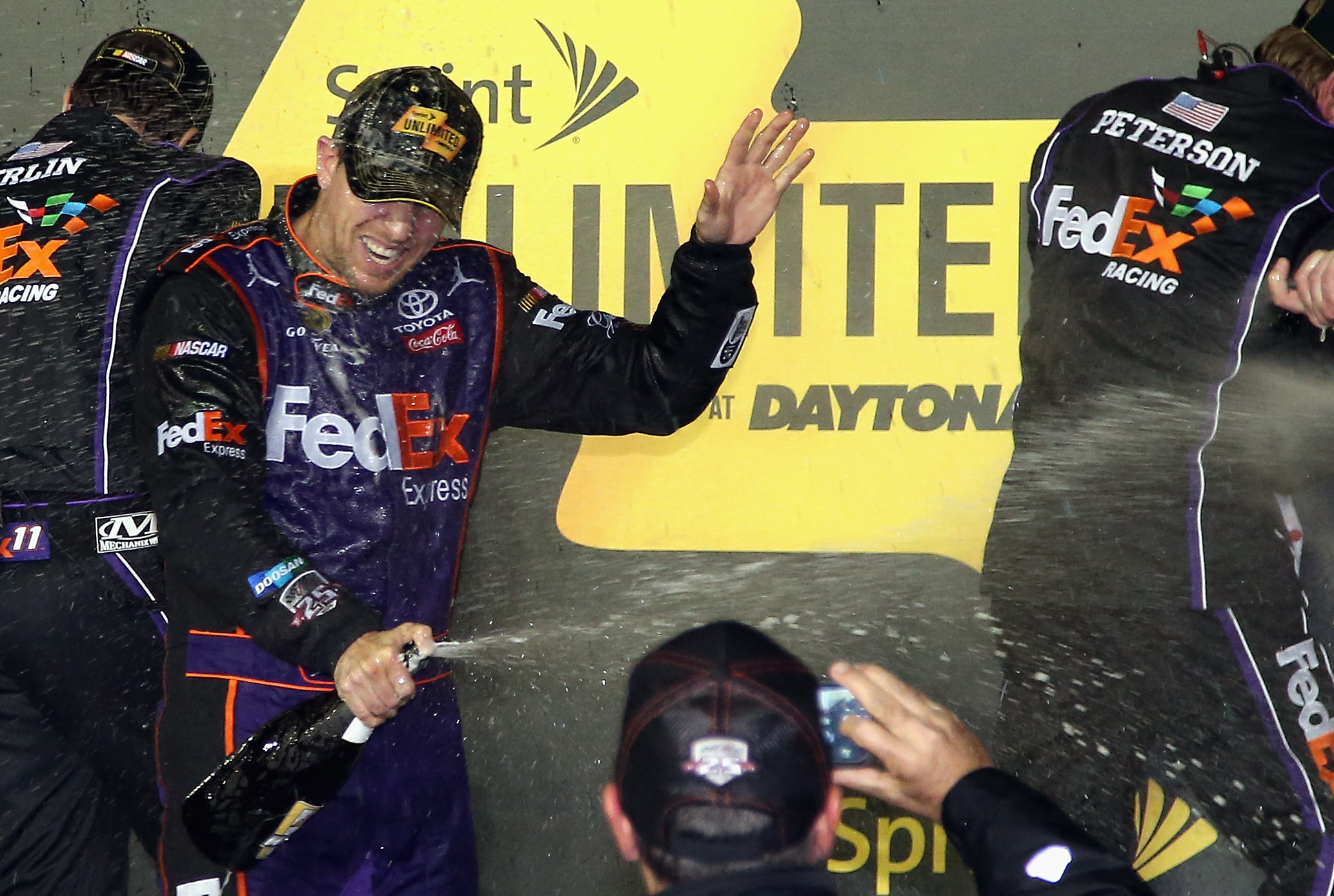 Denny Hamlin Reveals 7-Word Message He Sent Michael Jordan to Begin Business Partnership
NASCAR star Denny Hamlin remembers where he was and what seven words he wrote to Michael Jordan to begin their business partnership.
NASCAR star Denny Hamlin recently teamed up with former basketball legend Michael Jordan in a well-publicized motorsports business move. The two paired up to form 23XI Racing, a NASCAR Cup Series team that has Bubba Wallace behind the wheel. Hamlin recently revealed how and where it all began, including a seven-word message he sent Jordan to get things rolling.
Hamlin is one of NASCAR's best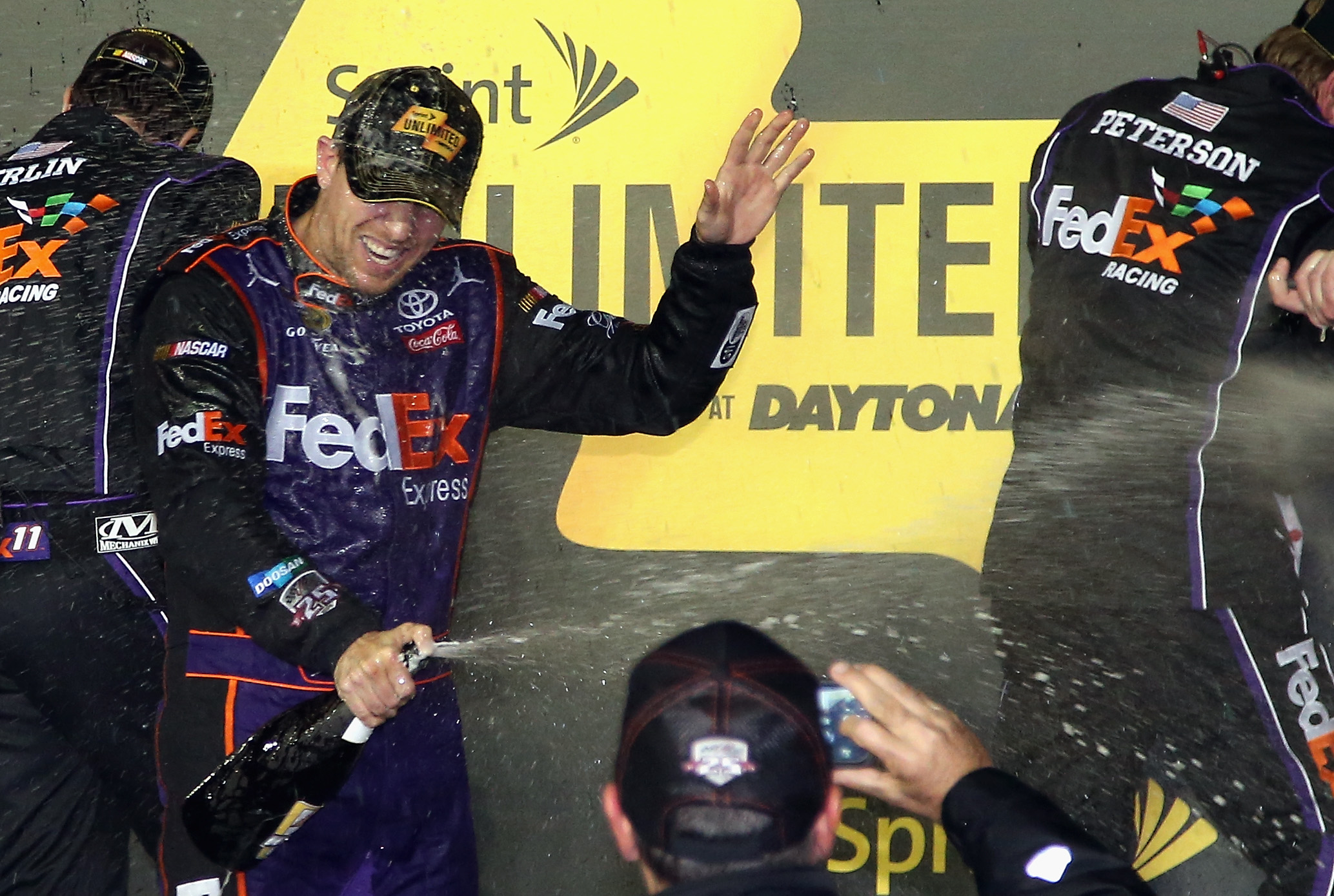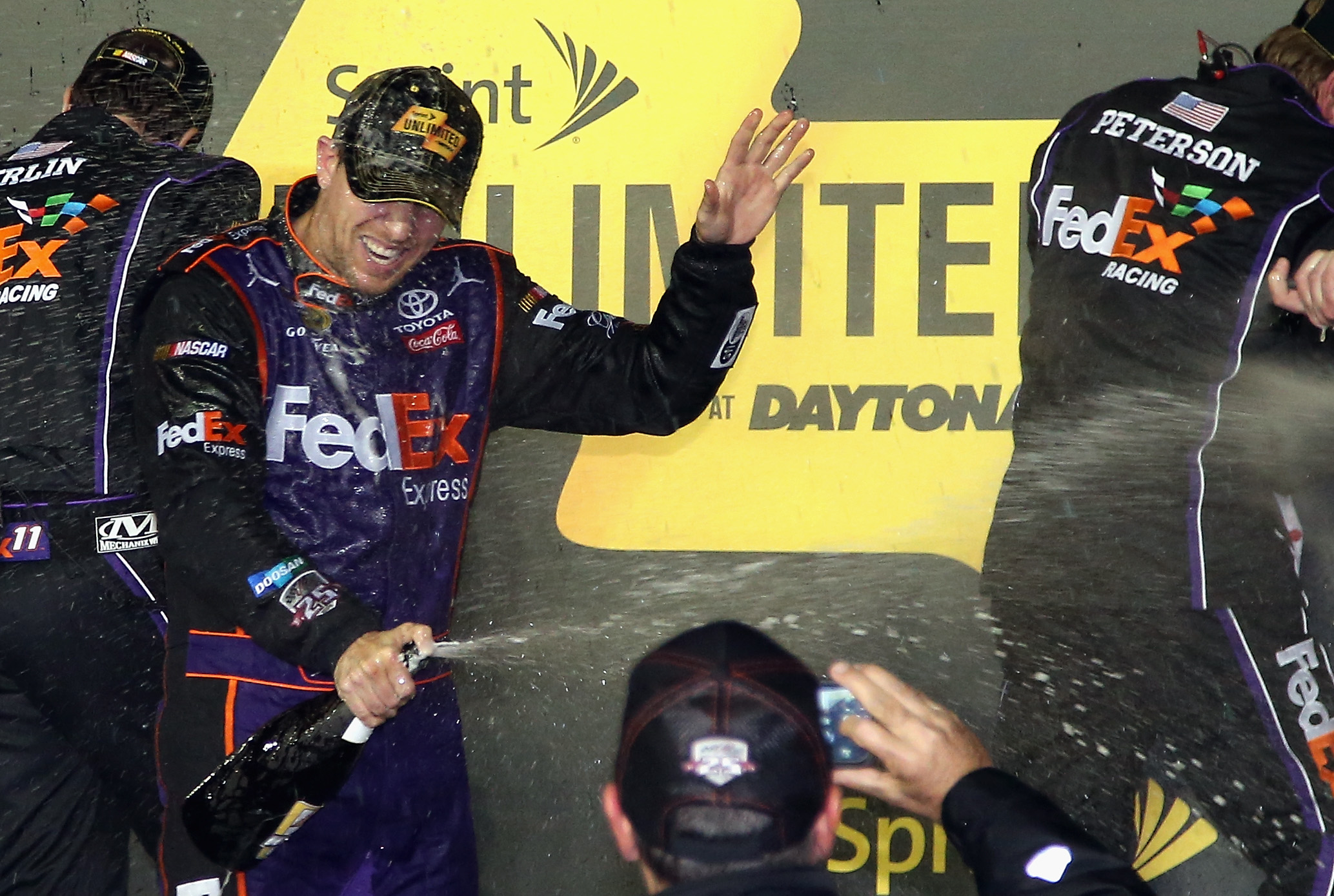 Denny Hamlin began racing full-time in the NASCAR Cup Series in 2006 and has put together quite a racing resume. He's racked up 44 career Cup victories and has taken part in the playoffs in every year except 2013 when he was forced to miss a good part of the season with a back injury. Hamlin had finished in the top-10 287 times in 550 Cup Series races.
Hamlin really came into his own in 2010 when he won a season-high eight victories. He held a 15-point lead in the race for the championship during the final race of the year. He wound up losing the championship to Jimmie Johnson.
In his career, Hamlin had captured three Daytona 500 races. He looked to make history earlier this year when he went for his third straight Daytona victory, which would have made him the first to do so. Hamlin was also the first rookie to qualify for the Chase for the Nextel Cup, doing so back in 2006.
Hamlin teams with Michael Jordan to form 23XI Racing
Denny Hamlin teamed up with NBA legend Michael Jordan to form 23XI (pronounced Twenty-Three Eleven) Racing, a one-car team to run during the 2021 NASCAR Cup Series. The name of the outfit is reflective of the numbers worn by both Jordan (23) and Hamlin (11). Bubba Wallace is the driver of the car.
Hamlin said he wanted to have his number 11 in the name, but didn't want to step on the toes of Joe Gibbs Racing, Hamlin's owner. "It doesn't matter if we are multiple cars down the road the 23 will always represent him," Hamlin said, according to Autoweek. "The 11 will always represent me. It has been my number my entire racing life, but I also wanted to be respectful of Joe Gibbs Racing and not actually have the number 11 in the logo, being that they have that number."
Throughout his career, Hamlin has leaned on his boss, former NFL coach Joe Gibbs. He said he will continue to do so as he takes on an additional role in the world of NASCAR. "I will lean on every asset that I have and one of those is Joe Gibbs, Coy (Gibbs), the engineers at JGR," Hamlin said. "I'm picking their brain on where this sport is going and what do I need to be prepared for going forward, so yeah, I'm using all of the assets that I've got."
Hamlin recalls the day he messaged Jordan
Denny Hamlin nor Michael Jordan seemed like the perfect match to take their NASCAR interest to a new level. Hamlin and Jordan had been friends prior to their partnership, and then things got interesting when Hamlin sent Jordan a message regarding owning a racing team.
"There was some speculation going on about myself purchasing a stake in another race team," Hamlin said during an interview on the Endless Hustle podcast last month. "That didn't really seem like the best option for me. There were some speculative news articles that were coming out and (Jordan's) name was being thrown out there and, of course, none of that was true. I just sent him a message saying, 'it looks like we're business partners, lol.' He was like, 'that's not true, but if you want to make it true, let me know.'"
That was the beginning of the partnership. Hamlin recalls exactly where he was when the message as sent. "I'll never forget where I was or what I was doing," Hamlin said. "I was actually on the ninth hole of a golf course and I left my ball sitting in the middle of the fairway. Drove up to the green because I was on the phone and I just forgot to hit my ball. I was just so excited with the conversation that was going on."