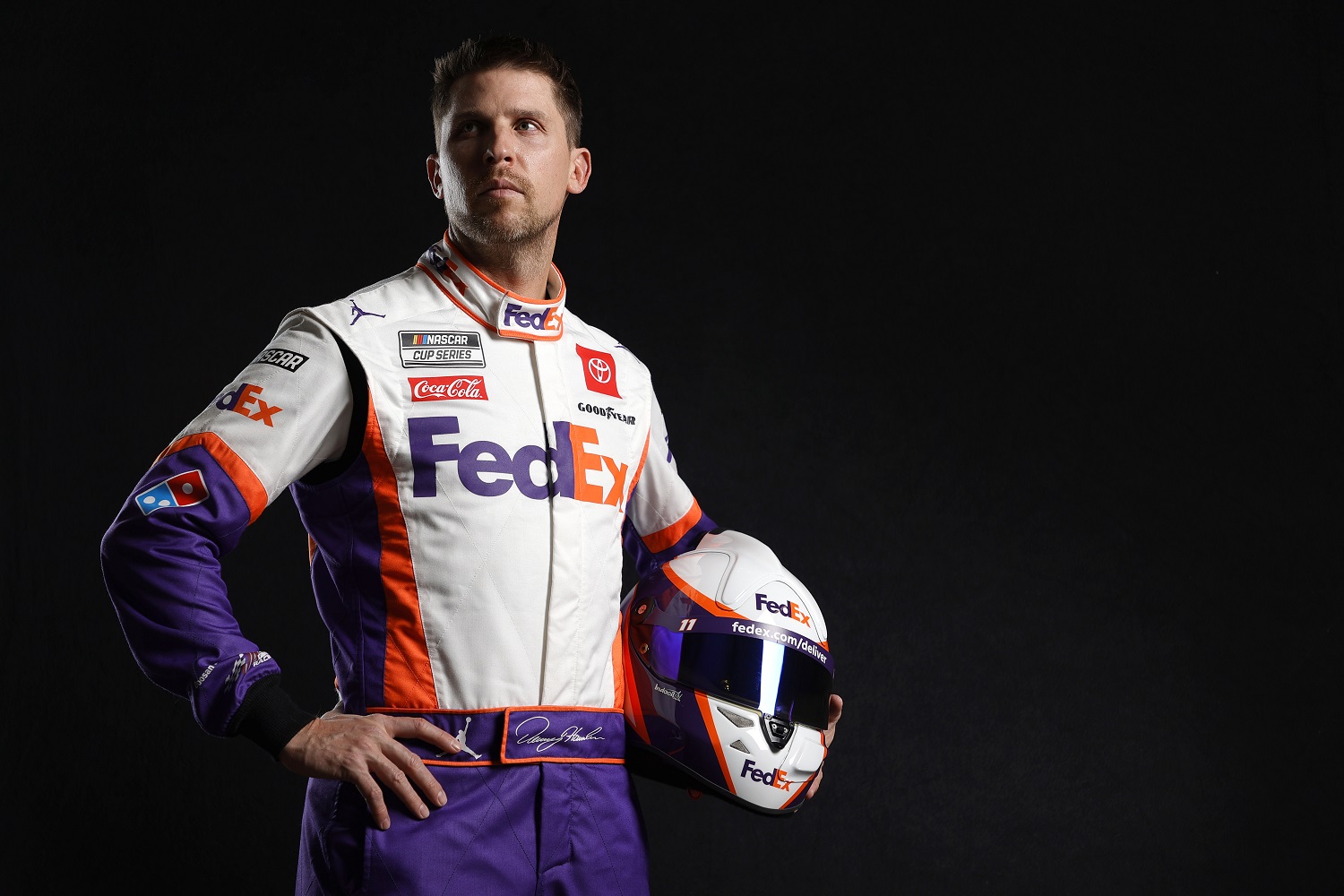 Michael Jordan and Denny Hamlin Are Zeroing in on Their Next 23XI NASCAR Driver
Denny Hamlin and Michael Jordan are eager to expand the 23XI Racing team by fielding a second car in the NASCAR Cup Series.
The three happiest people in racing if the new 23XI Racing team were to win a couple of NASCAR Cup Series races this season would be Michael Jordan, Bubba Wallace, and Denny Hamlin. The next 500 most delighted people would probably be executives at Toyota.
That's because instant success this season would speed up the expansion of the 23XI Racing team, primarily bankrolled by Jordan and run by Hamlin. That would please Toyota, which has only a handful of cars competing regularly in American motorsports' best-known series and could use greater visibility.
Michael Jordan's 23XI Racing team is up and running
Michael Jordan's arrival in the NASCAR Cup Series as a team owner has been big news in auto racing, especially since it has been anything but a half-hearted effort. Jordan brought in successful driver Denny Hamlin as a minority owner and the mastermind of 23XI Racing, and they hired Bubba Wallace as their first driver following a season in which he was in the news for much of the year.
That lineup made it easy for 23XI to attract a full set of sponsors. With Hamlin a longtime member of the Joe Gibbs Racing stable, affiliating with Toyota was a natural, and the manufacturer is throwing technical expertise behind 23XI.
The job now is for Wallace to take the checkered flag. So far in the young 2021 season, he has finished 17th, 26th, and 23rd in the No. 23 Toyota to remain winless in 115 career starts in the NASCAR Cup Series. However, he has held brief leads in two of the three races this season and has completed 535 of a possible 537 laps. That means he's remaining both competitive and visible, which pleases the sponsors.
What's next for Michael Jordan and 23XI?
If not for Joe Gibbs Racing, Toyota would have almost no representation in the NASCAR Cup series. JGR fields four cars each week, with Christopher Bell making a big splash in his first season alongside Denny Hamlin, Kyle Busch, and Martin Truex Jr.
The arrival of Michael Jordan's 23XI Racing team gives Toyota an additional beachhead, but it's just a one-car team for now. If the outfit is able to add a second car in 2022 or '23, there are Toyota drivers including Harrison Burton and Ty Dillon in the Xfinity Series who are eager to move up.
Forbes quotes Hamlin, who is balancing his own racing career with operating Bubba Wallace's 23XI team, as saying he'd like to expand to a second car as quickly as possible. Aside from making 23XI even more visible, a second car makes the team financially efficient since costs for R&D and running the garage would climb only slightly and could be spread among two sets of sponsors.
"We are trying to be the team that Toyota feels like they have a place for their young guys to go," Hamlin said. "Or maybe we go after an established veteran who's got a great résumé."
All eyes are on Brad Keselowski for 2022
When Denny Hamlin speaks of hiring a "veteran who's got a great resume" for Michael Jordan's 23XI Racing team, there isn't much doubt that Brad Keselowski would be the first phone call. Keselowski, 37, possesses 34 career wins, captured the NASCAR Cup Series in 2012, and placed second to Chase Elliott last season.
Keselowski is in the final year of his contract with Team Penske and could command $4 million or more as a free agent, according to Motorsports Analytics. Kurt Busch would be in the same price range, but there is speculation he will retire when his contract with Chip Ganassi concludes.
If not Keselowski, then who do Jordan and Hamlin pursue if they have their hearts set on a veteran? It's doubtful that Hendrick Motorsports will let Alex Bowman leave after putting him in Jimmie Johnson's old No. 48 Chevy, but Matt DiBenedetto and Aric Almirola are potential free agents in 2022.
Otherwise, 23XI might need to wait a year to find the right fit.
"When it makes sense for us is when it makes financial sense for us," Hamlin told Forbes. "It's about getting a sponsor, a driver and a crew chief first. Those three things all have to line up, and then you have to try to find a charter. There's a lot of obstacles that are in the way of it happening, but certainly, we feel like we are active in the space."
All stats courtesy of Racing Reference.