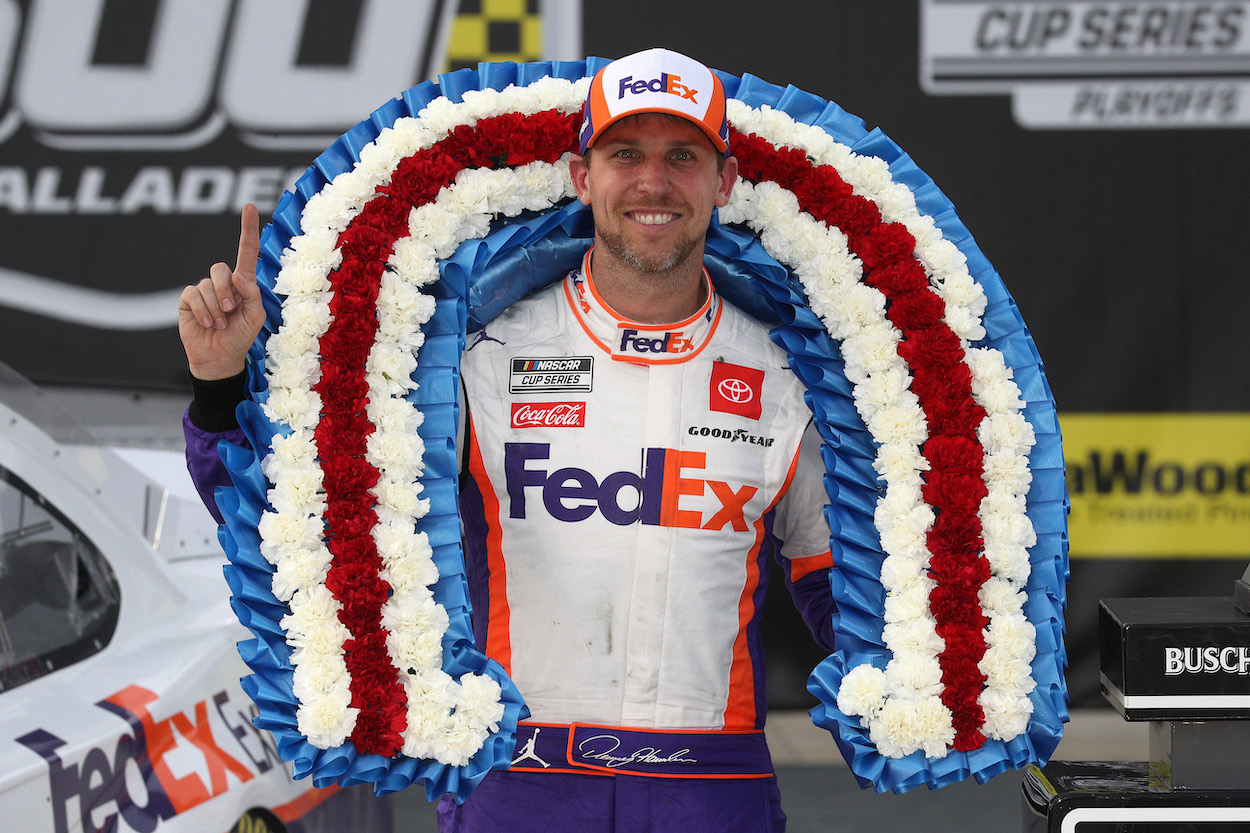 Denny Hamlin Slam Dunks on 23XI Racing Co-Owner Michael Jordan in Humiliating Fashion
Denny Hamlin and Michael Jordan are both ultra competitive as evidenced by a tweet the NASCAR driver recently fired off where he deliberately humiliated the legendary NBA Hall of Famer.
Denny Hamlin and Michael Jordan have been friends for years. The pair have worked together for a decade. This past offseason, the two formed the 23XI Racing Team and brought on Bubba Wallace as the driver. 
In an entertaining question-and-answer session with NASCAR, Wallace and Hamlin responded to various 23XI Racing-related questions, including who was the better golfer between the two drivers and Jordan. Hamlin painfully answered the question, but it turned out it wasn't his final answer. He provided that in a reply on Twitter and completely humiliated his business partner in the process.    
Denny Hamlin partners with Michael Jordan to form 23XI Racing
Denny Hamlin teamed up with Michael Jordan a decade ago, becoming the first NASCAR driver to partner with Nike's Michael Jordan brand. As a result of that partnership, Hamlin's firesuit, gloves, and shoes feature the famous "Jumpman" logo.
The pair decided this past NASCAR offseason to take their business relationship to another level when they formed the new 23XI Racing Team. The car would feature the familiar No. 23 worn by the NBA Hall of Famer and be driven by Bubba Wallace.  
Two weeks into the 2021 NASCAR season and Wallace has a 17th-place finish at the Daytona 500 and a 26th at the Daytona road course. He sits 13th in the standings with 52 points. 
Denny Hamlin and Michael Jordan play golf at Daytona
Michael Jordan arrived in Daytona several days before the start of the 2021 NASCAR season to watch the first race in the history of the 23XI Racing Team at the Daytona 500.
Not surprisingly, according to the Daytona Beach-News Journal, on Friday before the Daytona 500, Jordan joined Hamlin and two-time Daytona 500 winner Michael Waltrip for a round of golf at the Oceanside Country Club in Ormond Beach. 
None of the golf participants spoke to the media about the round or the final results.
NASCAR driver takes big shot at NBA Hall of Famer
The stories about Michael Jordan and his golf game are legendary. Since Denny Hamlin has been in Jordan's orbit for more than a decade, the two have played more than a few rounds together.
In a recent Q&A session, NASCAR asked Hamlin and Wallace multiple entertaining questions, like who had the better golf game between the three, including Jordan. Wallace willingly admitted he was third. Hamlin, however, was much more reluctant to acknowledge that Jordan was better.
"Me and Jordan, we used to play even," he said. "I mean, he owns a golf course now. He plays a lot of golf. Listen, I'm the workhorse on this dad-gum team, so he's probably got to give me a few strokes now," Hamlin dejectedly admitted. 
When NASCAR posted the video of Wallace and Hamlin's answers on Twitter, Denny Hamlin happily amended his response on golf. 
"I revise my final answer after the spanking I put on him in Daytona. #stillwinning," Hamlin wrote on Twitter. 
Hamlin apparently outperformed his own expectations and beat Michael Jordan during their recent round of golf in Daytona. The next question is how much money did he win?
Like Sportscasting on Facebook. Follow us on Twitter @sportscasting19.