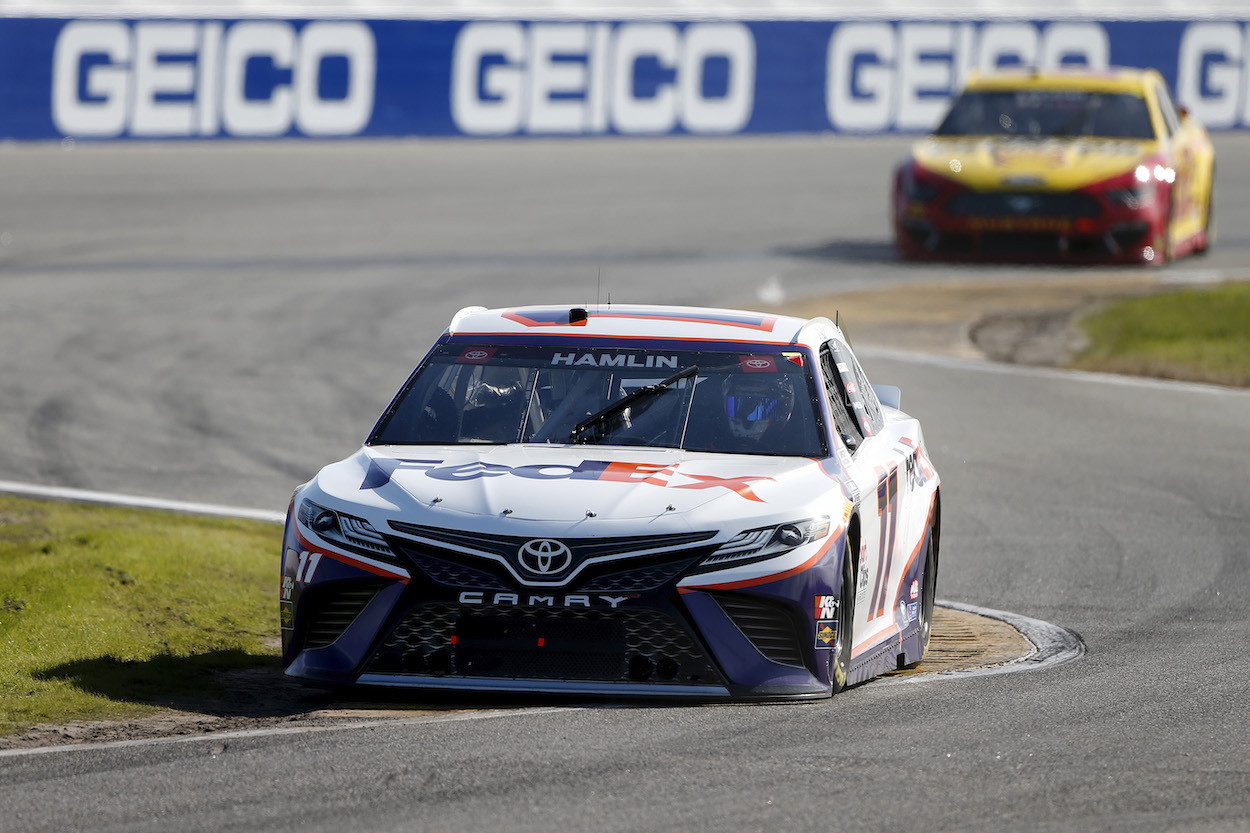 Denny Hamlin Admits to Being Anxious Heading to Homestead but Sends a Confident Message to His Fans About 2021 NASCAR Season
Denny Hamlin admits he is anxious heading into Homestead but hopes his past success and current setup will prove to his team and his fans that 2021 could be a special year for the No. 11 team.
Two races into the 2021 NASCAR season, Denny Hamlin has a pair of top-5 finishes at Daytona and sits atop the points standings. However, this weekend the three-time Daytona 500 winner heads to Homestead with some anxiety.
Hamlin admitted this week on NASCAR Race Hub that the Miami race result is typically a good barometer of how a team will perform for a large chunk of the season. Fortunately, based on his past success there and the team's current setup, Hamlin is confident in the No. 11 team's direction despite those nerves.  
Denny Hamlin has fast start in 2021 NASCAR season
Denny Hamlin entered the 2021 NASCAR season with confidence and understandably so. Last season he earned 21 top-10 finishes and won seven times, en route to finishing fourth in the final 2020 NASCAR points standings.  
To start the 2021 season, Hamlin had mixed emotions about the season-opening race and his finish at the Daytona 500. He was disappointed not to win The Great American Race for a third consecutive year but was still pleased with a fifth-place finish. 
Last week, Denny Hamlin had an even more impressive showing at the Daytona road course, staying near the front much of the race, winning stage two, and finishing third overall. After two races, Hamlin leads in the standings, 12 points ahead of Joey Logano.     
Successful past history at Homestead
With success in the first two races of the 2021 NASCAR season, Denny Hamlin is understandably confident heading into the weekend's race at Homestead. His past history on the track only boosts that. 
In 16 previous races at the 1.5-mile oval, Hamlin has been more than impressive with 11 top-10 finishes, including three victories. He first made it to victory lane in 2009. He earned his second win at Miami several years later in 2013. 
Last year, for the first time in years, Homestead was moved from its typical year-ending slot to March. However, due to the pandemic dramatically altering the season schedule, the race was moved from its originally scheduled date to June. 
The timing had no effect on Denny Hamlin. He dominated the race, led 137 laps, and earned his third win at the track. 
Denny Hamlin admits he's anxious but also confident
Although Denny Hamlin has found considerable success at Homestead in the past, he said there's additional pressure heading into Miami this weekend because this track typically provides teams with a good idea of where they measure up to the competition. 
"I'm anxious. Most drivers would say we're going to really find out where we stand now after this weekend," Hamlin said on FS1's NASCAR Race Hub. "And you really can't put it all on Homestead because that's one of those tracks where you can miss the setup, and it isn't necessarily, totally indicative of where your actual program is. But if you're fast and your car is handling well, you know that we're in for a good season, or at least the first part of our season."
Despite that added pressure, Denny Hamlin admitted all signs point to the No. 11 team having a good race, from his results at the track in previous seasons to how he's performed thus far in 2021. 
"Obviously, I'm very confident going there knowing that our setup was very very good last year. We're going to do a lot of the same things and hopefully have an even better result now that we're starting on the pole, which is a great indication of where we were last week."
Denny Hamlin has 44 Cup Series wins to his credit, but no championship. Could this be the year he etches his name in history? Homestead could provide some early answers.  
Like Sportscasting on Facebook. Follow us on Twitter @sportscasting19.