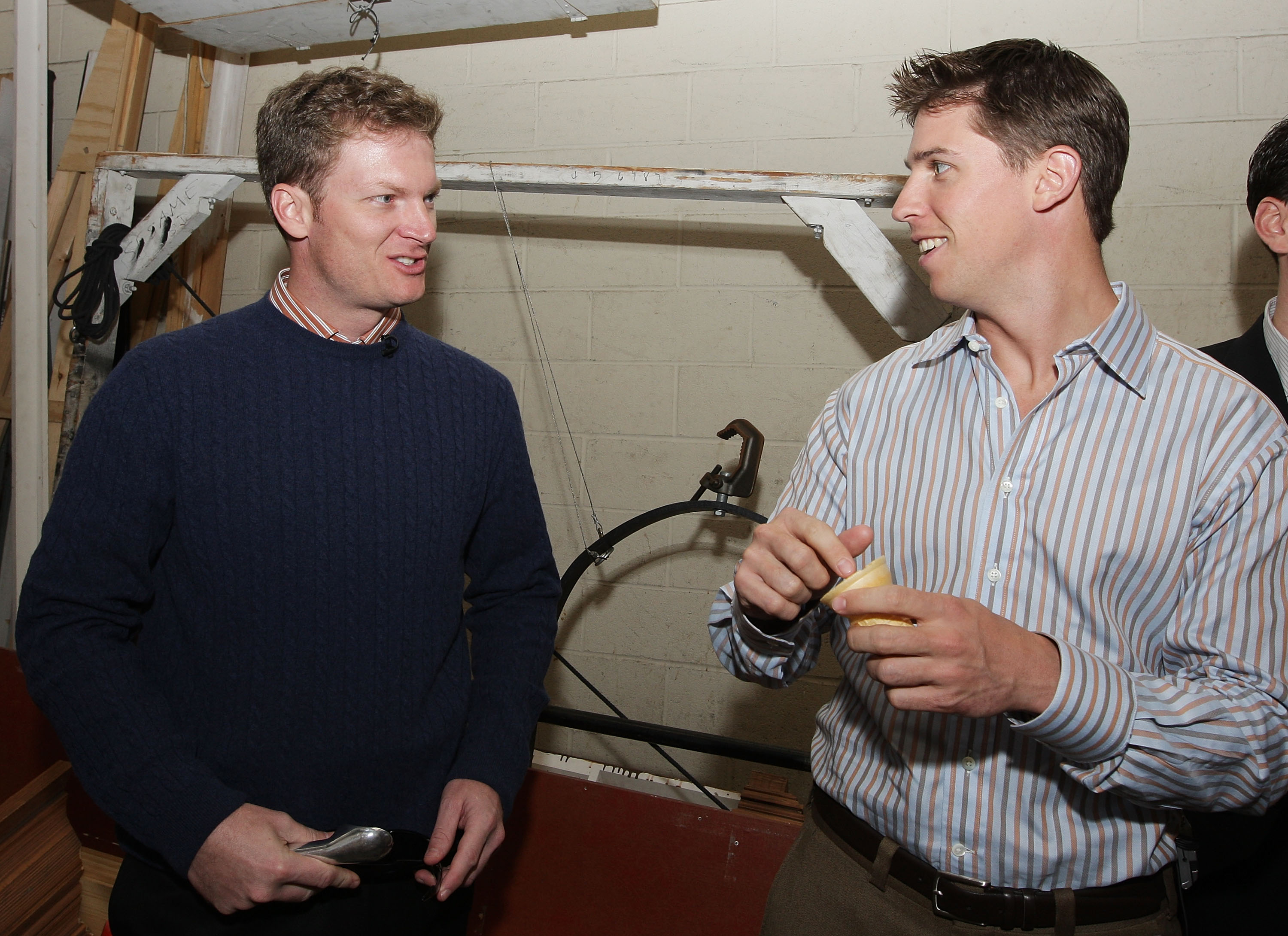 Denny Hamlin Recalled 'Closed-Off' Dale Earnhardt Jr. in His Smoking Days and Revealed What Brought Him Out of His Shell
Denny Hamlin recalled a "closed-off" Dale Earnhardt Jr. and gave his opinion on why he eventually came out of his shell.
Denny Hamlin and Dale Earnhardt Jr. are pretty close. Their connection to motorsports goes beyond the tracks as the two NASCAR drivers also have a personal bond. Junior admittedly was a shy and awkward kid and stayed that way in the early parts of adulthood. Hamlin recalled those days when Earnhardt Jr. was "closed off" and reveals what he believes helped Junior emerge from his shell.
Denny Hamlin and Dale Earnhardt Jr. are proven NASCAR stars
Dale Earnhardt Jr. officially retired from full-time racing after the 2017 season after an illustrious career. He earned 26 Cup Series wins in his career and was named the Monster Energy Series Most Popular Driver for 15 straight years. Junior owns a pair of Daytona 500 victories in his career.
Earnhardt Jr. officially announced he was retiring from full-time racing after the 2016 season. A series of concussions got the best of him and he elected to go out on his own terms. He is one of three drivers that will be inducted into the NASCAR Hall of Fame as a member of the Class of 2021.
Denny Hamlin has racked up 44 victories in his 17 years of racing. He's collected 286 top-10 finishes in 589 career races. Hamlin is a three-time Daytona 500 winner, including back-to-back victories in 2019 and 2020. NBC Sports has Hamlin listed at the top of its power rankings for this year.
Earnhardt Jr. came to Hamlin's defense after 2020 Daytona win
When Denny Hamlin captured his second straight Daytona 500 win in 2020, he celebrated as any winning NASCAR driver would. Hamlin's celebration came after Ryan Newman has been in a devastating crash on the final lap. Hamlin took a lot of heat for celebrating. Earnhardt Jr. said criticism of Hamlin was unwarranted. Earnhardt Jr. lost his father in a last-lap crash at the 2001 Daytona 500,
"That was just so unfortunate the fallout from that," Earnhardt said, according to NBC Sports. "I think back to 2001 when dad had his accident and Michael Waltrip had made it all the way to victory lane himself and celebrating what he feels like was the most incredible moment of his life and waiting on dad to walk right into that victory lane at any moment to celebrate with him. I think I can tell you … how that process can happen, how what happened with Denny and his team can easily happen. There's a lot of other similar situations that are much like that to compare that to that make it understandable to what played out with Denny and his team."
Hamlin said he was unaware of the severity of Newman's crash. Car owner Joe Gibbs issued a statement following the race explaining that. "I say to everybody out there, some people may have saw us and said, well, these guys are celebrating when there's a serious issue going on," Gibbs said. "I apologize to everybody, but we really didn't know."
Hamlin recalled 'closed-off' Earnhardt Jr.
Dale Earnhardt Jr. has learned to come out of his shell after admitting he grew up a shy and awkward child. Denny Hamlin recalled that "closed-off" Earnhardt Jr. and he also revealed what changed him into the outgoing person he is today. Hamlin spoke about it during a 2019 episode of The Dan Patrick Show.
"I knew Dale when he was closed off and he was quiet," Hamlin told Patrick, "back in his smoking days. It's just coming out now that he had a smoking problem. Honestly, what changed him was his wife Amy, in my opinion.
"I remember sitting down with him, can't remember if it was at his house or whatever, but he was like, 'this girl just knocks my socks off. She's great in every way.' I just think she had a positive influence on him coming out of his shell. I remember when she came into his life, he, instead of being in the bus for three days during race weekend, he was going to dinner in the local area and just trying to get out a little more. I think he started being more comfortable in his own skin."