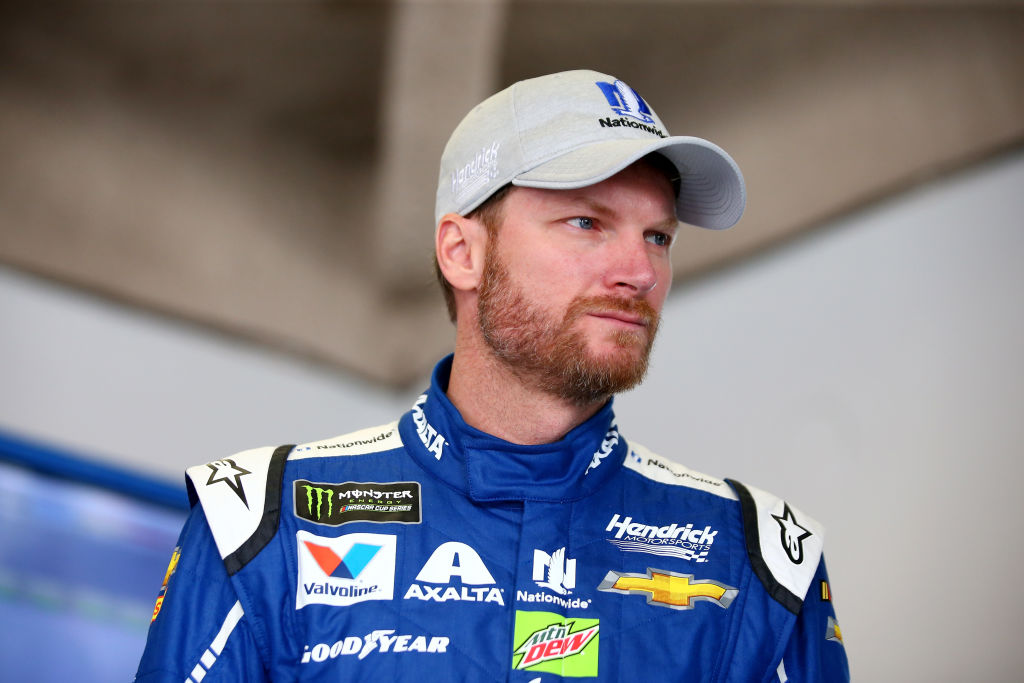 Dale Earnhardt Jr. Highlights NASCAR's 2021 Hall of Fame Class Featuring Drivers Who Have All Been in Aircraft Accidents
Dale Earnhardt Jr. highlights NASCAR's 2021 Hall of Fame class that features drivers who have all been in aircraft accidents.
Dale Earnhardt Jr. was a no-doubt first-ballot NASCAR Hall of Famer when he became eligible this year. NASCAR confirmed that on Tuesday when it announced the 2021 Hall of Fame Class, which is headlined by Earnhardt. He is joined by Mike Stefanik and the legendary Red Farmer. Interestingly, all three inductees were involved in aircraft accidents, but only two survived.
Dale Earnhardt Jr. a member of 2021 NASCAR Hall of Fame class
Dale Earnhardt Jr. had the name when he joined NASCAR back in 1996. But as any driver who comes from a racing family will tell you, the name only gets you so far. Junior carved out his own NASCAR legacy for 19 years, winning 24 times on the Xfinity Series and 26 times on the Cup Series.
Among his many on-track achievements, Earnhardt won the 2004 and 2014 Daytona 500. He also captured the Xfinity Series title twice in 1998 and 1999. Besides his accomplishments on the track, Earnhardt has used his influence to make changes within NASCAR. 
In 2018, Earnhardt penned a piece for the New York Times detailing the many concussions he sustained during his career, the first time a driver had openly discussed such injuries. His message encouraged his fellow drivers not to suffer in silence and ask for help. He also has been an important part of NASCAR's ongoing discussion dealing with racism in America since the death of George Floyd.
In August 2019, Earnhardt, his wife, and daughter were landing at an airport near Bristol Motor Speedway when the landing gear malfunctioned. The plane skidded off the runway and stopped on an embankment near a highway before catching fire. The Earnhardt family suffered minor injuries.
Mike Stefanik dominated Whelen Modified Tour
Mike Stefanik was a legend in the NASCAR Whelen Modified Tour as he raced from 1985 to 2014. Stefanik won seven of his 26 starts during the 1989 season and ended up winning his first championship. He was just getting started. 
Stefanik dominated the Modified Tour series throughout the 1990s winning additional titles in 1991, 1997, and 1998. He also won Busch North titles in 1997 and 1998. In 1999, Stefanik moved up to the NASCAR Gander RV & Outdoors Truck Series at age 41. He finished in the top ten nine times during that year and won Rookie of the Year honors.
In September 2019, Stefanik was piloting a single-engine ultralight aircraft when it crashed near the Connecticut-Rhode Island border. He survived the original crash and was alert when first responders arrived. He died hours later at a Rhode Island hospital. He was 61.  
NASCAR legend Red Farmer still racing at 87
Red Farmer has defied time. At 87 years old, Farmer still races short tracks on weekends. But it's what Farmer has done racing for the last 60-plus years that earned his nomination into the NASCAR Hall of Fame.
Farmer established himself in 1956 when he won his first Modified title. A dozen years later, Farmer was dominant on the Late Model Sportsman Series (now Xfinity Series), where he won series titles from 1969-71. Farmer did make it up to the Cup Series, where he ran in 36 races, his best finish fourth. In 1998, Farmer was named one of NASCAR's 50 greatest drivers.
In 1993, Farmer was a passenger in a helicopter crash at Talladega Superspeedway that killed driver Davey Allison. Farmer was initially listed in critical condition as he suffered a broken collarbone and fractured ribs in the crash. He was the only survivor.
The ceremony for the 2021 NASCAR Hall of Fame class will happen next winter.